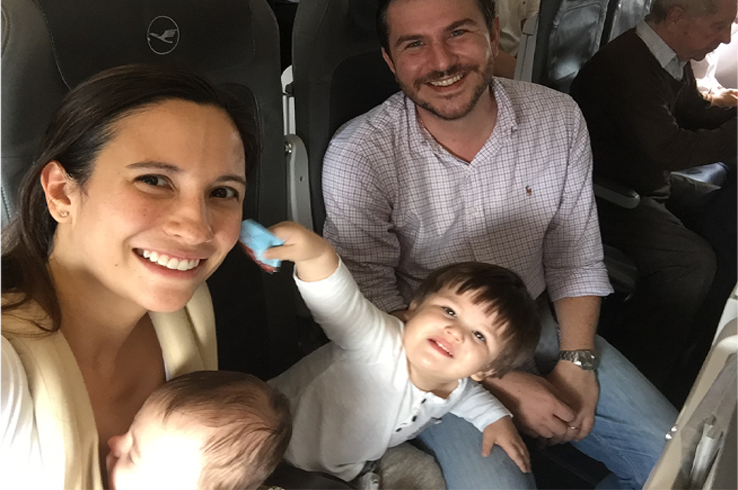 Traveling Long Haul with Babies and Toddlers
Sebastian was 3 months old when he took his first long haul flight. It was 18 hours with 2 stopovers and at that time, as a first time mom, I was so stressed out. I think I brought 50 diapers with me. That plus probably 10 changes of clothes, my pump, a gazillion bottles… It was like I was bringing my whole nursery. Over time I learned to be much more efficient. You don't need to bring everything – just the right things. When the time came where I brought Maximilian to Germany to visit his grandmother, I had everything down pat. You want to make that airplane trip as stress-free as possible and avoid having unnecessary things to carry. Plus whenever you begin to freak out, remember that ultimately no matter what you are creating amazing memories for you and your family!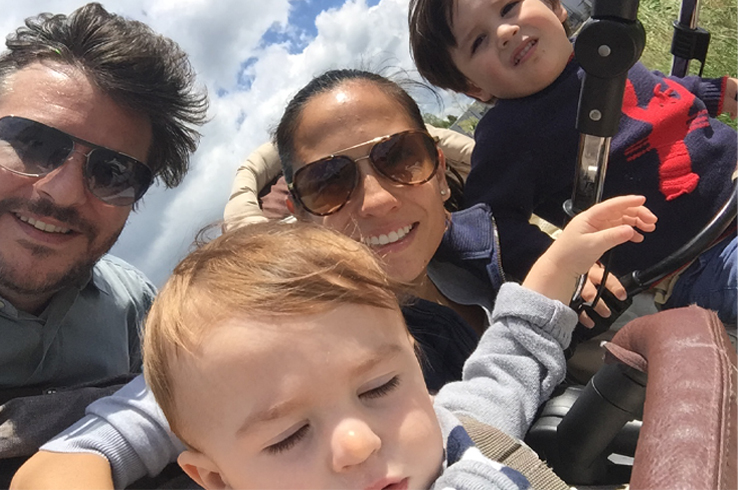 Here are some of my tips when traveling with infants and toddlers:
Long Haul Flights with Infants and Toddlers:
Do not stress! – Babies are very intuitive and can feel their parents' energy. If you are stressed your baby will feel stressed as well. Keep yourself calm. Trust that "you got this!" Anytime things get difficult, take a few deep breaths and remind yourself that it is only a temporary situation and that the flight will soon be over. the photo below is our very first flight with a 3-month old Sebastian, boy was I stressed! But we powered through it and trusted that he would travel well. And he did! Such an adventurer early on in life.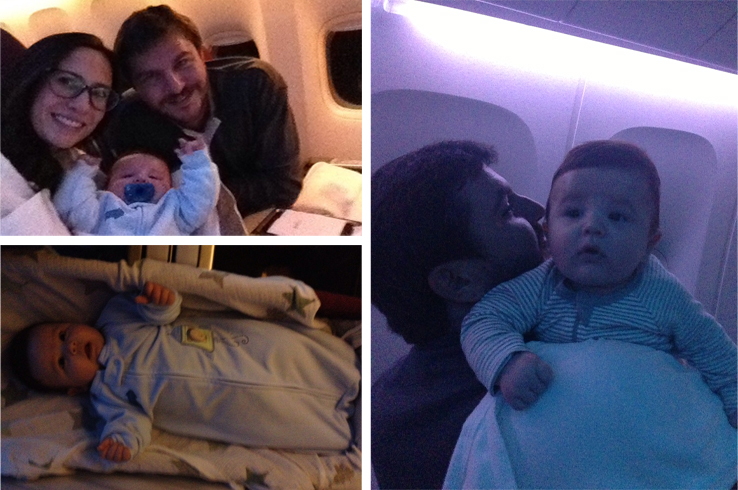 Stay Kind – It's very easy to get upset or lash out at your spouse or travel companion because of stress. Always take a deep breath and try to laugh and smile through it all. It just makes matters more difficult when you are upset at each other during a trip. It's easier said than done, but really once you get the hang of it, each trip will be less stressful. Dividing tasks also always helps and taking turns. My husband would prepare milk or hold the baby while I ate etc. This gets more difficult though when kids get older and only want "Mama". I found myself squooshed into a seat with Sebastian beside me and Maxi laying on top of me while Sebastian's chair was empty and my hubby had his earphones on, watching a movie and drinking wine. My initial thought was "grrrrrrrr!!!!" but then I just realized how often do I have both babies cuddled next to me in peace? So I just enjoyed the moment.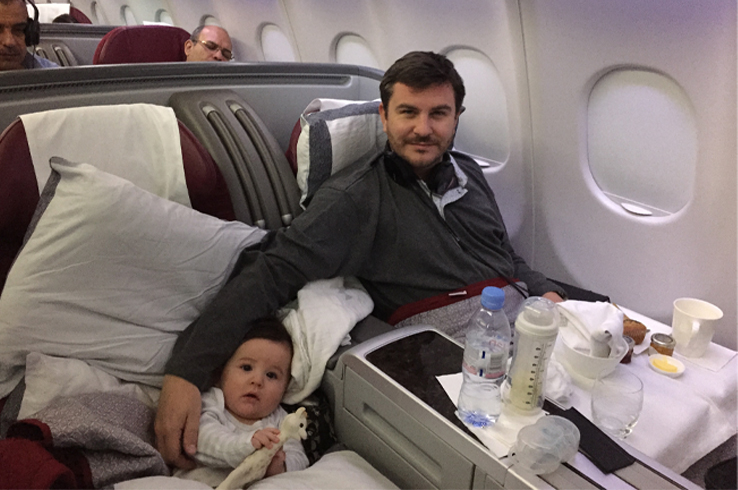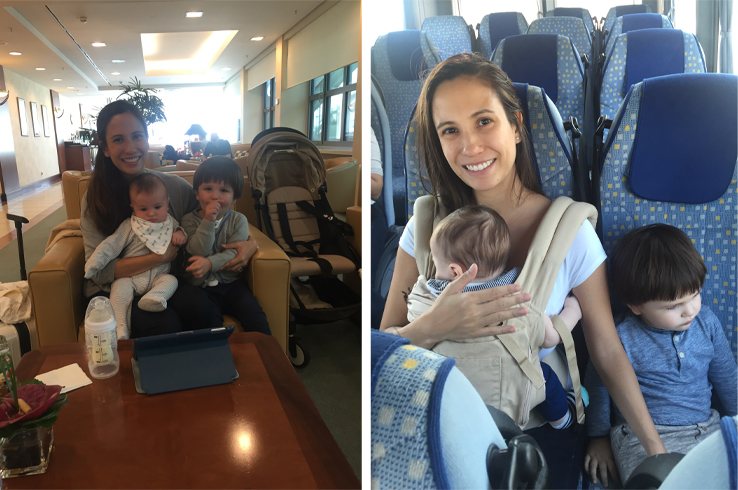 Expect not to rest or sleep – I try to get a good's night rest before a flight with the kids because I know that during the flight I will not sleep at all. Even when they are peacefully sleeping, there's always a part of you thats awake and aware. I just go in there knowing for 24 hours I won't rest at all. I don't fuel myself up with caffeine because it'll give you jitters, instead hydrate well and take vitamin boosters like Berocca to keep you going. Almonds, fruit and dark chocolate are great sources of good, clean energy.
Dress comfortably – I love traveling in style but comfort is key when with a baby. I often wear leggings or stretchy jeans or pants so I can move and be comfortable. A good t-shirt with a built-in bra or a comfy bra or if you're nursing, your favorite nursing top. For babies, I love those zip-up onesies because it makes changing on the go fast and easy. For toddlers, I try to find cute jogging pants for my boys, a nice soft cotton t-shirt and a cotton cardigan. Hoodies can be uncomfortable to lie down on. I also try to color coordinate myself with my kids so we don't look too sloppy.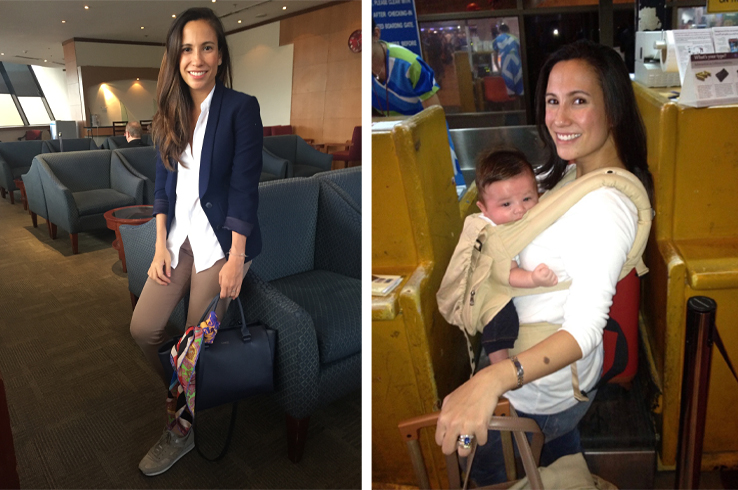 It's okay for babies to cry – Never worry about other passengers, your priority is your baby. If they are crying it's because they are uncomfortable, uneasy, afraid, over tired… the list goes on. It's your job to cater to their needs and make them feel safe and reassured. Most passengers will understand and that's also why they distribute earplugs. If you stress about them crying, it will only stress your baby out more and will be counter-effective. When your baby cries for a particularly long time – take the to the restroom. The lights and the mirror usually amuses and distracts them. You can also walk them to the galley area and play with them there. Sometimes they just need a change of scenery.
Feed them during take off and landing – Since they don't know how to equalize, to avoid painful ear pressure, give your babies a bottle or nurse them during takeoff and right before landing. Toddler who refuse or don't take the bottle can be fed chewy snacks like raisins or and any snack for that matter. Have them drink water too. It's the motion of chewing and swallowing that helps equalize the ears.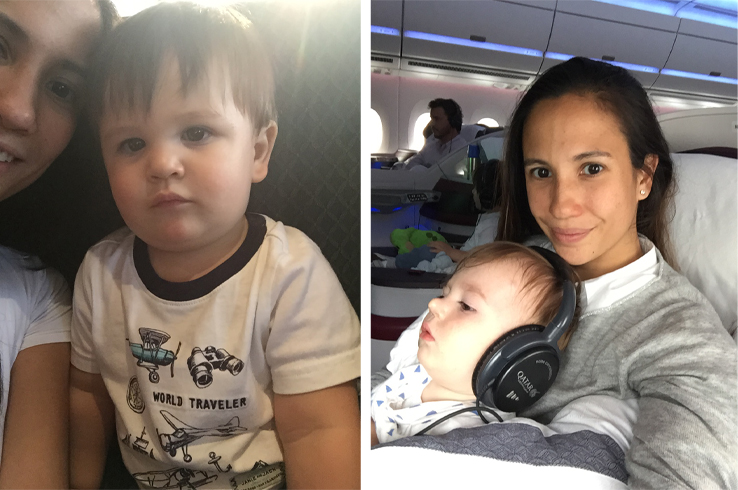 Be an entertainer! – Even if you are exhausted, you will always be your child's number one source of entertainment until they reach a certain age. Think peek-a-boo, singing songs and simply just pointing out all the cool new things in their environment like the seatbelt sign light or clouds out the window.
Bring healthy snacks – not just for the baby but also for you! Almonds, fibre crackers, apples, cereals, bananas etc.I remove all snacks from their packaging and place them in zip-close bags so I can easily re-seal. I also pack extra formula in a a doubled up zip-close bag so the can doesn't take up space or weight.
Pack all liquids in the same place – This is key, so you don't have to open too many bags during the security check. Usually all the electronics are in one bag and my husband takes care of that and all the liquids are in another bag. Place them all in zip-close bags to avoid spills in case of leaks.
Pack appropriately – Don't bring too many things as you end up with a crazy mess searching for the thing you actually need! Just bring the right things and the right amount. Below is a list of my baby travel must-haves.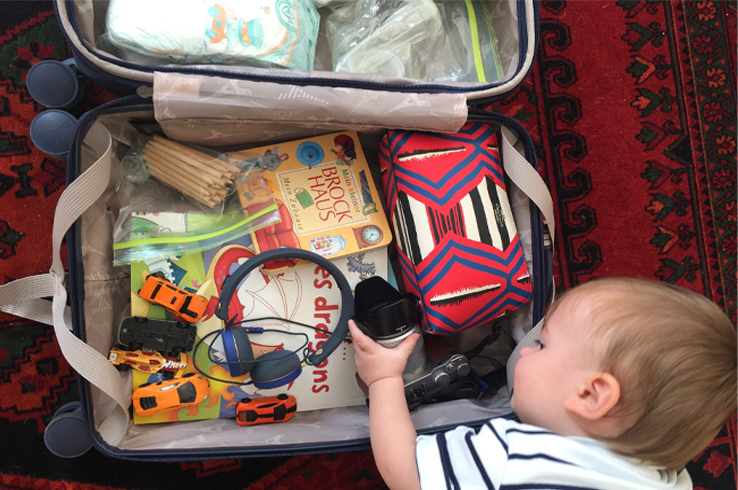 What to bring on board:
Diapers – bring only about 10-20 pieces depending on age and frequency. Choose a high quality diaper because the last thing you want to do is deal with frequent nappy changes and leaks during a flight. When it comes to diapers, I think my kids may have found their holy grail with Pampers Premium Care. Made in Japan, with their breakthrough innovation and cutting-edge craftsmanship, they've developed New Magic Gel Channels which absorbs and distributes wetness even better than before. The diaper turns the liquid immediately into gel while evenly distributing it across the diaper. For infants, it also has this special net that allows their runny poop to be absorbed. This is soooooooooo cool because poop explosions are real. The last thing you want is to be in a long airport security check line with the baby in a carrier and you have a poop explosion. This has happened to me twice! Before I discovered Pampers Premium Care. During the flight, when they finally get to sleep, you also don't want to have to wake them up for a diaper change. Pampers Premium Care is not only super dry but also super soft so it doesn't irritate the skin. You can purchase them directly online here.
Change of clothes – bring 3-4 changes of clothes for your kids and 1 set for you plus an extra top. Kids are messy and accident spills happen quite often.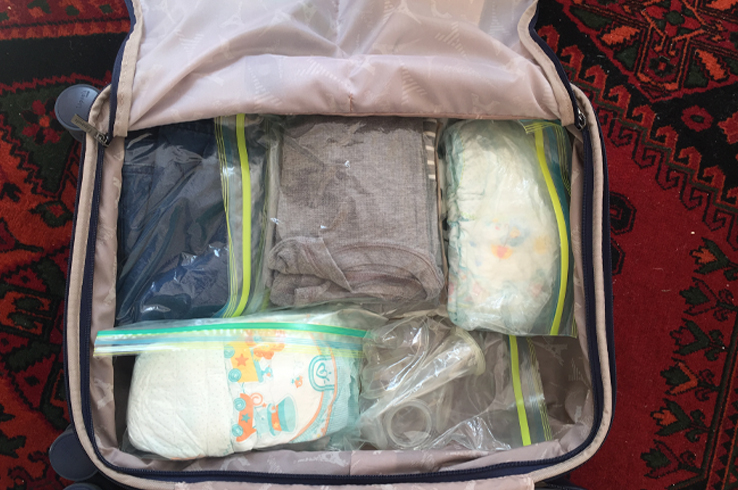 Playtex Nurser Bottles with Disposable Drop-In Liners – these are the best for traveling! No need to sterilize! Just put a bunch of clean nipples in a zip-close bag and bring spare liners. Bring two bottles in case you accidentally leave one somewhere which happens quite often. Buy the 8 oz ones because whether or not you are using breastmilk or formula, they are easier to fill and it's hard to keep refilling when you've got your hands full. I also find that it's easier to mix formula in the 8oz one so long as you don't fill to the brim as you have more space to shake.
Medela Pump and Save Bags – If you are a pumping mom, regardless of what kind of pump you use (I had a Medela pump though) these bags were my best friend. The first time I traveled, I had so many pumping bottles it was a total mess. These bags allow you to pump directly into the storage bag saving space and no hassle of cleaning and sterilizing. They're not cheap but oh so worth it!
Soft cooler – A soft insulated cooler with some frozen gel is super practical because once you've consumed what's inside it packs flat.
Bring Frozen Breastmilk – if you're breastfeeding and pumping, bring frozen breastmilk as it helps your cooler stay cool and slowly defrosts. Don't bring too much though as it can end up being spoiled. Remember that you will also nurse or express during the trip. Calculate the number of ounces you need based on your hours of travel and your babies usual consumption, factoring in what you will pump or nurse during the trip then add on top of that up to four extra feedings just in case.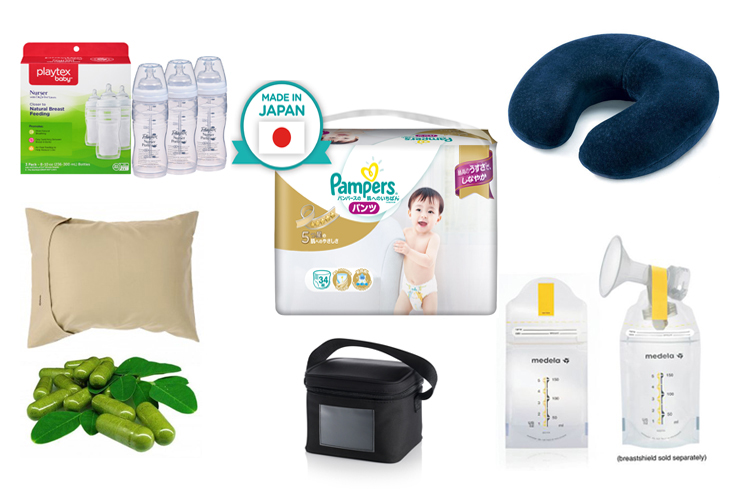 Malunggay Pills – The fatigue can cause your milk production to dip, so take these to boost production. Also remember to hydrate yourself very well.
Medicines – Have your pediatrician print out a list of what you might need on board and put all of the medicines in a zip-close bag with the prescription visible in it. Must haves are something for gas like Gripe Water or Simethicone, something for allergies, a decongestant like saline solution drops like Drixine and/or a syrup and medicine for fever. Both my babies were always very gassy or with a stuffed nose in the airplane. Even if you are trying to avoid medicines in general, sometimes you really need to help them out during the flight. A stuffy nose can cause really painful ear pressure.
A neck pillow and an extra small pillow – you will definitely need that neck pillow especially while cradling or nursing the baby. An extra pillow is useful to put under your elbow for support.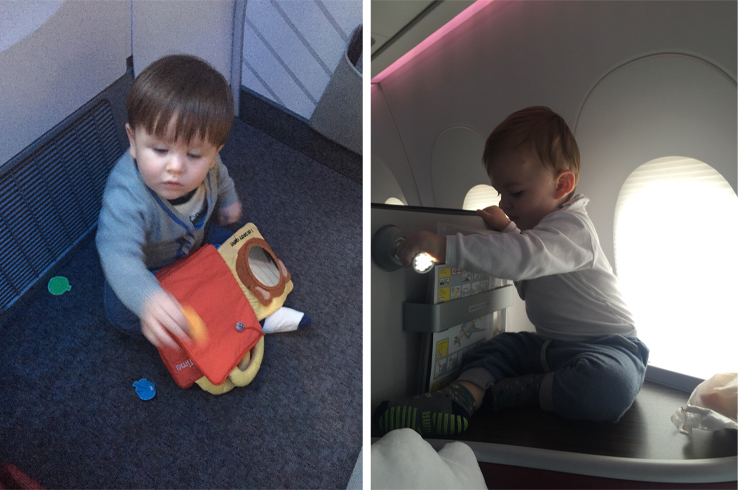 Toys and Books – This will have to be divided in to different age groups as each age has different needs.
3 Months – no toys needs, just an extra small pillow to help support your arm as you cradle the baby. Bring their favorite binky if they have one.
6 months – soft activity books with peek-a-boos and lots of pockets, it's always a different story each time you go through it, bring their favorite toy or rattle. 3 toys/books are more than enough.
10 months – this I found was the most difficult age as they are curious and very aware. They don't want to sit still and try to crawl everywhere! You are their favorite toy. Expect to carry your baby around the galley and interact with the flight attendants. Bring some play doh, soft activity books and their favorite toy. Funny enough, I found that a half empty, scrunched up water bottle was such a hit. Stickers also work.
12-18 months – This is such a fun age! they are still too young for videos and cartoons but they are very curious and can already concentrate on proper stories and some games. Download a coloring and drawing app on your iPad. Some of them even animate the drawings. It's super cool. No electronics? Buy an Aquadoodle which "draws" with water and packs up flat. Playdoh is also a super hit. Allow them to choose one or two of their favorite toys to bring.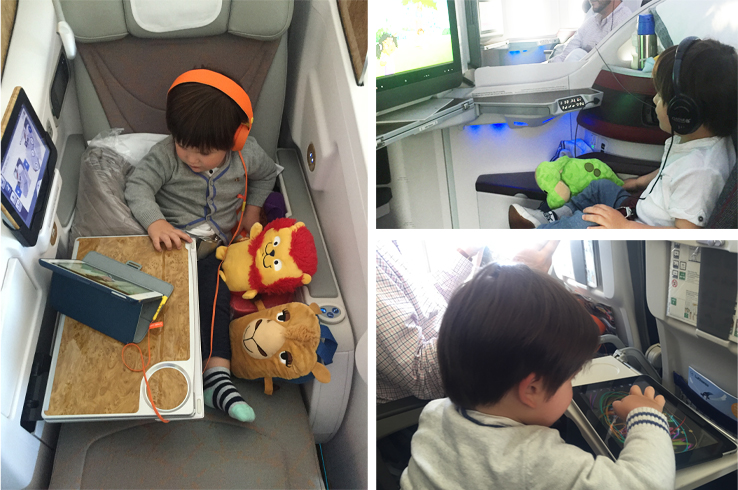 2 years and up – Sebastian was very advanced for two years old and love watching his cartoons. I don't ever want them to think of the tablet as a toy but more like a small TV, so I have small iPad mini with his favorite cartoons and movies in it. I also brought some books – I chose the thin paperback ones so they are easy to carry, coloring books and crayons, play doh and some of his favorite toy cars in a zip-close bag. We also had his favorite "friends" or stuffed animals. I usually let him bring one or two. Keep an inventory list on your phone so you know you aren't missing anything. You can pack these in a suitcase or backpack of their own as they love being independent at this age.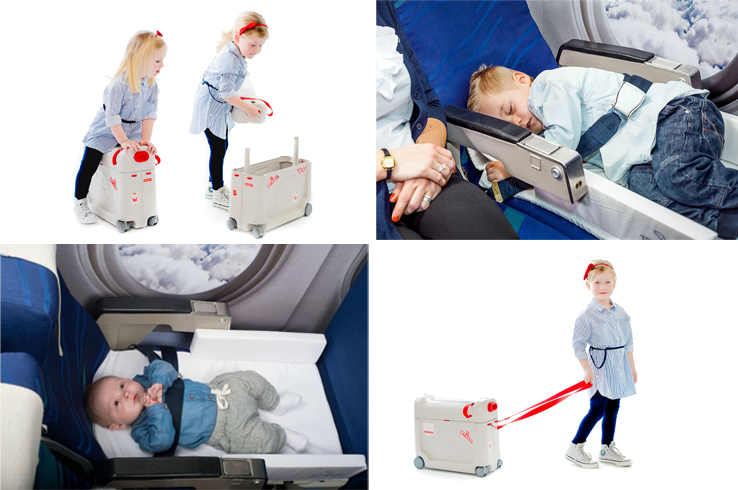 JetKids BedBox – A must for economy class travel! While during shorter regional flights (5 hours and below) we are avid economy class travelers preferring to spend our money on restos and activities. However, we often use our miles and airline points to upgrade to business class because of the added comfort and space for long haul flights. There really is an added value when traveling with kids. Fortunately for us, we are always Europe bound and the middle eastern carriers always have great sales and deals which is not the case for US bound travel in which an economy class ticket to San Francisco could be the equivalent of a business class ticket to Paris on Qatar Airways. I heard about this amazing gadget from a friend of mine, especially when your child hits two years old and you are obliged to buy them their own seat. This turns their regular economy class seat into a comfy bed. I wish they had the equivalent for adults!!! Learn more about JetKids here.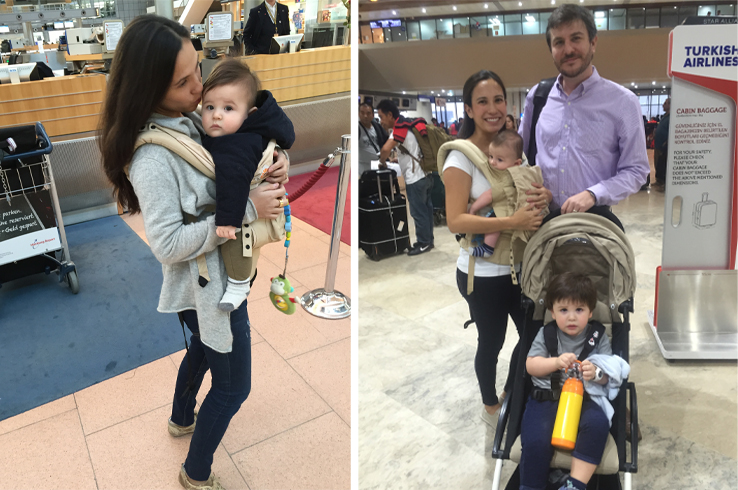 To stroller or not to stroller? If they like the carrier, it is the easiest option up to 1 year, then they get heavy and rather wriggly. If not, invest in a BabyZen Yoyo – it is soooo easy to use and can be taken in the cabin and stored in the overhead compartment. Most airlines allow it although I just recently heard that Philippine Airlines doesn't. Just double check to be sure.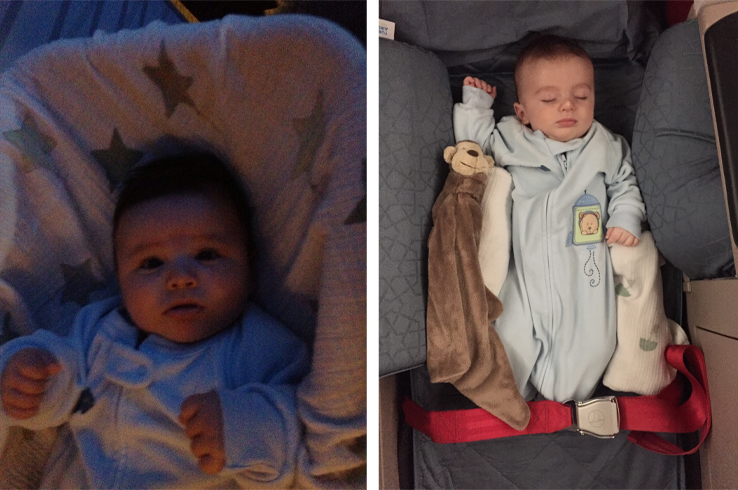 Bassinet or no Bassinet? My kids were always so squirmy and really big babies, so they always felt tight in the bassinet. Plus they always tell you to hold them anyways in case of turbulence. I always felt that it was easier for me to cradle them in my arms and to cherish those precious moments despite the stiff neck and dead limbs. I did always make use of the bassinet though as extra storage space – to hold the diaper bag, toys, bottles etc and for a quick diaper change – usually just for a diaper filled with pee as it's kind of rude to fill the airplane with the undesirable smells of a stinky poop bomb.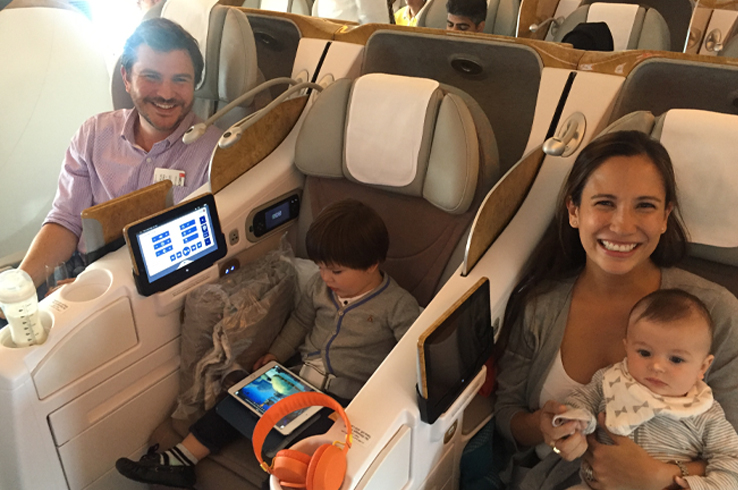 Above all remember to stay calm and happy, it's an amazing adventure after all! Once our flight was diverted to some random town in the Black Sea because of an unexpected turn of events and we were left stranded with a 3 month old max and barely 2 year old Sebastian. We took matters in our own hands and found our own way out of there the next day. When that was sorted my husband and I drank some nice Turkish rosé overlooking the sunset while they were sleeping.  It's how you make the most out of every situation and the the attitude you have. When we finally landed after 48 hours of re-routes, Maxi who hadn't pooped this whole time decides to let it all go as soon as we land in our final destination… While I was wearing him in the carrier. I had poop everywhere! The whole thing was just so crazy it was funny, and we laughed so hard. Sebastian who didn't know any better thought everything was just part of the plan and had a blast of an adventure!
Hope this helps! Love, light and safe travels, Stephanie
***this post is sponsored by Pamper Premium Care***
***To learn more about how I choose my partners please visit my FAQ's***