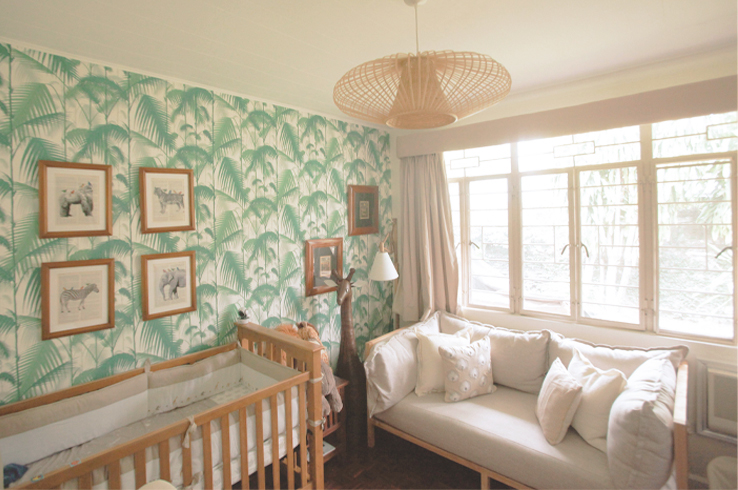 Jungle Safari Nursery
One of the wonderful things about having another boy so soon after Sebastian was that I didn't have to buy anything new. Little Maxi had a whole closet full of things he would inherit from his brother – from clothes to toys and books. Compared to the long list of things I needed when I had Sebastian, the arrival of Maximilian was a breeze to prepare for. I did however bear in mind my nephew Aiden who is the second of my sister's three boys. He once told me while I was visiting him in the states to please buy him some new pajamas. "Tita please buy me pajamas. I want new ones. And I don't want to be the same as my brothers!" Poor guy, all his clothes were his brother's hand me downs or the same as his three siblings because my sister likes to dress them up all matchy-matchy (until they start having their own opinion that is!) So I wanted Maximilian to have something special to call his own.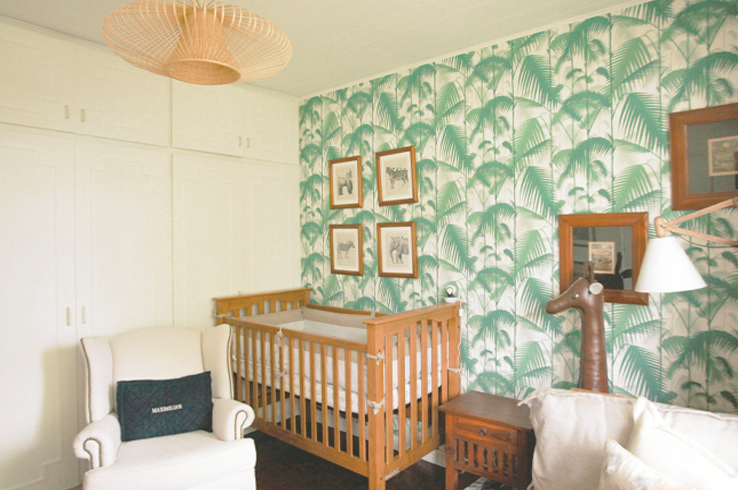 His room was going to be his safe haven. A special place that would be unique from his brother's. His brother has a vintage travel themed room and it was so much fun to decorate. I still wanted it to have that same sense of adventure but to be distinctly different, ultimately I settled on a Jungle Safari theme. I love decorating baby's rooms! It's a wonderful space where you can let your imagination and creativity run unbridled. I love baby rooms that remain chic and are also nice for me to hang out in. It's nice to have a theme but not to overdo it either with cartoon faces all over. At least that's not my style. So I thoroughly enjoy the challenge of finding the right pieces and curating them perfectly.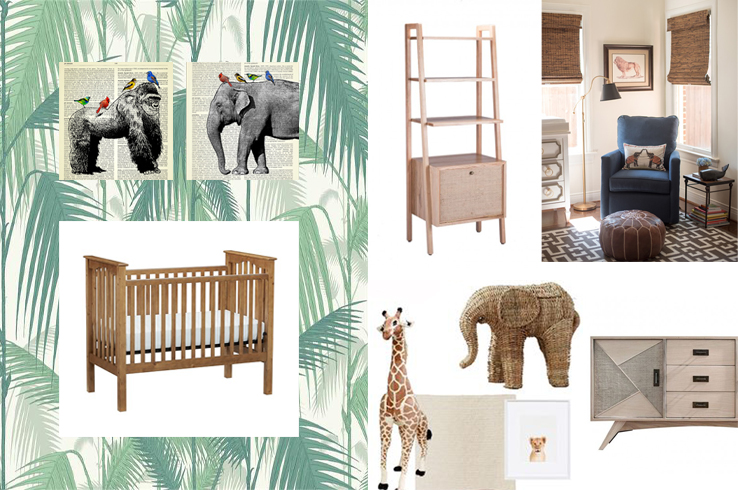 Contrary to Sebastian's room which had darker wood pieces with a clear Mid-Century Modern influence in the furniture, I wanted Maximilian's room to feel a bit more fresh and light. I also wanted to reflect the tropically of that wonderful Cole and Son's wallpaper I was obsessed with. There was no better fit than furniture pieces from Philux's Scandiniana Collection. The clean modern lines of scandinavian design with that touch of filipiniana. I especially like those little touches of natural texture. I like purchasing furniture that can eventually be re-used later on in another room, so I invest in good pieces that aren't specific only for kids rooms. Luckily I was able to re-use the Pottery Barn Kendall Crib of Sebastian because he had naturally transitioned into a big boy bed at 18 months. Also the light pine color was an easy neutral and worked seamlessly with my pegs. I personally don't like things that are too matchy-matchy either, because then things tend to feel more like a showroom, so I wanted to add a classic piece and a bit of a boho touch for contrast.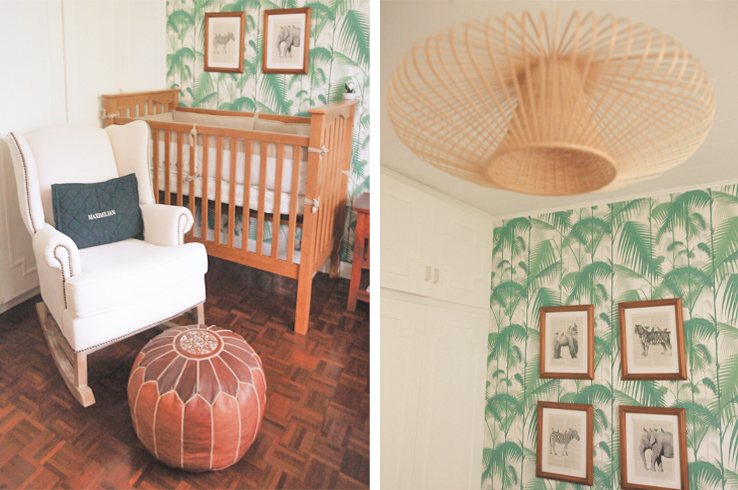 This wingback rocker from Pottery Barn was the perfect chair. Even if it is a bit too big for the room it's so comfortable and had that classic touch I was looking for. I was obsessed with that little moroccan leather pouf that I saw online through that photo peg, turns out it was for sale! I ordered it online and had it shipped to my sister who then brought it back home for me. Originally I had my sights set on a rather pricey and heavy light fixture, but I this wonderful pendant light fixture from Habitat which had the same effect I was looking for. It was really affordable too and very light, so I didn't need to drill holes into my ceiling and worry about it falling on our heads.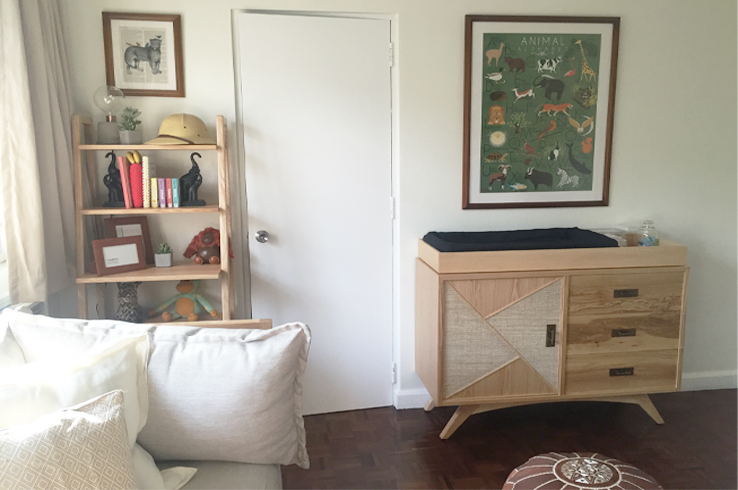 Luckily the ladies behind Philux are my dear friends so they were able to custom order their Embla Buffet into a dresser and add a diaper changing topper. This way I can use this again in any other room later on. I love the natural grain of the ash wood! One of my favorite finishing touches is this gorgeous poster I found from Etsy. Etsy is a great place for inexpensive artwork. They ship everything and so far I've received everything here directly at my home with no extra charges at the post office. I found these adorable encyclopedia prints of animals from Top Prints London and that art deco Animal Alphabet poster is from Red Gate Arts. I have everything framed here in acrylic. It's more expensive than glass but in a nursery it's much safer, especially if you will hang them on top of a crib or a changing table.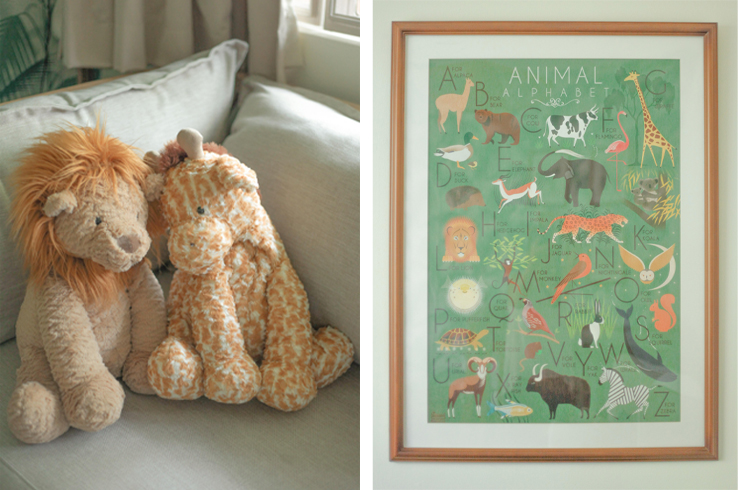 Since I had that leather pouf, I wanted to add some other leather touches like these cute frames I found in Crate & Barrel and of course that giant leather giraffe from Felix that my friends all pitched in for during Maximilian's baby shower. To add some greenery to the shelves to tie it together to the wall I also found these little faux succulents in Crate & Barrel.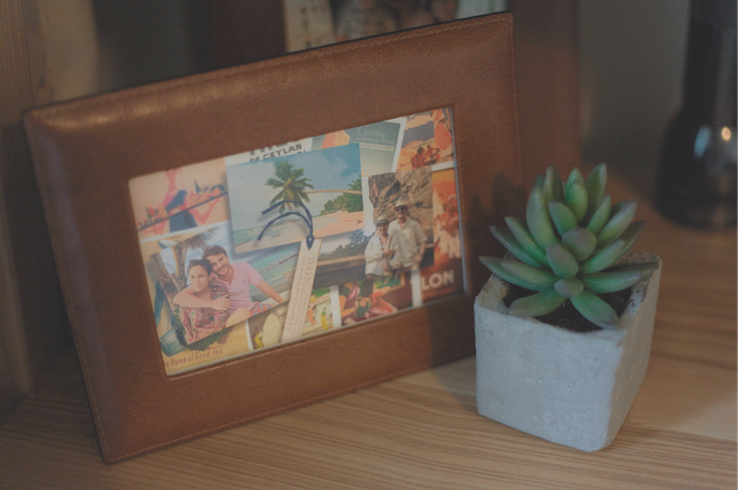 Everything is in the details and small touches, like this safari hat we had lying around the house that was used once for a costume party. Oversized plush animals that are cuddly and cute. Throw pillows in the same muted colors but that reflect the theme like this beautiful embroidered palm pillow by Aranaz Tu which I mixed with linen pillows from Pottery Barn and one really cute wool patterned pillow from SM Home which I regret only buying one of. I also feel that contrast colors are important and in this case I chose navy blue and although you can't really see it clearly in the photos, those frames below are vintage prints I had already of nature scenes with a navy blue matting. I also picked up on the navy blue with the monogrammed pillow on the rocker and through the drawings on the animal alphabet poster. That lamp is also another favorite purchase from Triboa Bay Living.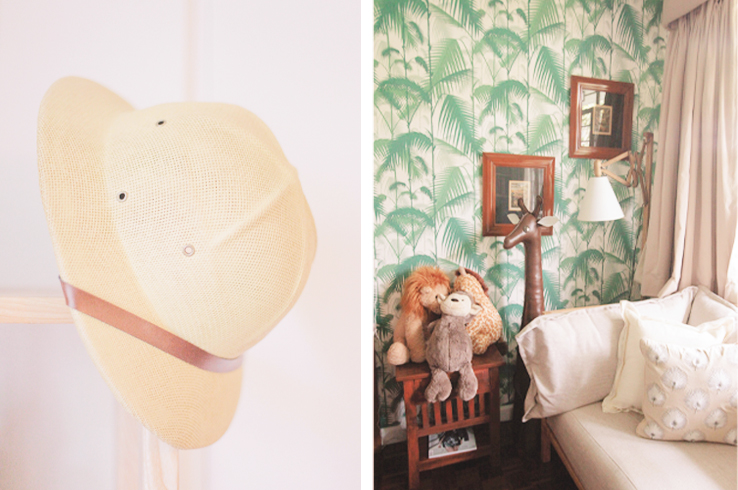 More small details that make a difference like this great edison bulb lamp from F1rst by KISH and this adorable leather orangutan by Felix, the same place I got the leather giraffe.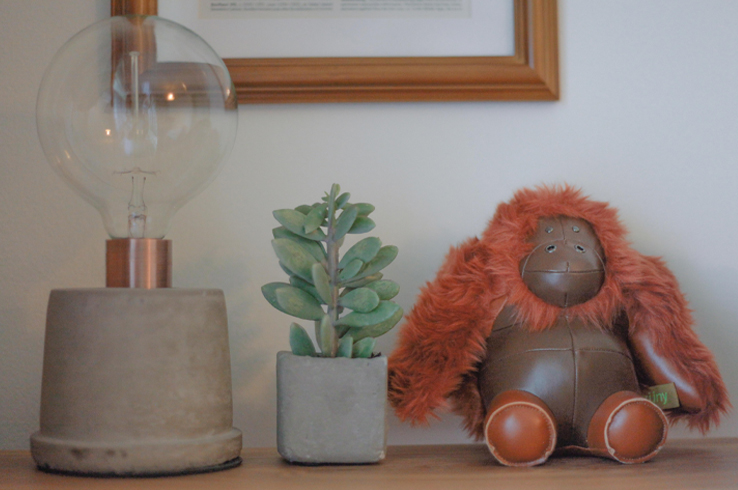 The overall effect is wonderful and it is currently our favorite room in the house. We spend quite a few lazy afternoons there hanging out with Maximilian and Sebastian. My husband's favorite spot in that beautiful daybed from Philux. I had so much fun conceptualizing and finding the right pieces from this room. I love how Sebastian knows that this is "Baby Maxi's Room" and he knows that all those stuffed toys belong to his brother, even if he does steal them once in awhile! As much as I enjoyed creating this room and love decorating nurseries… I think I wait awhile before the next one! Two little baby boys are quite a handful!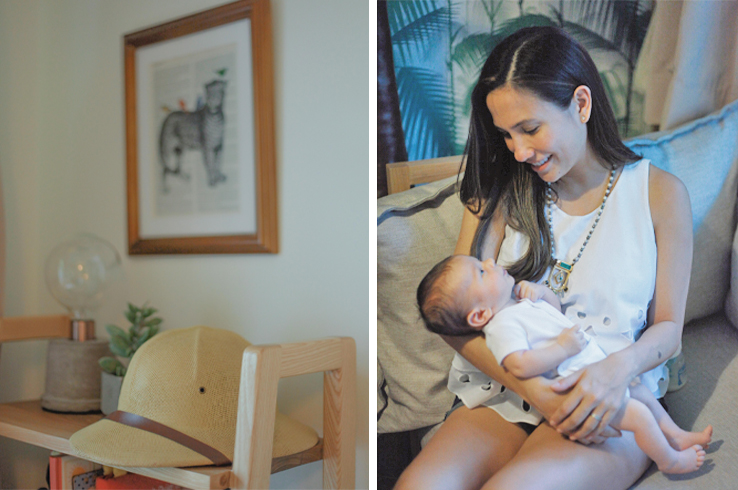 ***photos by Chyv Reyes***