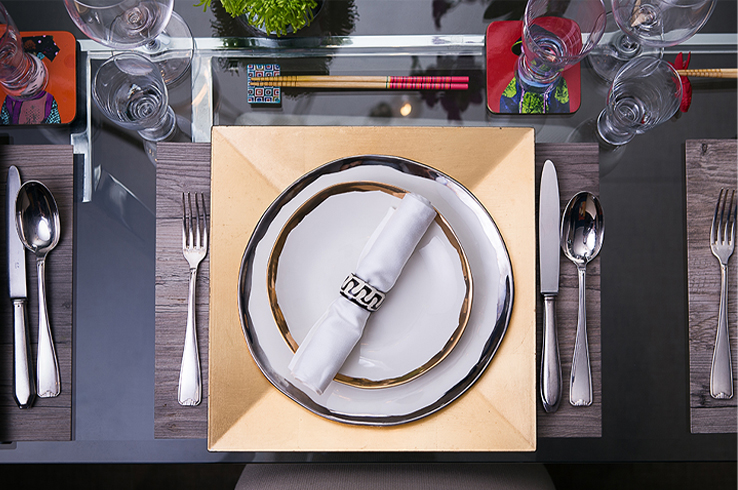 The Pop Asian Table
There are occasions that call for elegance and sophistication and there are those that just need a touch of fun and whimsy. Whenever I have a pan-Asian menu serving up modern asian flavors that is a mix of street eats and rustic cuisine this is one of my favorite ways to set the table. Inspired by the bold colors of Shanghai Tang the non-traditional decor and setting is meant to be as vibrant as the dishes being served. These beautiful photos were taken by Paola Aseron-Dacanay for Lifestyle Asia's recently published book on entertaining at home RSVP. You can read more about the book and the entire meal that was prepared in my previous post.
The main place setting is made up of an eclectic mix of styles. The idea was to create something fun, unfussy yet still remain chic. I used these faux wooden placemats that were a gift from a friend and look great against the glass table. The gold charger is from Gourdo's and the beautiful plates are from W17 by Andy-Vazquez Prada. I purposely bought a mixed set of gold and silver because i prefer it when things aren't too matchy-matchy. I used my vintage silver cutlery from a flea market in France, chopsticks from Japan Home Store and coasters from Shanghai Tang. The chopstick rests are a mix of ceramic ones from Japan (pictured here) and fun red goldfish from Pylones (pictured below). The water and white wine glasses are stolen from my mother's bodega but of a scandinavian design and the red wine glass is by Riedel. Plain white cotton napkins are silly rolled and held together by graphic black and white bone napkin holders from Africa.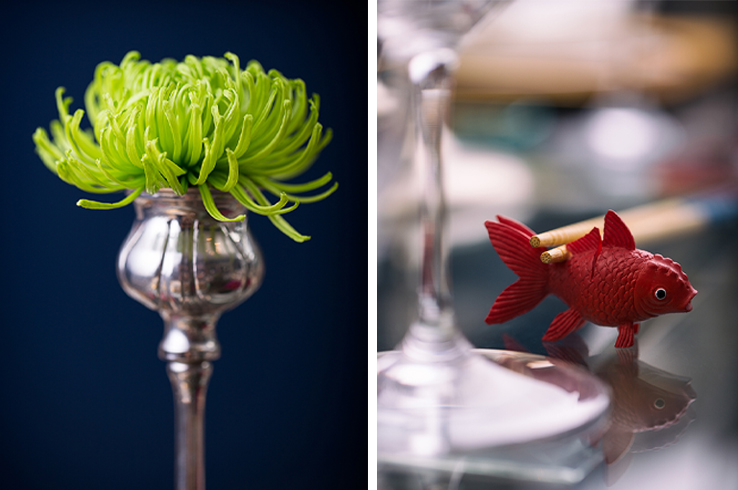 For the flower arrangements I chose to keep things simple and bright with boldly colored mums and carnations in mono-floral arrangements in a variety of vessels. The palette followed that Shanghai Tang theme of vivid magenta, hot pinks and bright greens. The main feature is a beautiful magenta orchid. I like finding quirky and unusual vessels for flowers and one of my favorites is using this vintage silver single candelabra, stuffed with flower foam and holding one single bloom. I love this super bright chartreuse of spider mums. They look amazing against the deep blue navy walls of my dining room.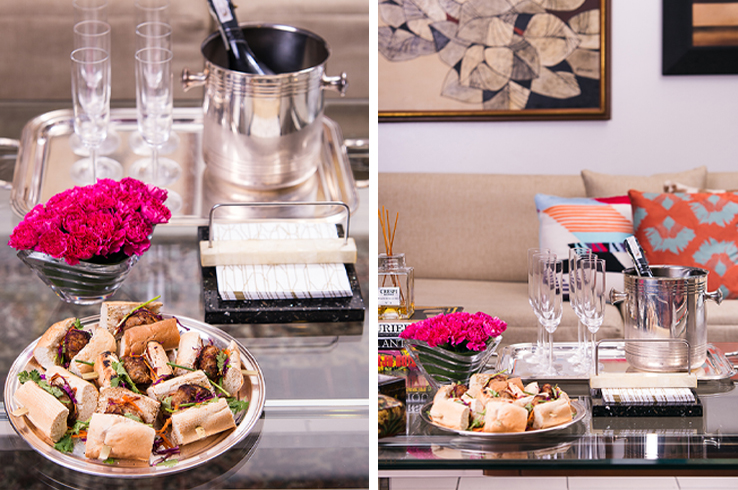 I carried the themed arrangement on to the living room as well, without overdoing it. A simple low arrangement of fuchsia carnations was enough to tie things together. Even if I am serving up some street food fare like Banh Mi, I think it's a nice contrast to use vintage silver.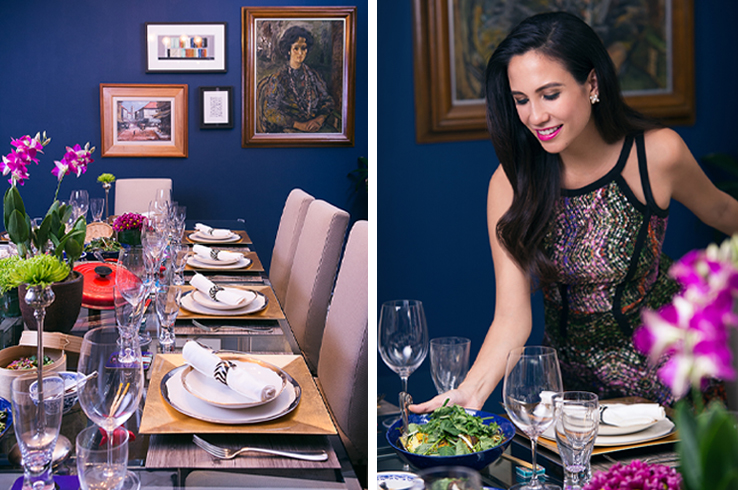 If you are serving food family style and especially if you are serving food as vibrant as this, it's best not to overcrowd the table and make the food part of the decor. Bamboo baskets, bright blue bowls and red casseroles… Serving vessels should match the decor and theme. Here's a tiny secret – I also like to match my theme somehow. I like to choose an outfit that goes either with the color scheme or the occasion. Call me vain but it's that part of me that is always seeking balance and harmony! Thank you again to the team of Lifestyle Asia for including me in their RSVP book and a big thank you to the glam squad for this shoot – Al de Leon (IG: @just_go_al) from MAC for makeup and Jan Edrosolan (IG: @janbej13) for hair. I swear I don't look like this on a regular basis – usually it's a quick ponytail and a swipe of lipstick and blush!