Because Manila is such an urban jungle we often forget that we are living in a tropical country and that we should embrace it's true nature. I'm so happy that tropicality in design has made a serious comeback. Palm leaves, rattan, hibiscus and sea life are creeping into our homes and becoming a decor mainstay. I like that sense of escape a fun palm print can bring or the whimsy that comes with the fluid shapes of sea creatures.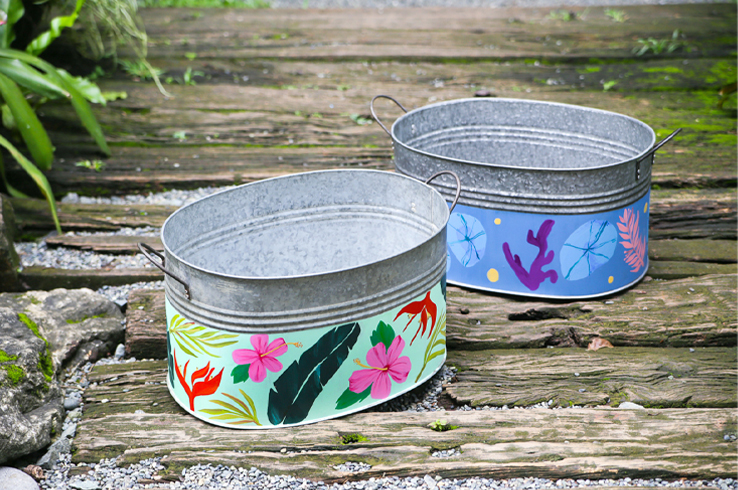 This collection for L'Indochine by calligraphy and watercolor artist Anina Rubio is pure exotic love. I love how it's made up of small, yet distinct pieces that you can easily insert in your home. The tropical print makes you want to sing "If you like piña coladas…." and sway to the balmy breeze all day, while the underwater print captures the serenity of a pristine coral reef. Something I miss. I was an avid diver before having the two babies and this is a great way for me to remember those peaceful moments floating under the sea.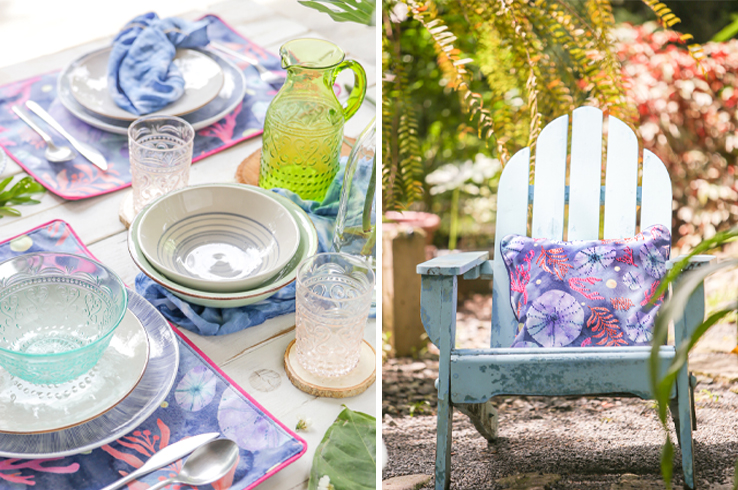 I imagine this placemat set as a perfect setting for a girly Saturday brunch with some lime grilled salmon and a Thai inspired noodle salad… oh and that soft palette totally screams: Rosé all day!
When I first met Anina during a feature we did on her for Modern Living TV, I was filled with envy. How could someone have such amazing handwriting? Seriously. Whatever boring old word she wrote looked gorgeous. I'm sure her grocery lists are masterpieces. Welcome to the life of a calligraphy artist. Even the way she stuck on the washi tape to this crafty board sign project we were doing, even the washi tape looked so artfully placed. My just looked like tape. Stuck there. I am so impressed by her ease of creation, a quick flick of the brush, a swipe her and a fluorish there and suddenly a blank canvas becomes this floral paradise.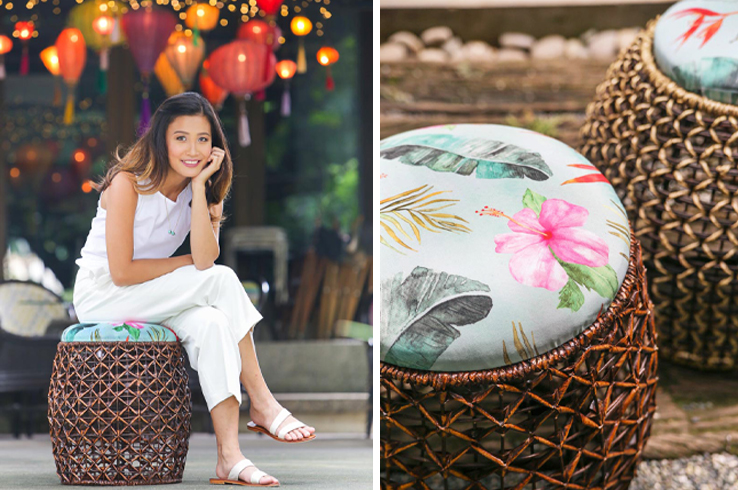 Anina is an avid traveller and beach-lover, she is passionate about the Philippines and exploring all its hidden gems. This zest for adventure is what drew the lovely ladies behind L'Indochine, Char Carlos and Leona Panutat, to her work. "Following the success of L'Indochine's first artist collaboration, we wanted to once again work with a local artist that shares the same vision as we do. An artist that showcases her experiences and inspiration through her work. Anina's pieces all tell a story, are vibrant and absolutely beautiful to look at. We felt that her artwork would be perfect for a lifestyle collection we wanted to create." To see more pieces from the collection including beach totes, swimsuit bags and paper products check out my post on TheGypsetters.Net .
The #L'IndochineLovesAninaRubio collection is exclusively available at L'Indochine.  L'Indochine stores located at the 4th level of SM Mega Fashion Hall and at the 3rd level of SM Aura Premier.
Photography by: Sheila Catilo