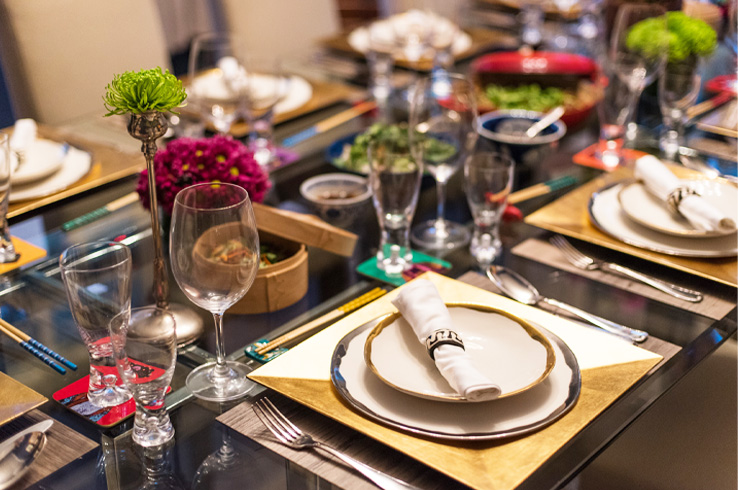 A Vietnamese Feast for Lifestyle Asia's "RSVP"
I may have left the food industry but I have never stopped cooking. In fact I enjoy it so much more now and realized that what I love the most in entertaining at home for my nearest and dearest. I enjoy the whole process – planning the menu, coming up with a theme, decorating the table, prepping and cooking the whole day… And I especially love those final quiet moments right before the guests arrive when the house is looking absolutely perfect and you know it's going to be a wonderful evening. What I love the most about not cooking for money but cooking for absolute pleasure? Is that I can spoil my guests and really make them feel loved and special. I was so honored when Lifestyle Asia asked me to be a part of their latest book – RSVP – where they've gathered all of Manila's famed hosts and hostesses to share their tables and secrets. I think its so nice to see how each host entertains in their own unique way, always a reflection of their own personal style.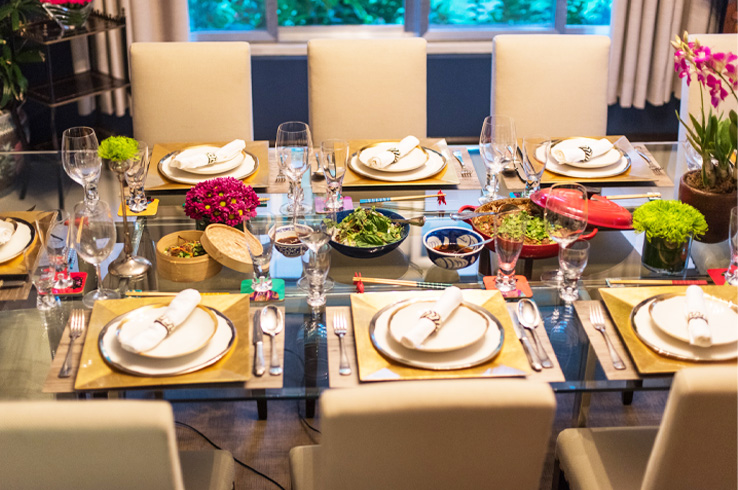 My tables and meals are almost always centered around a certain flavor profile or inspired by my travels. I like the themed touches to be felt but in a subtle manner. I enjoy making my own floral arrangements and taking the time to plot out the perfect table setting to match the food. For the book I had prepared a Vietnamese Feast, mostly rustic but flavorful dishes served family style. Starting with some Banh Mi Sliders for the appetizer, moving on to Vegetable and Mushroom Rice Paper Rolls, Cha Ca La Vong and a slow cooked Caramel Lemongrass Pork. My setting is inspired by contemporary asia with Shanghai Tang colors using fun chopsticks, mixing and matching plates and highlighting my favorite beautiful blue vietnamese bowls that I hand carried from Ho Chi Minh's Ben Tanh Market. Here are some photos of the setting and menu and through out the week I will be sharing the recipe of each of the dishes – so do stay tuned!
Congratulations again to the amazing team behind Lifestyle Asia's RSVP book! Anna Sobrepeña, Franco Laurel, Suki Salvador and Cheryl Tiu! I have such a soft spot for all them because they have been so supportive of all my endeavors all the years. Thank you again and much much love!
You can purchase Lifestyle Asia's RSVP for P850.00 at leading bookstores and newsstands. It's full of entertaining tips and recipes from the best hosts and hostesses in the country!
***All stunning photos are by Magic Liwanag who came to take extra photos during my shoot***
The Table
This table was really meant to be fun, bright and eclectic. I like playing with textures and love these faux wood placemats on my glass table. A touch of luxe with gold chargers and my favorite silver and gold roomed plates from W17 designed by Andy Vazquez Prada. For that definitive asian touch I used my favorite kitschy Shanghai Tang coasters, and mixed and matched chopstick rests using some I bought from japan and a few plastic little goldfish. To keep things still classic and old world, I used simple starched whit napkins and my sleek art deco vintage silverware. I love a touch of graphic black and white amidst all the chaotic color so I used these black and white african bone napkin rings. I kept the glassware casual with these vintage scandinavian designed water and wine glasses I stole from my mother's home many years ago. The little glass is perfect for a crisp white like Sauvignon Blanc or a nice pale Côtes de Provence rosé which would pair well with the grassy and herbaceous vietnamese flavors. I still like to use a proper wine glass like these Riedel Bordeaux glasses for red wine. Something a bit heavier that would go with the pork. I don't like to overdo the flowers nor have arrangements that prevent you from seeing and conversing with your neighbor in front of you. I chose simple vibrant flowers in monochromatic and mono-floral arrangements with the sculptural element of a beautiful pot of orchids. I left ample space on the table for the food to be set in the center.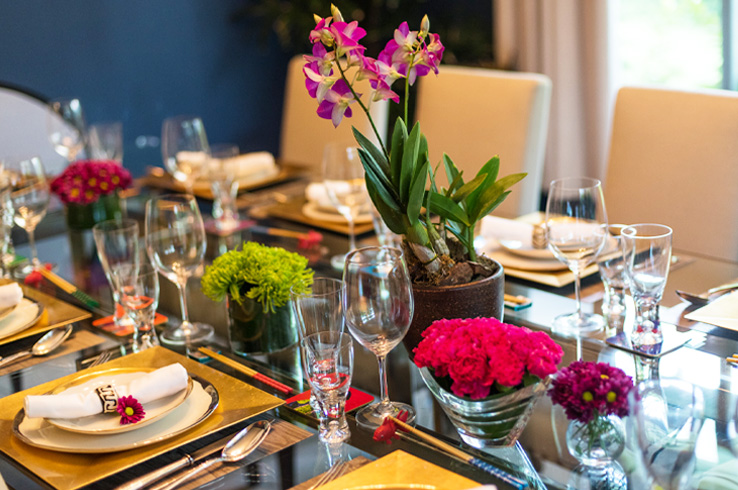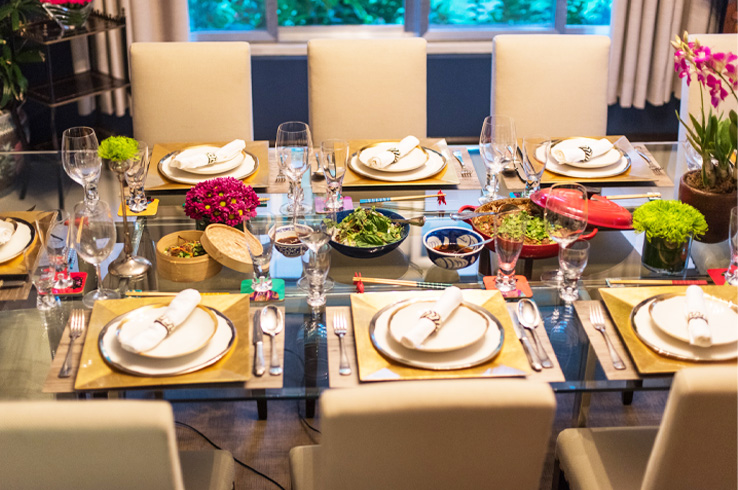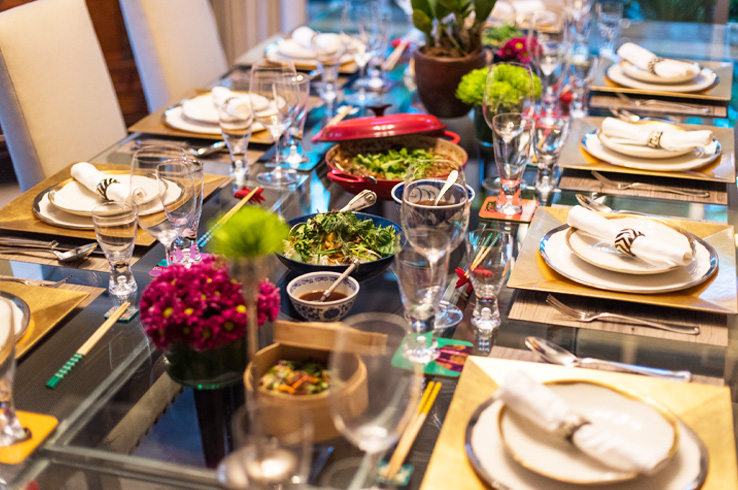 The Menu
I keep a record of all my favorite themed menus so that I can easily pull them up when needed. Mediterranean Barbecue, Luxe Cocktails, Asian Casual, Modern Filipino… It always has a dip or some sort of hors d'oeuvres, something people can easily snack on while waiting for other guests to arrive. I also like to note what over store bought nibbles or desserts could be served as well as certain place settings or decor I may have used.
For this Vietnamese Feast I served the following:
Banh Mi Sliders
Mushroom and Vegetable Rice Paper Rolls
Cha Ca La Vong
Lemongrass Caramel Pork with Steamed Rice
For dessert I would have offered something light and refreshing like maybe a citrus sorbet with a shot of Manille Calamansi Liquor straight from the freezer.
Over the next few days I'll be posting all the recipes for these dishes, so please stay tuned!
Banh Mi Sliders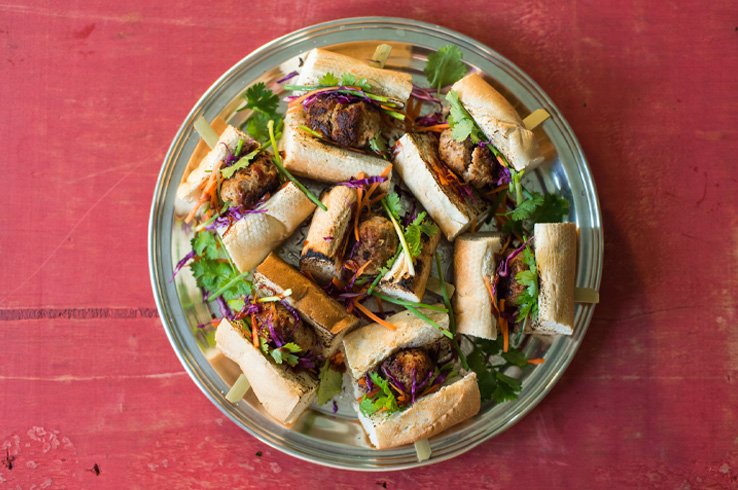 Easy to bite Banh Mi Sliders made with my usual go-to pork meatball recipe, with a bit of nuoc cham, Sriracha mayo and a fresh herb, carrot and cabbage salad. Luxe up this have street food fare with a vintage silver platter. These are perfect for your guests to nibble on with a cold glass of bubbly while waiting for the rest of your invitees.
Mushroom and Vegetable Rice Paper Rolls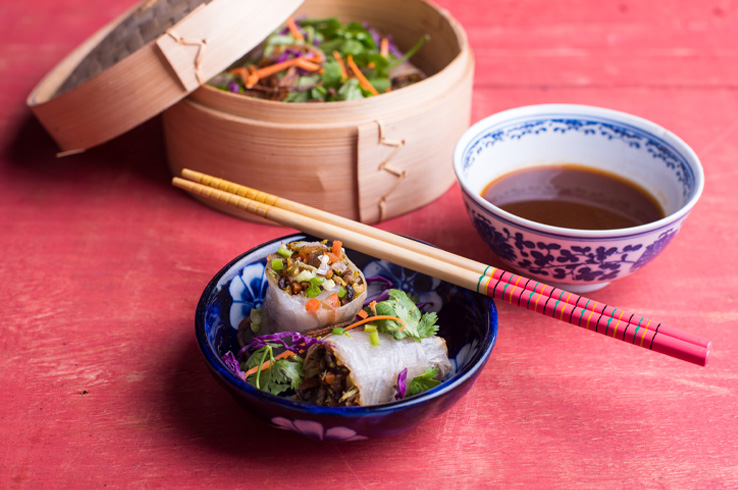 It's not an authentic vietnamese recipe but something I created inspired by the iconic Banh Cuon. The filling is made of sautéed chopped veggies like broccoli, carrots and shiitake mushrooms, rolled in rice paper and served with crispy fried onions and a citrusy hoisin dipping sauce. It's absolutely delicious. I love serving them in these bamboo baskets lined with banana leaves.
Cha Ca La Vong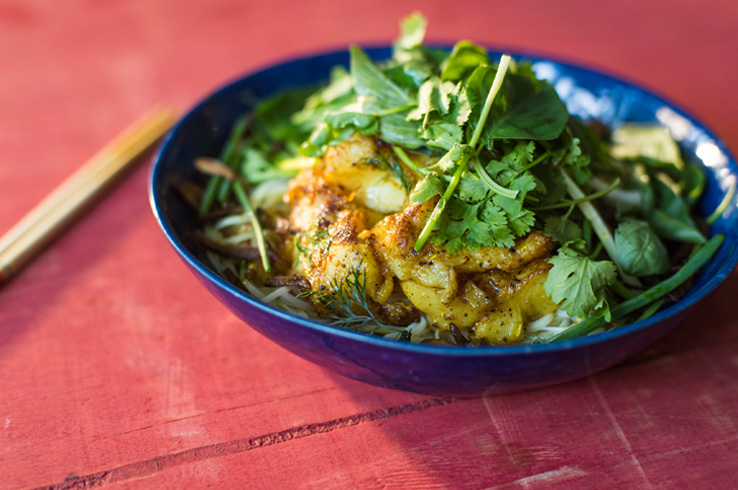 One of my favorite dishes ever! The first time I tried it in Hanoi I was enamored! So I came home and tried to recreate it ending up with my own lighter and fresher version. Imagine a tumble of beautiful turmeric fish on top of thin rice noodles covered by a mountain of fresh herbs like dill, basil, cilantro and spring onions and charred crispy fried onions then drizzled in that iconic sweet, savory and a little spicy nuoc cham. I could eat this at least once a week. You could serve your guests individual bowls or plate the noodles and the fish separately so guests may build their own bowls. Place the herbs, the fried onions and dressing in little bowls so they can jazz it up however they want.
Lemongrass Caramel Pork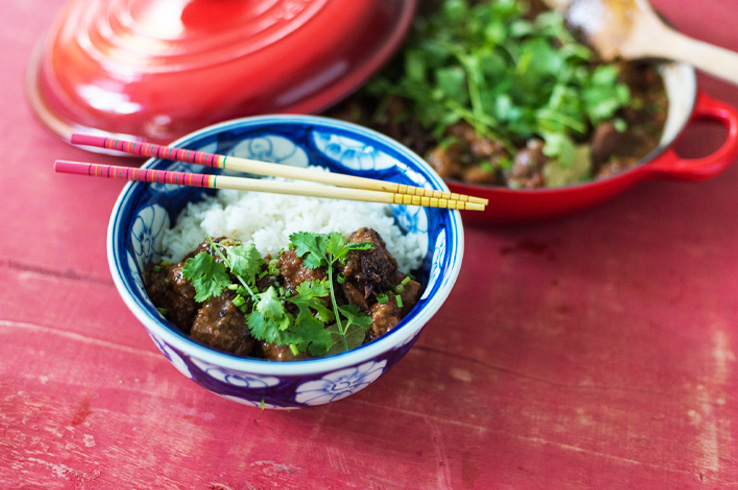 This slow cooked delight in a symphony of asian flavors – ginger, lemongrass, star anise – in a beautiful sticky stew of tender pork caramelized in its fat and some burnt sugar with soy and fish sauce and all kinds of other deliciousness. Add a bit of sriracha or sambal for that nice garlicky heat and serve with fresh cilantro and spring onions. Have some nice steamed white rice on hand to really appreciate and sop up that sauce!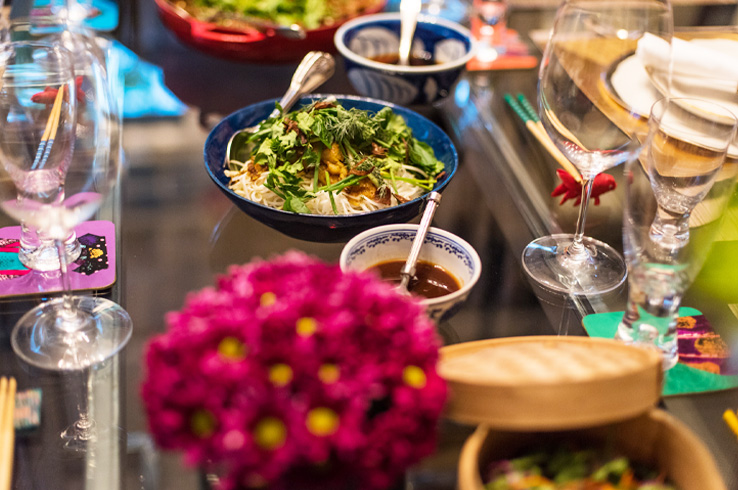 Allow the food to be an integral part of the decor, especially when you have dishes as flavorful and vibrant as these. Use serving platters and bowls that tie in with your theme like the bamboo baskets or my favorite blue and white bowls from Vietnam. In the end one doesn't eat the decor and the food should still be the main highlight.