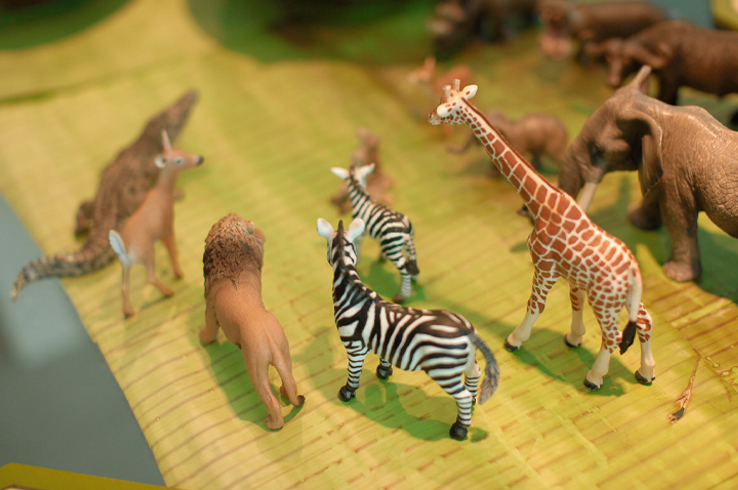 A Wild Welcome
I had told my girlfriends that I really didn't need a baby shower. I had everything I needed for Maximilian's arrival, he would just inherit all of his brother's things. It's funny how the second child syndrome already starts while they're still in the womb. All the fanfare and hoopla that comes with your first baby suddenly seems a bit unnecessary the second time around. The mindset is more about being practical and being totally in control of everything. You tell yourself: I've got this. You know that little babies don't really need all those cute onesies and that they wear it for a split second then they've outgrown it. The last thing I wanted was more stuff… Where would I put it?? Hence the "I don't need a baby shower" attitude. My girlfriends did manage to convince me that it would just be a fun afternoon get together, a great excuse to catch up with the ladies. When they asked me what I wanted or where did I register… well I didn't have a registry. I really didn't need anything! I was however crushing on something so outrageously frivolous for Maxi's room – a giant leather giraffe.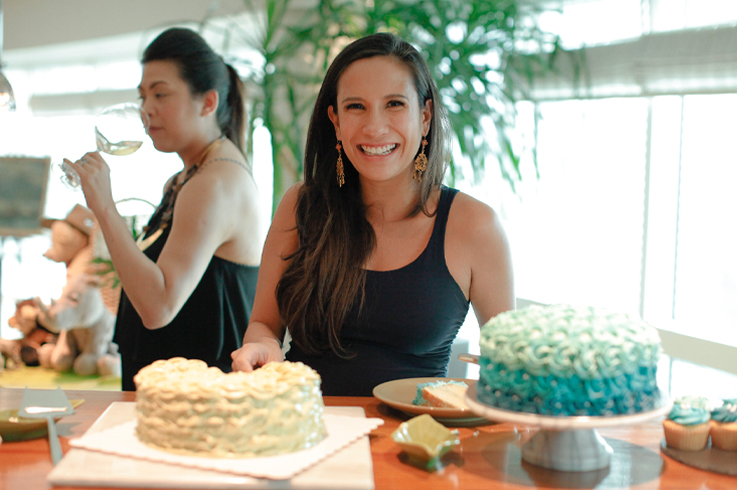 Since Maximilian was basically going to get hand me downs for practically everything except diapers, I wanted to make sure that his room was going to be truly his own and something special. Sebastian had the most gorgeous vintage travel nursery, I searched all over for the right pieces, wanting to inspire him to discover the world and live with a sense of adventure. Maxi's room had to have that same emotion and feeling but it also had to be completely different from his brother. I went with "Jungle Safari" and everything was pretty much in place save for the ultimate missing piece – that giant giraffe. The girls so sweetly pitched in so that the room could be absolutely perfect. Don't worry, I'll get into all the verdant design details later in another post.
For now I would like to thank all these wonderful women who surround me, my dearest friends, many of whom are amazing multi-hyphenate mothers who manage to pull off modern motherhood with such panache! Who will listen to my vain concerns about losing weight while breastfeeding without judgement or will give heartfelt sound advice about transitioning from parenting one child to two… And for the other incredible ladies who aren't moms but play such an important role in my life, keeping me sane, sharing their talents but above all their time and friendship… Another big thank you! I'm also so grateful to my family over at MAC who organized a little workshop and giveaways. Plus of course to Chyvin Reyes who took all these beautiful photos. f you'd like to work with Chyv, do get in touch through her cellphone: +639162871462 or visit her website: www.chyv.format.com or her instagram account: @chyvreyes – she's done quite a few things with me including shooting some maternity photos, these yoga poses and the photos for my series on Reviving the Regimen.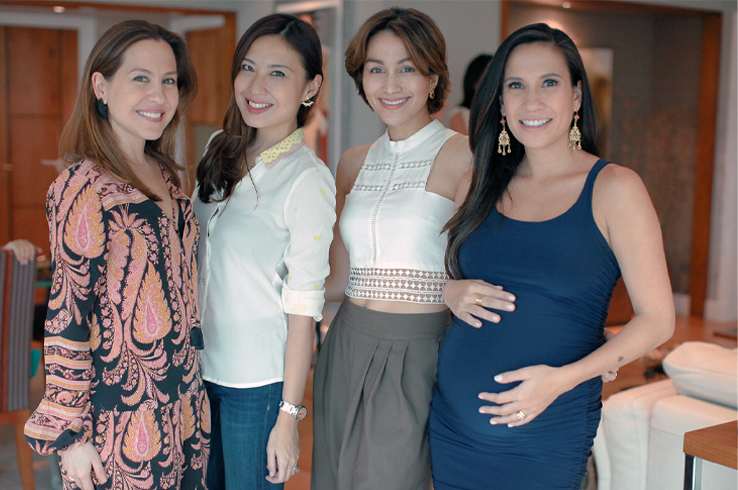 This little wild welcome into the world was hosted by three of the most exceptional women I know – Stephanie Kienle-Gonzalez, Jackie Antonio and Rosanna Ocampo Rodriguez (Maxi's ninang!) Stephanie prepared a beautiful spread, tastefully decorated in the jungle safari theme using knickknacks and toys from her daughter's collection.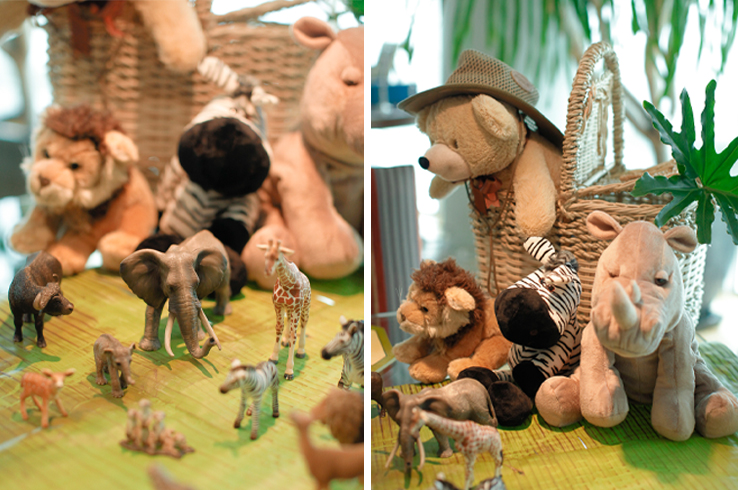 One thing I love about Stephanie is that it's never overdone. Everything is always perfectly curated, each detail is always full of thought and intent.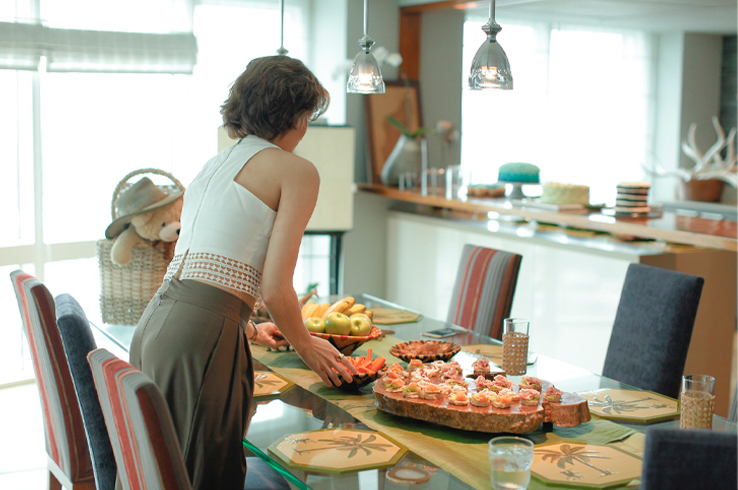 Little homemade canapés to nibble on, set atop a beautiful piece of wood. I loved her use of banana leaves and natural elements like the agate coasters and solihiya covered glasses. Even that whimsical monkey placemat is so chic! We don't do over the top cutesie patootsie here… even her baby shower spread has that signature effortless elegance.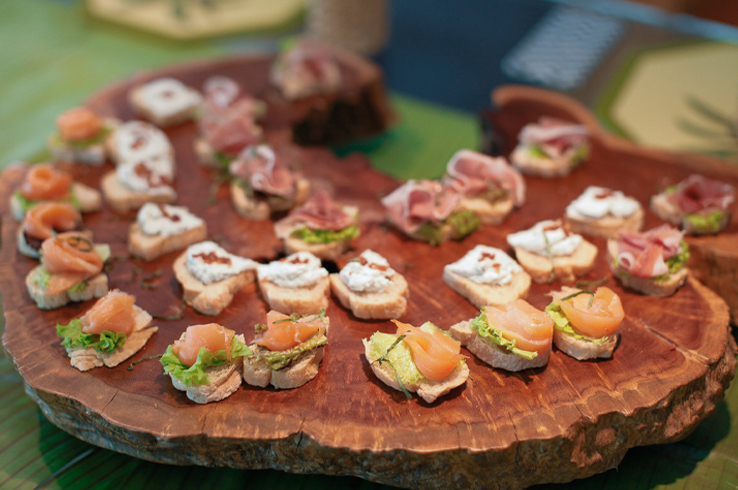 There was a particularly delicious selection of cakes. One brought by Rocio Olbes-Ressano from Cupcakes by Sonja which was an impressively towering multilayer red velvet concoction. The beautiful blue ombré rosette cake by MNL Bakery given by Vani Vergara, Sam Lewis and all the lovely people at MAC. Lastly this fluffy green tea dream by Roshan which was brought by Rosanna.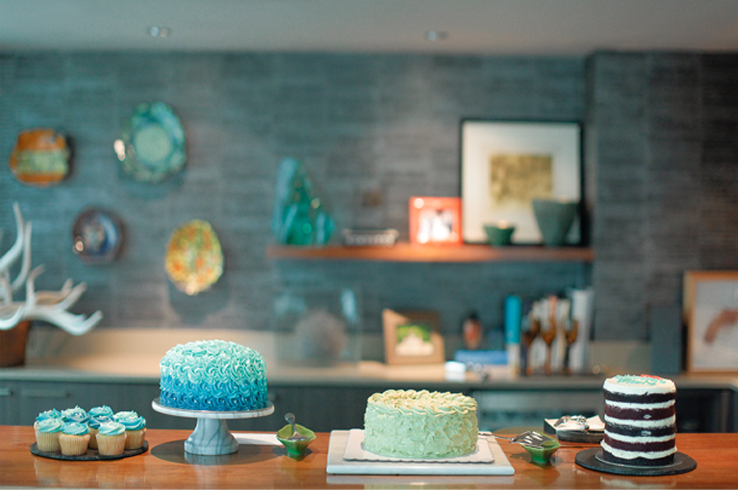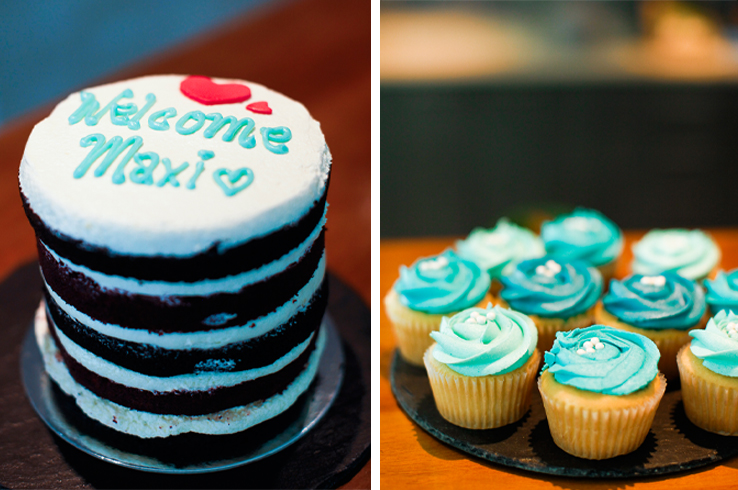 It was such a lovely afternoon full of laughter and great conversation. The older I get I realize that true friendships are not measured by the frequency of which you see each other but more by the quality of the time spent together. Tinky Locsin, Stephanie, Rocio and Rosanna.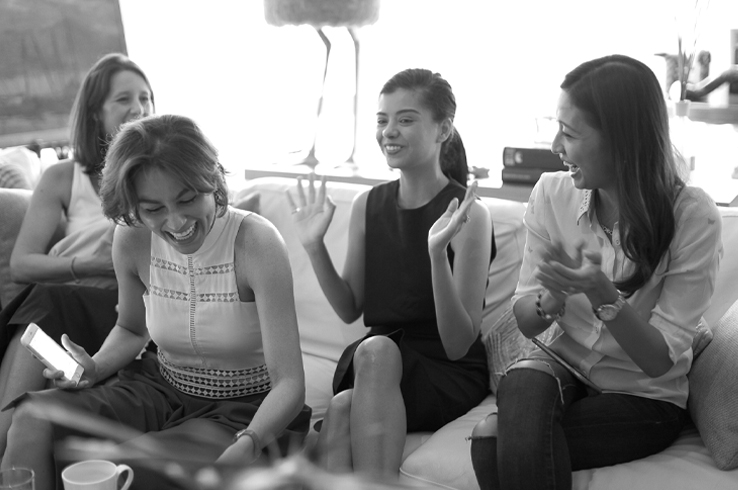 Even while my beloved makeup artist and friend Al de Leon was conducting a demo on quickie morning makeup for busy ladies… we were still laughing!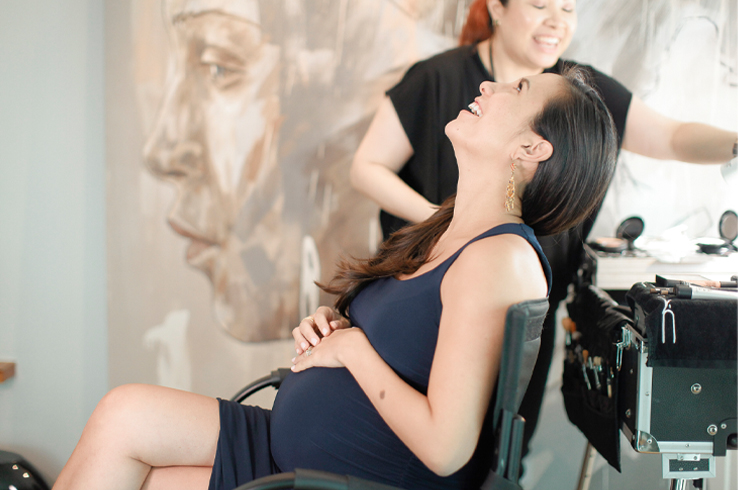 Our littlest guests enjoying the afternoon. Dancing to some salsa with Sebastian and the cutest "frenemies" Sebastian and Andrea.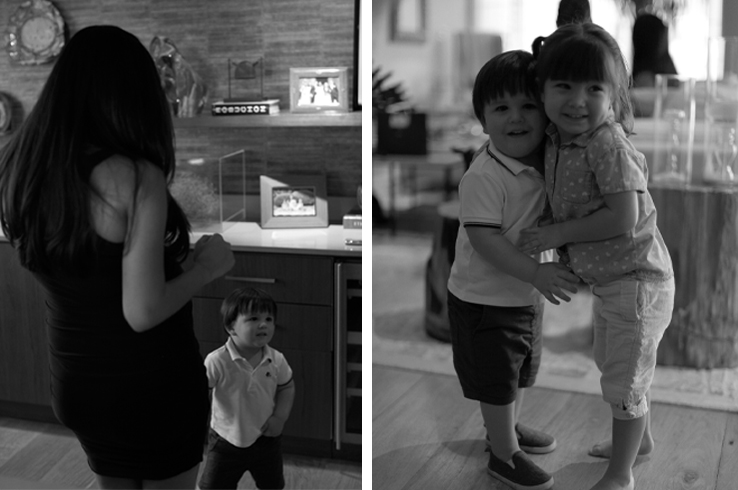 It was so nice to catch up with these ladies, especially Camille Villar. We go way back, cutting class in high school to go shoe shopping and exchanging long existential emails analyzing big ticket purchases like a new bag or a bright red raincoat. She just recently gave birth as well to a beautiful boy. I think it's wonderful how we can both be so busy, be full blown adults with a family and yet when we get together it's like we're still two high school girls. Here with my kumare – Tina Pamintuan-Wheeler Sebastian's ninang, Sen Sanchez my yoga guru who does the best combination of serious, solid ashtanga practice, meditation and vinyasa chismis. Next to Camille and I is Macky Fäh another gorgeous working momma who makes beautiful jewelry and hand poured scented beeswax candles. And lastly blooming bride-to-be Rocio and blooming momma-to-be Mikaela Martinez.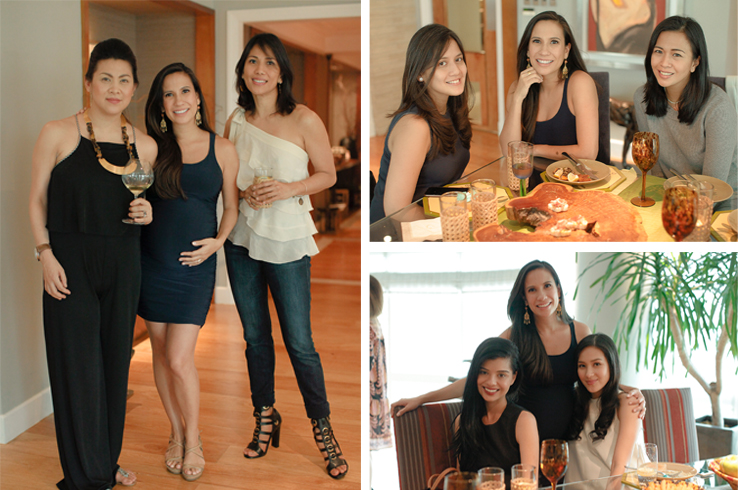 Sebastian with his Ninang Stephy… I love that little round face and buko hair!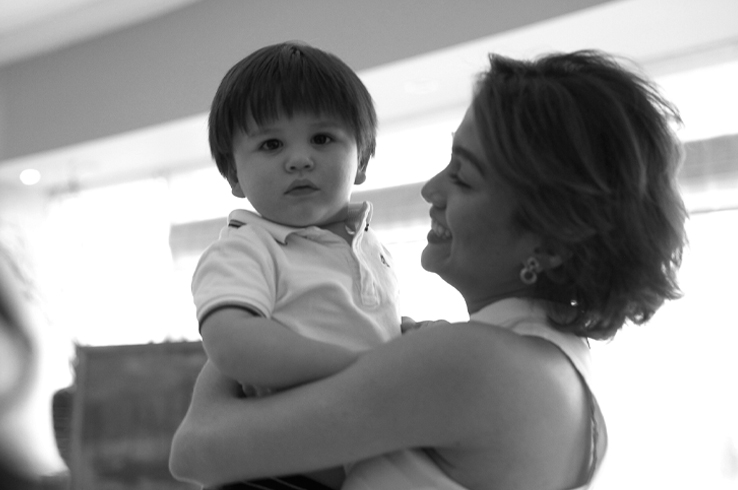 Thank you so much to the girls for all their contributions! I had to promise that I would really buy that giraffe and not blow it on a pair of Aquazurra shoes form Net-A-Porter! Thank you also to Jackie for the cutest soft plush giveaways and cookies from Chibi Momo – the very best kid's store in town! And of course to my MAC family for the giveaways! Everyone left with a nice little loot bag of lippie and my new favorite item – Casual Colour Lip and Cheek Colour. It's like a cream pot thats really blend able and gives you a nice dewy flush. Check it out in the Keep It Loose shade at your nearest MAC store.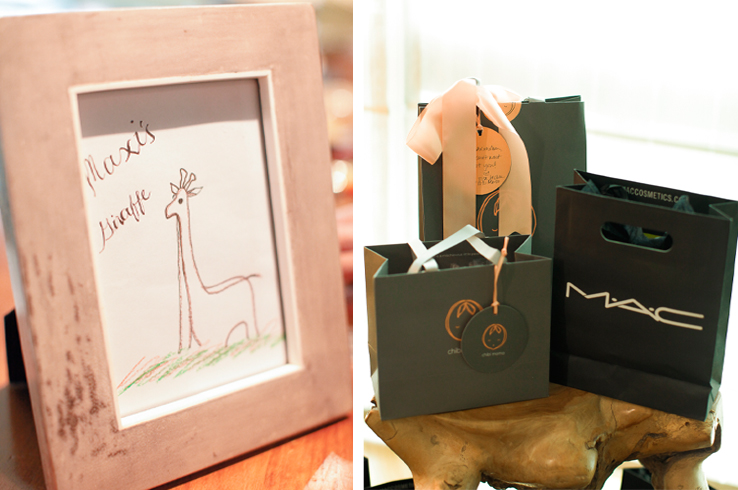 Overall it was the perfect afternoon with all these talented and beautiful women that I am so lucky to call my friends. Having a shower was the very perfect excuse to get together and eat some cake! From Left to right: Tinky, Stephanie, Camille, Sen, Tina, myself, Carmela Villegas Agosta (of Casa San Luis, famous for her calamansi liquor cupcakes), Rosanna, Jackie, Macky, Rocio and Mika. To the ladies who couldn't make it but still so kindly contributed to the giraffe – Isabelle, Audrey, Vicki and Allana – thank you again for the love and friendship. So happy Maxi will come into a world full of such wonderful people!