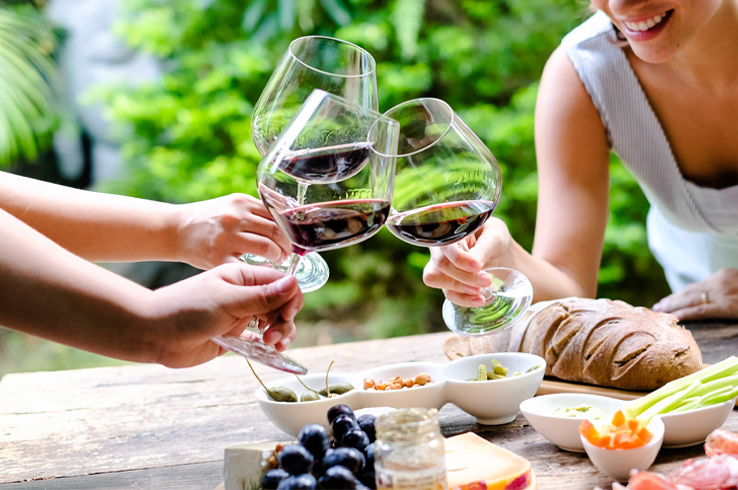 A basic guide to glassware for an elevated wine drinking experience
Living in France for seven years was such an incredible experience and the wine! Oh the wine! Even just a 5 or 10 euro bottle would bring so much pleasure. We were definitely spoiled for choice. My student days in France always ended with an apéro at someone's flat. We would all get together, bring a bottle of wine each, throw some cold cuts and cheese onto a board and wind down. One thing that was pretty characteristic of many of these happy hour affairs was that most of the time we drank wine out of plastic cups. No one wanted to wash a gazillion glasses (except me! haha I used small tapas glasses instead of plastic cups.) But it bodes the question how did I ever used to drink wine from plastic cups?? Now that I know more about wine and the winemaking, it's such an insult to all the effort put into making a wine to simply drinking it out of a plastic cup.These were not specialty acrylic glasses like they have now, I mean these are store bought, picnic style plastic cups.  It's an unpleasant experience as it completely changes the taste and aromas of the wine. Choosing the right glassware is essential to a great wine experience. Here's a quick guide on people who want to truly heighten their wine drinking experience at home.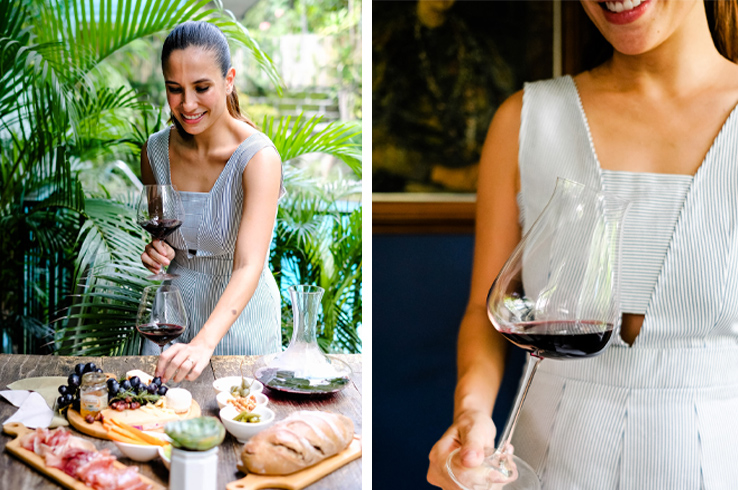 Shape:
Serious oenophiles like having different shapes that suit the grape variety. Heavy, younger robust reds may need a larger bowl to help aerate the wine and develop in the glass. As with the case of some slightly more mature wines that might need a bit of help opening up.While otherwise should not oxides too much and actually need a narrower shape to help concentrate the delicate aromas. This however doesn't mean you need to get all shapes, especially for home use. It's truly ridiculous to bust out 5 different glasses at a sit down dinner corresponding to the different types of wine. This type of nerdy wine appreciation is best suited to smaller groups. In that light it's always good to have one excellent set of glassware thats adapted to your lifestyle. A great all around glass is the Lucaris Tokyo Temptation Burgundy Glass pictured on the left. It's still chic but not too fussy, with all the qualities of excellent crystal glassware. On the right is the more specialized Lucaris Desire Robust Red glass.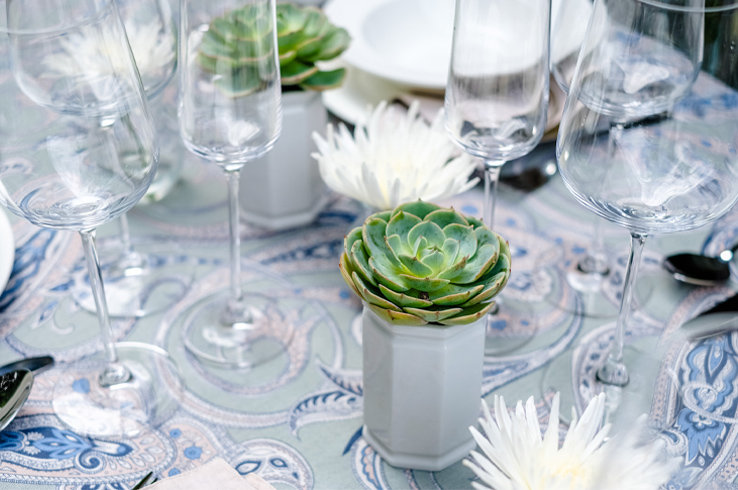 The basics in glassware sets: pictured above is the Lucaris Hongkong Hip set.
1 set for red – choose a style that's suited to your taste. Don't be tempted to buy a very large glass, because some red wines really fall flat in them. Too small is also not suitable either. A medium sized glass with an ample bowl is perfect.
1 set for white – match your set of red. The white wine glass should be relatively smaller than the red glass but not too small that it looks disproportionate at the table.
Champagne flutes are optional – although it's wonderful and very festive to have them, it's not entirely necessary if you're on a budget or if you don't drink champagne. Don't forget champagne is a white wine and can in fact be served in a white wine glass. However you don't get to appreciate it's fine effervescence as much, in a pinch though, a white wine glass will definitely do.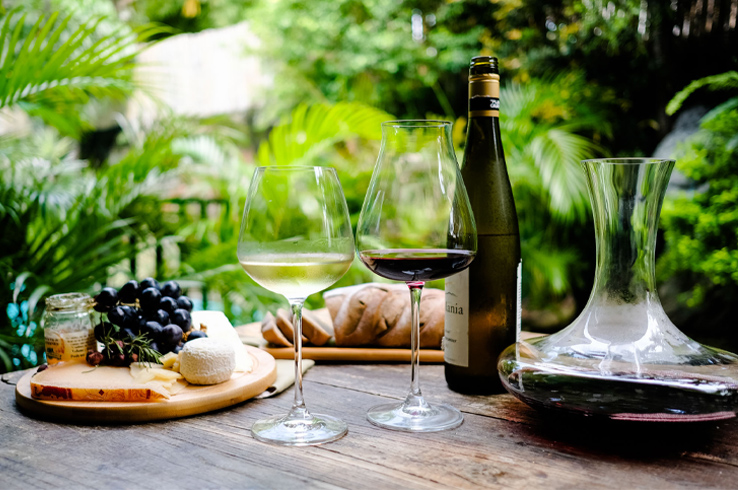 A set of 2 or 4 specialized glassware – If you're into a particular type of wine, then make that extra purchase for it. Love bold Malbecs or spicy Shiraz? Purchase a glass adapted to it's varietal like the Lucaris Desire Robust Red glass pictured here, developed in partnership with the Hong Kong Sommelier Association, with the patented Aerlumer design at the bottom of the glass that encourages micro-oxygenation, softening the wine as you swirl it gently. Or something like the the Lucaris Desire Crisp White also pictured here.
A decanter – Not all wines need to be decanted but it's always nice to have one on hand in case someone gifts you with a very special bottle. A good decanter has a wide enough base to aerate the wine before serving. Pictured is the Lucaris Bangkok Bliss Decanter.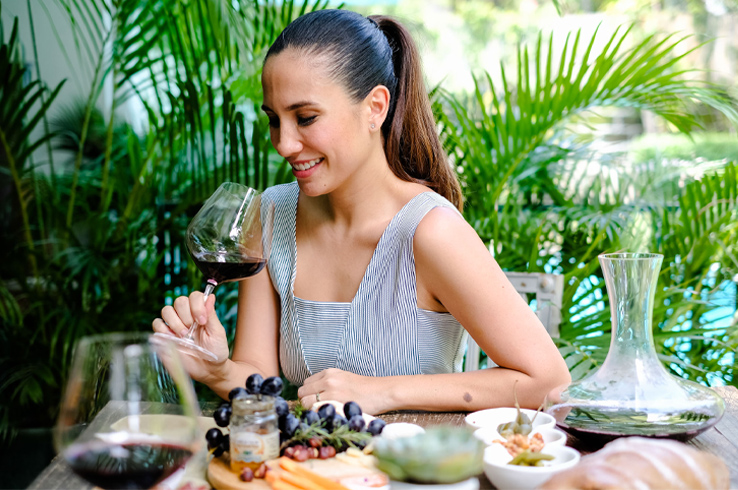 Color:
Thin, colorless completely transparent walls are essential to enjoying wine. A big part of wine appreciation is the color and body of a wine. The captivating colors of a gorgeous golden Sauternes or a velvety deep ruby St. Émilion would sadly be lost in a colored or discolored glass.
Material: 
Crystal is definitely the material of choice. It's meant to be colorless, odorless and can be made to be very thin but extremely durable. Most of the crystal glassware in the market is made in Europe and come with a hefty price tag. Some of models and brands are at even P4,000 to P5,000 pesos per glass. That's why I believe Lucaris is a great choice. It is the first Asian made, lead free luxury crystal glass which is entirely safe and suitable for fine dining. Made in Thailand with technology from Germany and Japan. Prices are reasonable with this Lucaris Tokyo Temptation Burgundy glass priced at P659.75 per glass. Although it still represents an investment, they are very durable and would last you a long time.
Lucaris glasses are designed to be breakage resistant for both individual and food service industrial use. Since it's meant to be used in a professional setting, this becomes an extremely durable product in a home setting! I've actually had a friend say "Cheers!" a little too vigorously and he broke my special Riedel wine glasses! They actually cracked when the glasses clinked together! The Lucaris glass can withstand the dropping of a 95 gram steel ball at 300 mm height with no breakage. The stem and joint can endure more than 30 kg of load. That's pretty impressive. I also like that the stem and the base are seamlessly attached. It's also happened to me with poorer quality glasses that the stem or base breaks off.
Truly good value for money, Lucaris glasses will give you many years of a great wine experience at home!
Lucaris can be purchased at the following stores:
SM Home: SM Aura, SM Baguio, SM Clark, SM Lipa, SM Makati, SM MOA, SM North Edsa, SM Ortigas, SM Pampanga, SM San Lazaro
Robinsons Department Store: RDS Ermita, RDS Galleria, RDS Festival, RDS Metro East, RDS Pioneer, RDS, Cabanatuan, RDS Lipa, RDS Galleria Cebu
Landmark Department Store: Landmark Trinoma
METRO Gaisano Department Store: Metro Market Market, Metro Marquee Mall, Metro Alabang, Metro Ayala Cebu, Metro UP Town, Metro Fairview
***This post was sponsored by Lucaris. To learn more about Lucaris please click here.***
***To learn more about how I choose my partners please visit my FAQ's***
***All photos by Magic Liwanag***