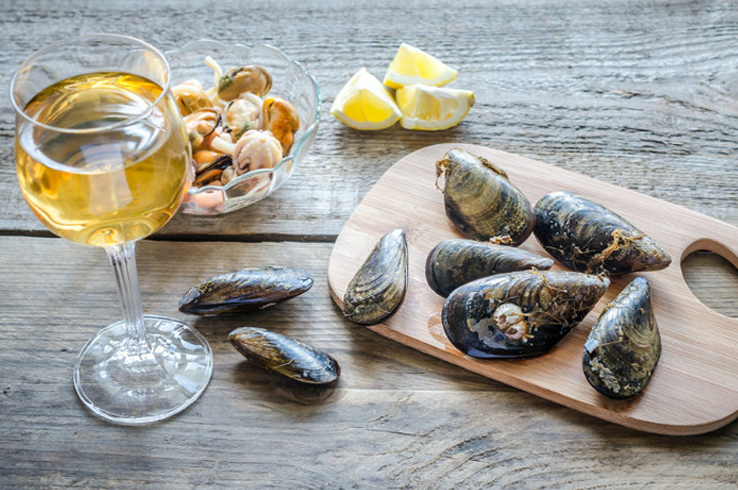 Better Together
The match made in heaven… That first sip of a perfectly chilled glass of white wine to wash down a wonderfully briny morsel from the ocean… Taking your palate through an intoxicating journey from the salty, iodized sea to fragrant citrus blooms and sweet nutty almonds notes. Could there be anything better for a long and languid sunny lunch?
For basic pairing tips and advice visit this great guide by Fish on Friday , which even suggest at times trying a – gasp! – red. Staying true to tradition however, it's usually Chardonnay or Sauvignon Blanc that pops first into our minds. Venture out of your comfort zone and explore other grape varietals and blends. Here are some of my favorites.
Grüner Veltliner
This little known Austrian gem is full zesty citrus flavors. Lime, lemon grape fruit and notes of white pepper. It's very dry, with a lovely pale green color, extremely crisp with a nice acidity. An absolute dream to drink! And one of my favorite varietals. Pair it with a rich fish like haddock, trout, halibut or grilled sardines. It also pairs well with bold Asian flavors like ginger, shiso, coriander, cumin and sansho.
Have a sip of this well priced Domaene Gobelsburg KAMPTAL Grüner Veltliner from Manila Wine at P890.00.
Viognier
My absolute favorite wine to pair with Thai food because this full-bodied white holds up to all the fragrant and vibrant flavors and complex layers of fish sauce and sweetness in Siamese fare. The peach, tangerine, honeysuckle and mango aromas go particularly well with galangal, fresh cilantro and coconut-based curries. Depending on how it's made, Viognier wines can be light and fresh or creamy and bold.
Try the great value for money Camas Viognier from Sommelier Selection at P675.00 for your next Thai dinner.
Riesling
Riesling is one of the most fragrant grape varietals around with an intoxicating aroma of apricot, nectraine, honey and citrus blossoms. It has a natural sweetness which is combined with a high acidity. I like to stay clear of the sweeter versions preferring the dry wines that are such a delight to drink! Another wonderful match for Asian dishes and especially the heady spices of Indian food. I would use ample amounts of Riesling to wash down a particularly fiery crab curry!
Treat yourself to a lovely bottle of Hugel et Fils Riesling "Hugel" from Planet Grapes at P1,300.00.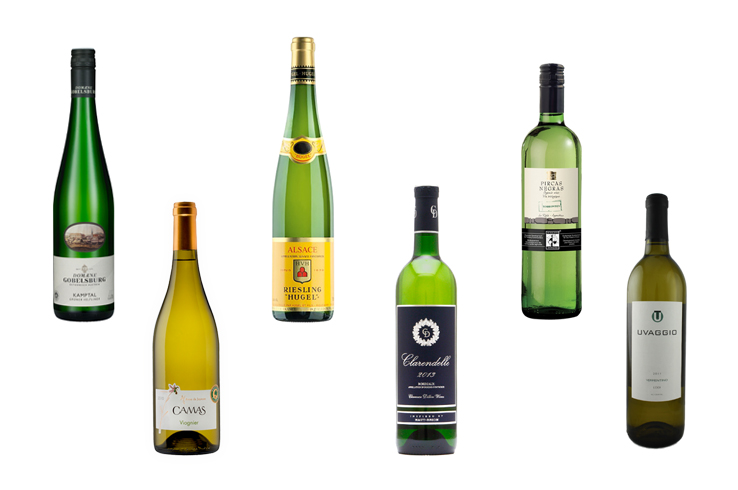 Semillon Blends
This grape varietal is what makes Bordeaux's famous Sauternes and is in fact the 3rd most important grape varietal in France. Depending on the climate Semillon grapes can produce wines with a richer and riper quality or a zesty freshness. With notes of lemon, apple, papaya and pear it can be rather versatile depending on what it is blended with. White Bordeaux usually blend Semillon with sauvignon blanc and muscadelle. I love Clarendelle Blanc's aromas of fresh fruit and white flowers and that beautiful minerality. It would go amazing well with a rich white fish like black cod, Chilean seabass or artic char with a nice dill sauce.
You can purchase Clarendelle Blanc at Txanton for P1,060.00 which is not necessarily cheap but really affordable for all the sophistication it offers.
Torrontes
Moving into the New World this grape variety is originally from Argentina and produced mostly from Argentina as well. It's very aromatic and perfumed with sweet notes of lemon peel, rose and peach but is surprisingly very dry compared to its bouquet. It's a nice match to dishes with thai basil, mint and cilantro. Maybe why not try it with some grilled tandoori shrimp paired with a fresh herb salad.
Pick up a nicely chilled Pircas Negras Torrontes 2013 for P1,100.00 at Planet Grapes for your next spiced dinner.
Vermentino
Is there anything better than being in the Italian coast and hydrating yourself with their famously pale and crisp white wines? This light bodied grape varietal originally from Sardinia has beautiful fresh notes of lime, green apple with a touch of almond. It's deliciously dry and mineral and is just perfect with langoustines and grilled octopus. So while you may not be in the Costa Smeralda, you could transport yourself there through a nice cold bottle…
Italian Vermentino's are not that easy to find in the local market but you could try the Vermentino from Californian based winery, Uvaggio at Planet Grapes for P1,450.00.