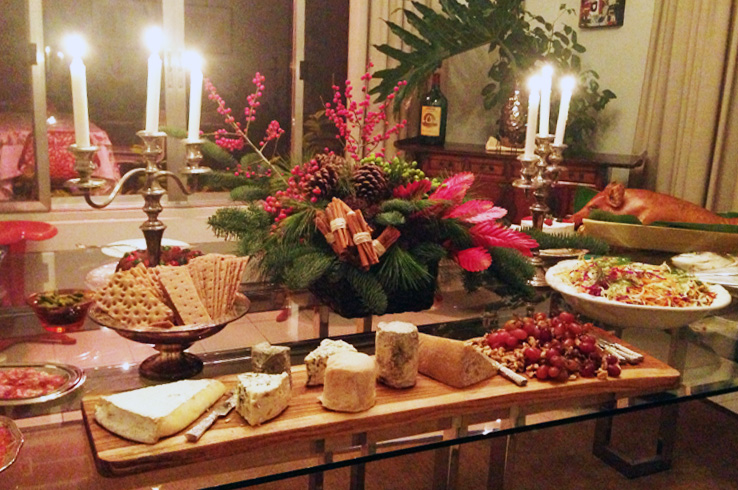 Holiday Entertaining Guide
The Holidays. Images of shiny, happy people, laughing with their mouths open, cozily clutching wine glasses or swishing martinis. The table is set beautifully, whether be it glam or rustic, plates and silverware casually strewn about, pine cones and poinsettias, tinsel and glitter… The food is perfectly imperfect, charred ends of roasted potatoes, sauce sexily dripping off the sides of the casserole, a turkey so golden it looks like it came from a summer in the French Riviera. In this day and age of instagram and pinterest, it seems that everything has to be picture perfect. Casually putting things together on a table in their usual chafing dishes does not seem to cut it anymore. The reality is that the holiday are more often than not holi-daze… Everything going so fast, a stressful jumble of work, family and festivity. When we host at home, we either resort entirely to a caterer or end up looking like a frazzled mess trying to provide anything and everything under the sun, in our traditional over-the-top Filipino way of serving ten thousand things on a buffet. I love to entertain at home but there is nothing more unwelcoming than a stressed-out host. So for the holidays I am sharing with you my favorite secrets and armes-de-guerre for throwing the perfect holiday cocktail with ease.
Mix and Mingle
Forgo the usual dinner buffet and sit down table settings for a more relaxed heavy cocktail vibe. It gets people moving around, talking and chatting. It creates energy. Make sure almost everything you serve can be eaten on a cocktail plate and a fork. Even if you are serving a roast or a lechon, carve it up into easy to eat pieces. Food stations as opposed to one buffet where people have to line up works well too. That way you can choose to go grab a nibble here and there as opposed to piling your plate and stuffing your face in one go. Have some areas where people can sit casually at a table, a lounge area where there are armchairs and sofas, plus a few cocktail tables. Your house is not a restaurant, people should feel at home and naturally blend in. Book a waiter or two to help easily clear the mess as the evening progresses. Check out my Guide to Easy Entertaining here.
Relaxed Chic
Use your best plates and cutlery but in a relaxed manner. I love using all my vintage silverware but instead of laying them out in a formal way, I put them all into glasses, fanned out like a bouquet for guests to grab from. My nicest plates whether mismatched stacked up together. Pretty goblets lined up next to an ice bucket with some wine. You want your guests to feel special but at ease. Also if you have no patience for washing your napkins after such a soirée, buy some beautiful printed napkins – Firma and AC+632 has some great ones.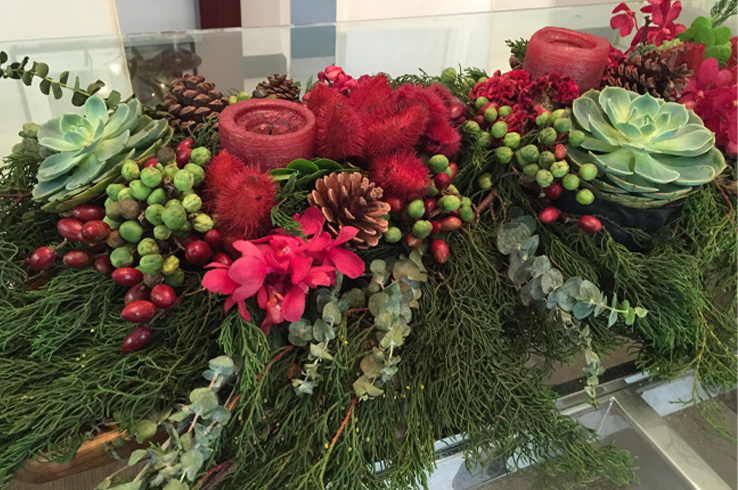 Less is definitely more
Whether be it food or décor focus on quality over quantity. One stunning centerpiece is far more appealing on the buffet over tons of little cheap Christmas knick knacks. The same principle applies to food. It's better to have less items on the menu but make it the best possible. With beverages it is the same principle. You don't need to have a full bar on stock or if budget doesn't allow to have decent, non-headache inducing wine – opt for sangria or cocktails instead.
Easy Dining
Don't be ashamed to order out almost everything, just please re-plate, remove them from their take-out boxes or trays and always have at least one home-made item.  My raclette machine is probably my most important weapon in my entertaining arsenal. When I am too lazy to cook and have guests over, I just buy some raclette cheese, boil a bunch of marble potatoes and serve with pickles and onions and a side salad. Almost everyone is a happy camper! Desserts are always welcome during the holidays and in principle have at least 2 to 3 options: one chocolate based, one fruit based and something else fun.
Every other year it has become a tradition for me to host a holiday cocktail December 25 in the evening. My house is open to friends and family and stragglers who are around with nowhere to go. I've fine tuned my modus operandi and have the perfect menu down pat, as well as a list of my favorite suppliers which I am willing to share with all of you in the hopes of making your holidays a stress-free one!
Christmas at Casa Crespi
Appetizers:
These are usually scattered about the house, I'll have one kind on one table and another kind on another table which lets guests circulate.
–Smoked Salmon Platter with Pink Peppercorns, Dill and Red Onions served with crackers and lemon wedges
–Crudités with an Herbed Feta Dip (or store bought hummus if I am feeling lazy)
–Homemade Caviar Terrine (you can order your favorite caviar pie but I am sharing my easy recipe here, no need for molds if you don't have one)
–Foie Gras (I used to make my own but couldn't be bothered, buy your favorite brand, the best are the mi-cuit in the little glass mason jars which you can just pop open and leave on the table for guests to serve themselves from)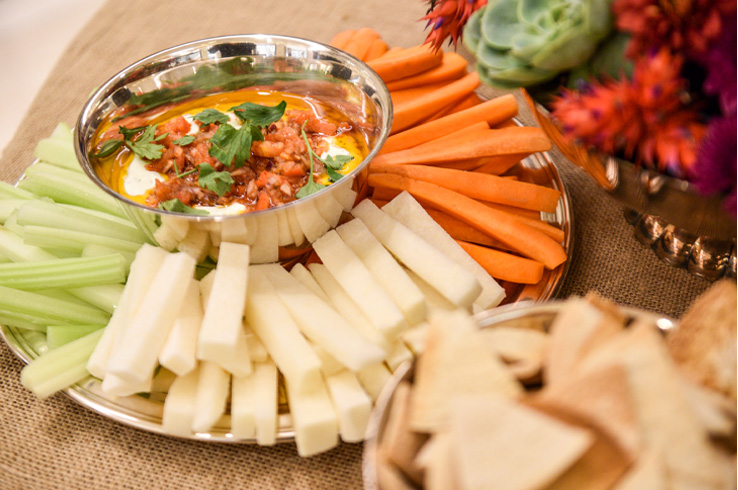 Raclette Station:
I will usually set up my machine on one side of the dining room with all the fixings. Count about 50g of raclette per person. I boil a bunch of marble potatoes that I place enveloped in a napkin in a nice silver bowl or low vase. I serve it with the traditional baby pickles or cornichons and pickled onions. You could also have some bresaola or air-dried beef on the side. This station usually has its own set of plates and cocktail forks.
Pasta Station:
Instead of the usual chafing dish, which can dry out, I've found it more fun to put a small, single induction burner in one corner topped with a pretty induction compatible casserole filled with the pasta and a wooden spoon. I set it on low and that way guests can serve themselves nice warm pasta and stir the pot once in a while.  I make my signature Sambal Spiced Porcini and Mixed Mushroom Farfalle.
Cold cuts and Cheese:
I have invested in beautiful wooden and slate cheese boards. You don't need much adornment. I like to buy schwartzwalder schinken or smoked black forest ham, spicy Hungarian salami and French Saucisson Sec sliced thinly at Santis because of their staying power in warm Manila weather and value for money. If you want a real treat however do get some hand sliced Jamon Iberico at TXANTON. They have all kinds of price points from the classic Iberico to the Jabugo and they are all delicious! If you are not in the mood to make a large cheese platter or don't have the budget it's possible to go simple. Instead of offering a whole bunch of different kinds of cheese, sometimes I like to just choose two or three and get big pieces. For example brie is always a winner and something hard and sharp like aged gouda or manchego serve with some jelly on the side. I find that Terry's Selection and Sommelier Selection have the best variety of cheeses in town. Throw in some grapes and nuts and you're set!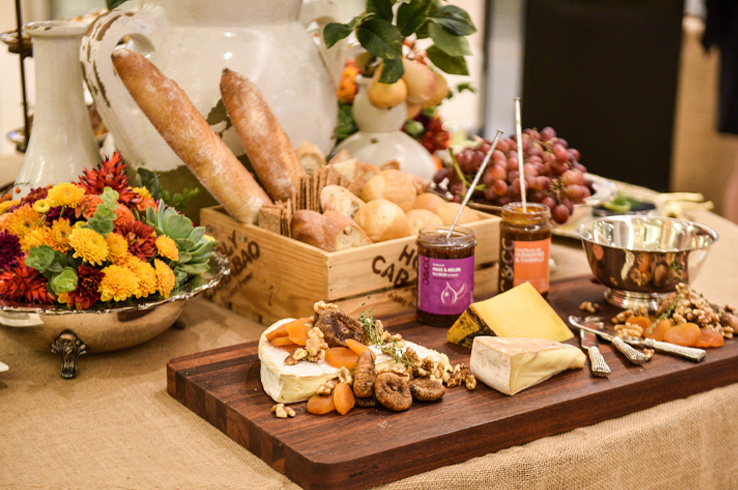 Main Event:
For the main event, since I am still Filipino a good lechon de leche, and one of my favorites is Pepita's Truffle Lechon, stuffed with truffle rice. If you feel you need a fish dish you could also order a Baked Salmon from Contis or Via Mare.
Dessert Station:
My favorite sweet treats are Anne Puno's Rum Cake, the Yulo Strawberry Shortcake and Cheesecake, Salted Caramel and Chocolate Torte of Dessert du Jour by Mara de la Rama, Kouing Amans by Chef Ciçou and my latest favorite discovery Salted Chocolate Cake by Flourjar. I like to present them in varying heights, with different cake stands and risers plus interspaced with a bowl of fruit.
For more ideas on who to order more delicious goodies from check out this post by my sophisticated hostess-with-the-mostess friend Grace Baja's who features in her The Spoiled Mummy blog her favorite things and her list of Holiday Potluck Dishes. They're mouthwatering lists of savory and sweet treats that are perfect for a stress free affair!