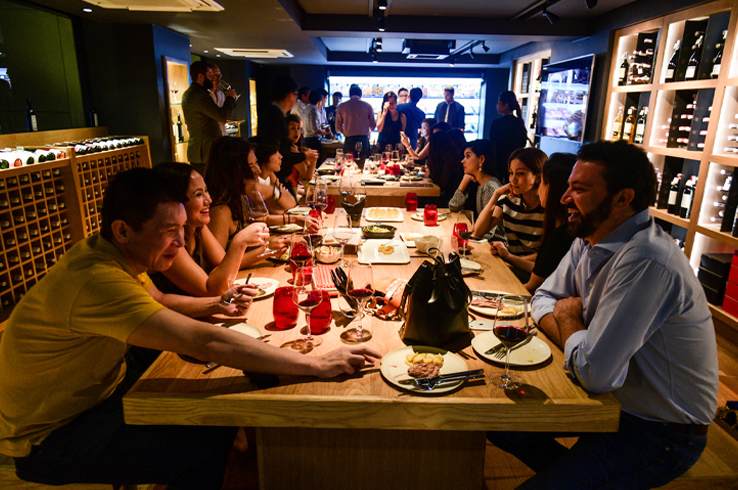 Jonathan's Birthday at Txanton
My husband is a pretty easy going guy. He doesn't like splashy celebrations, he doesn't like giant buffets or over-the-top anything, for him it's all about low key and quality over quantity. Unless of course we are talking about wine and if we can get away with it – it's quality AND quantity! Joking aside, as with most men, it's extremely difficult to find them something nice as a gift. Especially when they are like Jonathan who are not really into gadgets or with any particular hobbies or obsessions – he's all about living a quality life everyday and would rather spend on memories that material things. For his birthday I threw him a nice little wine and food pairing party at one of my favorite new places in town – Txanton.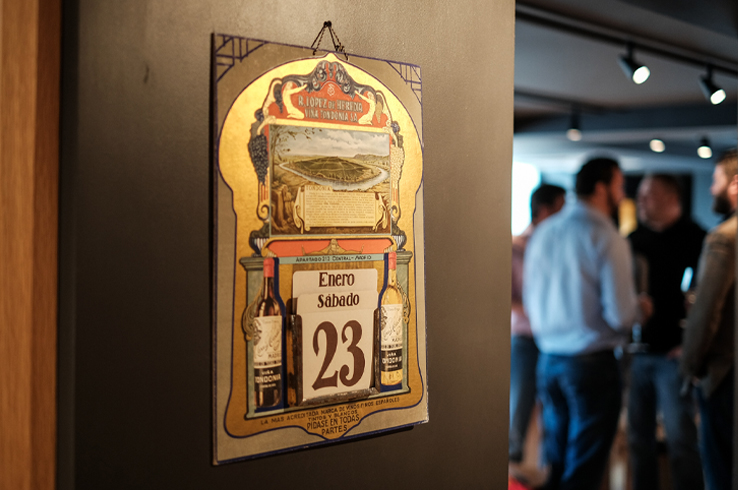 The idea was not to have a stuffy sit down dinner but for all our friends and family to come together and have a solid good time. I however didn't want it to be just any other cocktail. I really wanted it to be an experience with a real focus on the wine. How would we marry the two? Combining a real wine tasting with a cocktail format? It gets even more challenging – my husband is not a fan of buffets nor is he a fan of just pass arounds. He wants to be able to eat something substantial. It was a bit of a logistical and menu conundrum. Thankfully the people over at Txanton, notably the manager Besay were so accommodating. I worked closely with their team and the results were nothing short of amazing.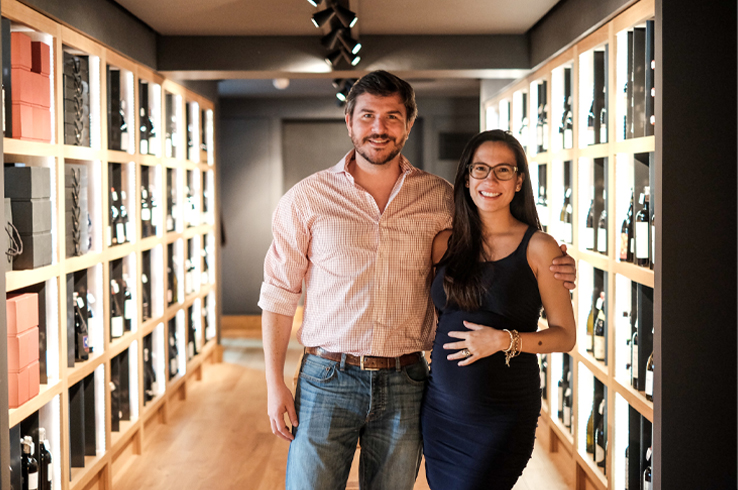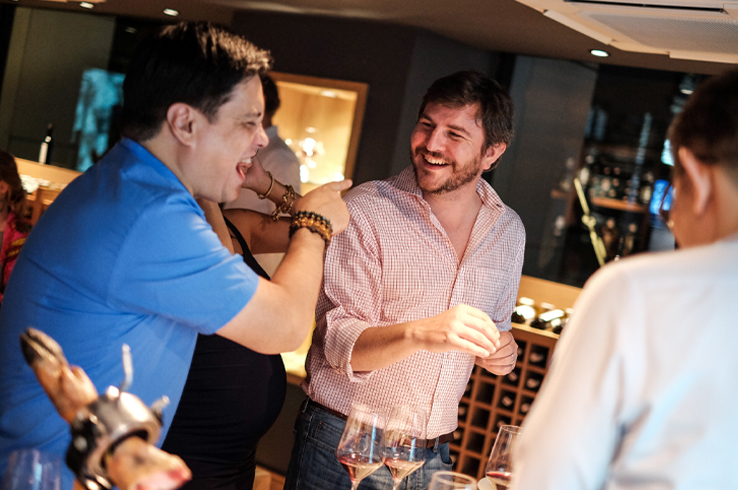 Everyone was well fed with delicious food and freshly carved jamon… The wine was overflowing and got better with every progressive glass… And most importantly we all had a blast. Laughter filled the air and everyone left smiling from ear-to-ear. It's my favorite combination for an amazing fête: good food, good wine and even better company.
All smiles below are Paolo Villonco, Brady Wheeler, my lovely parents, Isabelle Stremme and Amy King.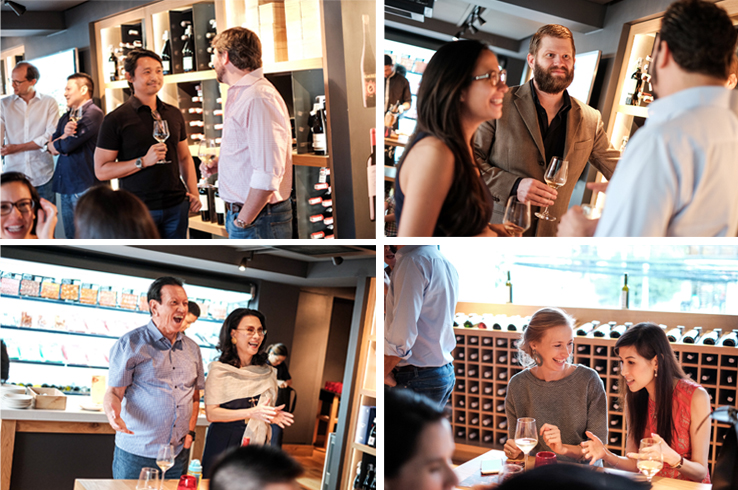 Here's a little overview of the party, the menu and the set up plus some tips on how you can throw your own un-stuffy and deliriously fun wine and food pairing.
Wine
For most events the wine is just an accessory to the food, a token red and white to fill everyone's glass. Here I really wanted it to be the star. I wanted our guests to not just try good wines but to learn a little bit more about the tasting process. I decided on five wines: 2 whites and 3 reds. They would be served progressively throughout the night, one after the other and not just as a selection for guests to choose from. Each wine was introduced with a very brief background on the chateau and tasting notes by Carlo, their sommelier. I wanted it to be extra special but I also had a budget to stick to, so the wine list had to be a good mix of easy access wines, value for money and one prestigious wine. Here's the big surprise – the second to the last wine – Sarget de Gruaud Larose 2007 which was a Second Wine from Chateau Gruaud Larose, actually did much better than the grand finale – a Smith Haut Lafitte 2008.
This is something I love so much about wine. In the end its never really about the fancy chateaus or the big ticket wines, it's all about the right wine at the right moment. In fact quite often Second Wines from a good year will fare better than First Growth wines of a not so good year. They are usually great value for money.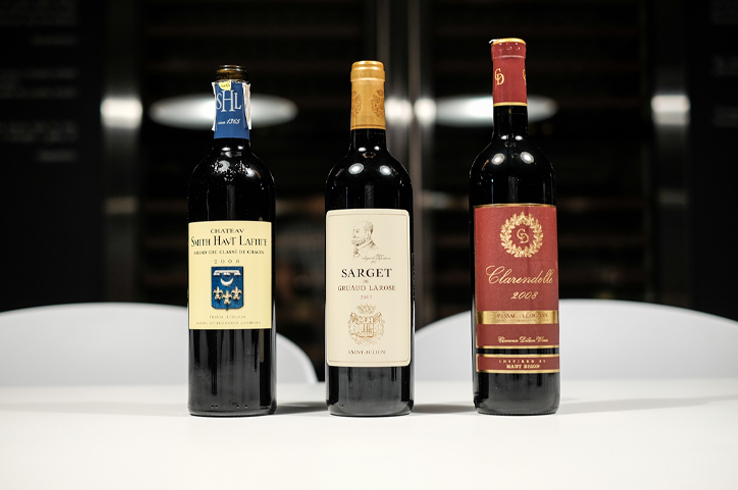 We started with a Clarendelle Blanc – a semillon, sauvignon blanc and muscadelle blend that was nice a refreshing. It was then followed by a Chablis Reserve de Vaudon 2013, a richer white made from Chardonnay. It was the only non-Bordeaux wine of the evening. (Yes my hubby is a big Bordeaux fan, and being French, rather admittedly biased in his preferences.) For the reds we started with one of my most favorite value for money wines around – Clarendelle Pessac-Leognan 2008, followed by the Sarget de Gruaud Larose 2007 and the Smith Haut Lafitte 2008.
Pictured below enjoying the wines are Antonio Ressano and his beautiful bride Rocio, Konsti Stremme and Abhi Mohan. On the lower right with my brother Migs and his wife Audrey are the lovely ladies, Grace Baja, Allana Montelibano and Bianca Ramos.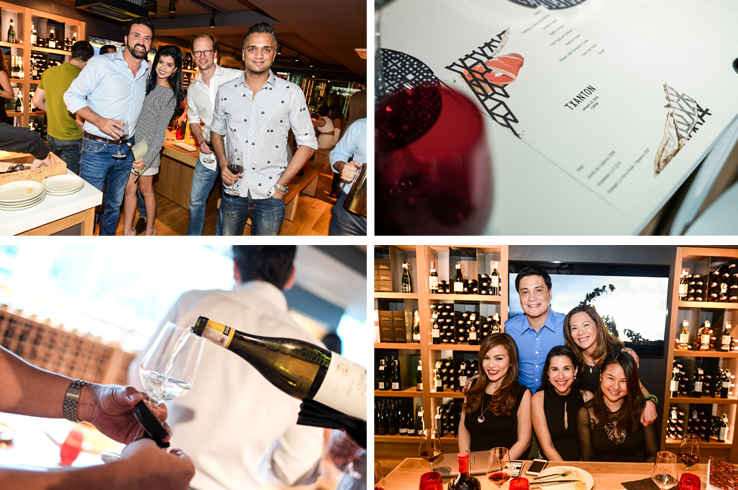 When creating your wine list always take into consideration two things: strength and quality. Always go up into a crescendo. Think of the opera or a concert – you always save the most powerful songs and greatest hits for last.
Evidently I could only purchase a limited amount of the Smith Haut Lafitte but in case my guests still wanted to continue drinking I needed to have some back up. Choose an accessible wine thats easy to drink and good value for money. A tried and tested favorite of yours. By this point I guarantee no one will be sniffing an swirling anymore. They'll be so happily tipsy! Do do your guests a favor and try to choose a wine with not too many sulfites to avoid giving them a massive headaches the next day.
Food
We chose the food to pair specifically with the wines but one of the main highlights of this boozy afternoon was the on the spot carving station of Jamon Iberico. I almost felt bad for the master carver because my guests would surround him like vultures and every beautiful paper thin slice was gone in seconds. We practically ate half the leg… No joke. It was that delicious. We actually had to send my son Sebastian home because he just kept on eating jamon without restraint.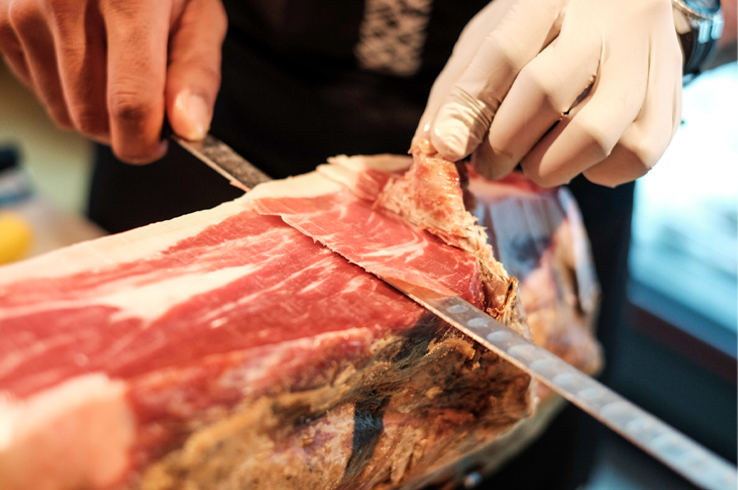 As soon as people came in they were served glasses of perfectly chilled Clarendelle Blanc to wash down all that nutty saltiness of the jamon. there was a wheel of manchego for guests to cut up and nibble on and we also served this amazing iberico ham paté, which actually felt more like a rillette but it was so good even my mother who doesn't really eat meat had her fair share. I kid you not, a lot of diets were broken within the first 30 minutes of the party. That's what I call a successful beginning!
The Chablis was paired with some crab tartlets, followed by mild blue cheese croquets to go with the Clarendelle Pessac Leognan. Then came a rather unusual pairing that still worked out very well, a tuna carpaccio with bellota fat to go with the Sarget de Gruaud-Larose. All of these little bites were first passed around and then left on the center of the tables for guests to pick on. I really wanted them to have their fill and not have to chase after a server to get another bite. In the same light we wanted to give guests a semblance of dinner. We started the affair at 4pm and ended just around an early dinner time. The problem was there wasn't really enough seating for everyone nor did we want a buffet. So to pair with the Smith Haut Lafitte, they served this incredibly soft roast iberian pork with some potato panadera on the side on small plates. The pork was so tender you didn't really need a knife to eat it. You could squeeze up to a free space on the table or park yourself by the bar area and still enjoy your meal. I had some friends who were vegetarian so they made a few bowls of a delicious vegetable risotto. Everything was just divine.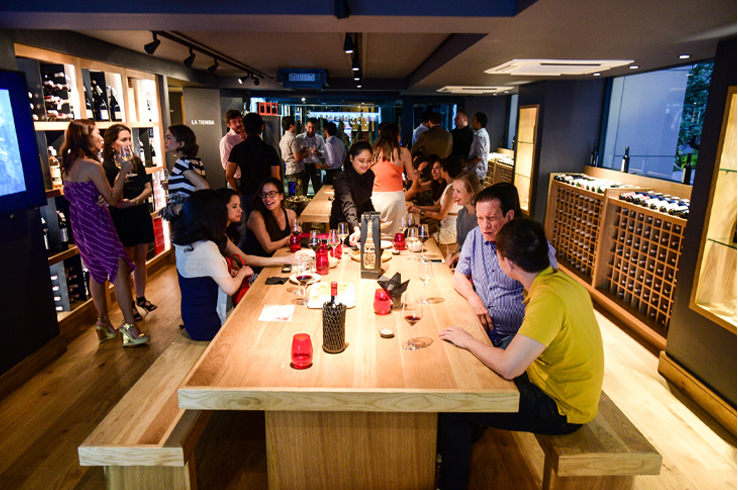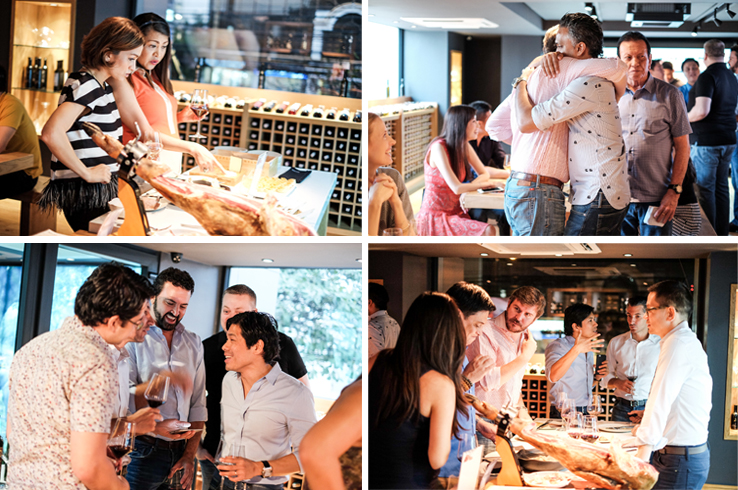 For dessert, I brought in two of my favorite cakes: Flourjar's Salted Caramel Chocolate Cake and the famous Yulo Strawberry Shortcake which one of my friends so kindly gifted! thank you Michelle! After the blowing out of the candle everyone just attacked the cakes. These two are always crowd pleasers. The Antique Wine Company, Txanton's sister company who imports all these wines, gifted my husband with a very nice armagnac which he happily doled out to all the guests after the cake.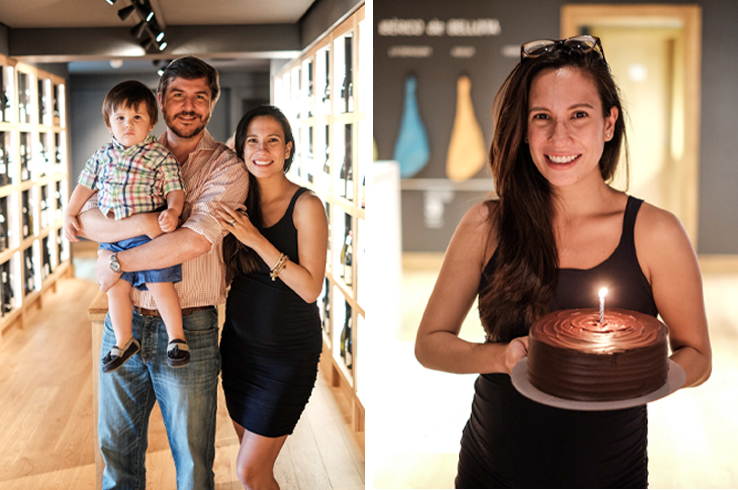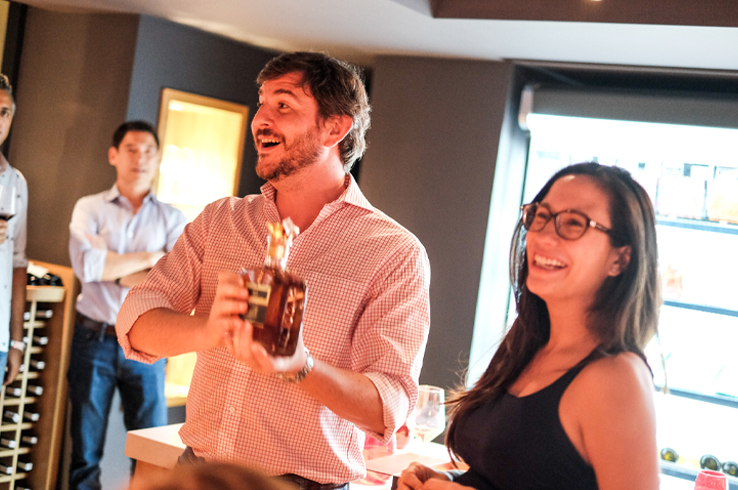 It was a wonderful evening with all his dearest friends and family and best of all we were happily both in pajamas in bed before 9pm! Pictured below are Rosanna Ocampo-Rodriguez, Jackie Antonio, Stephanie Gonzalez and below that their respective hubbies with my hubby: Chris Gonzalez, Marco Antonio and Marco Rodriguez. Next to my pops are my two brothers – Manuel and Miguel. And of course full support from the girls: Rocio Olbes-Ressano, Aziza Mondoñedo, Leah de Guzman, Cristina Cu, Michelle Pamintuan and Tina Wheeler.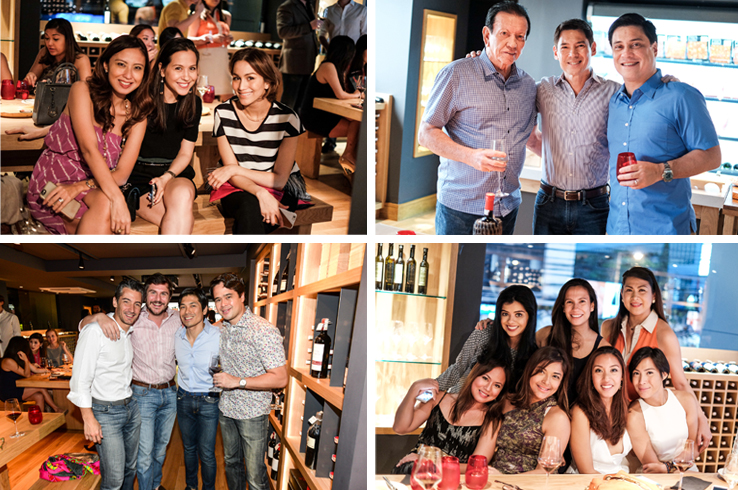 Set-up and Dynamics
A great party always needs a good set up to create the right dynamic. Sit down arrangements with place settings if you are larger than 12 can feel too stuffy or formal. I like having movement. I also loved that Txanton had these long tables with picnic benches so people could slide over and squeeze in there. They never felt like there was no space for them at the table, which what a full table with chairs looks like. There were cocktail tables scattered around and different points of interest to get guests circulating around the room. The jamon is over here, the paté is over there, the wine is over here and the cheese is over there. You get the picture. You can easily do something similar by scattering the different kinds of food or wine around you home. Transform your dining table into a buffet by removing all the chairs. have different spaces for seating, a sofa, some cushions on the floor, two chairs and a small table… Create cozy nooks that open up to the rest of the room. That way anyone passing by can join in on the conversation. Also always separate the bar from the food. That really gets people moving.
How to do this at home?
1. Choose at least 3 wines
It could be as simply as a white, a rose and a red or you could go by a thematic comparison. For example different varieties of white or Cabernet Sauvignons from around the world. The internet is your friend. Look up suggestions and tasting notes. If you don't feel like announcing the tasting notes simply print them out and set them next to the wines. Make each wine in it's own station so that it can stand out on its own.
2. Pair each with a bite or dish
Again, look up pairing suggestions online and tailor your menu to fit it. I suggest placing the wines with the glasses next to the corresponding food pairing instead of the usual bar and buffet. No need to be complicated, use the furniture you already have. Like placing a few glasses and a bottle of bubbly on the coffee table with it's corresponding canapé or appetizer. Or that bottle of pinot next to a roast chicken. That way people can really associate the wines with the food.
3. Active Participation
It can also be extra fun if you give your guests assignments. If they are really into wine a good way to have good wines without it being too heavy on the pocket is to assign bottles. Say you'll take care of the food and one kind of wine and have each guest bring one or two of their favorite kind. Or outright tell them – "we need a young sauvignon blanc from New Zealand to go with the salmon gravlax". Let everyone agree on a budget and purchase accordingly.
4. Keep it relaxed
If you have a friend that declares "I don't drink red wine!" It's alright, let them drink their preferred beverage all through out. The most important thing is that everyone has a good time.
In this celebration, I know we all did! Thank you so much to the team at Txanton for making this birthday celebration extra special for my husband.
TXANTON
2294 Chino Roces Avenue Extension, Second Floor Smith Bell Building, Makati
+6328122040 local 112