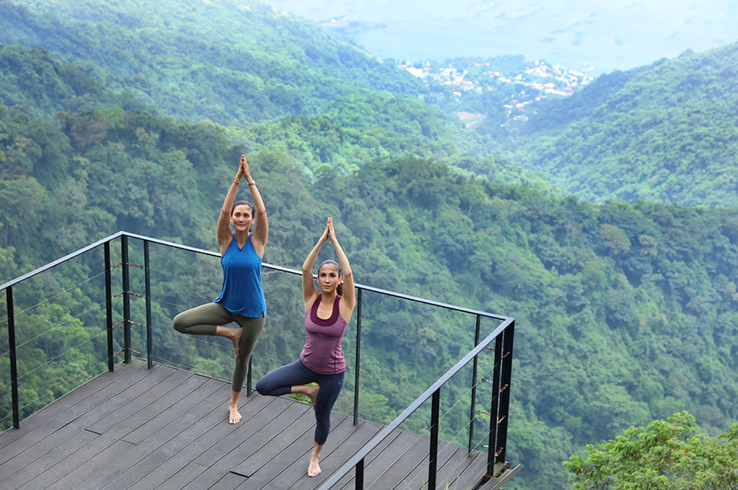 Qi Wellness
Between piling deadlines, school enrollment, groceries and countless meetings, the last thing I wanted to do was take off to go to Tagaytay on a weekday. Truth be told, it sounds so deliriously spoiled, but no I did not have the time nor the frame of mind to be treated to a massage and tasting lunch. My husband casually asked me that morning why on earth was I so stressed – and I hotly replied, "I have to make sure everything is sorted out because I have to go to a spa in Tagaytay. Ugh." Yes, I said it with a matching grunt. He laughed and said "do you actually hear yourself talking?" I have to admit, it sounded ungrateful and ridiculous but in all seriousness, who has the time to relax nowadays?

I huffed and puffed my way to the car and picked up my friend, the amazing Sara Black, yogi, photographer and overall bearer of light and positivity. As we were driving off, amidst my harried explanation of why I was so stressed out, she simply smiled and said "maybe this is exactly what you need and exactly what you're supposed to do today."
We talked and caught up on the relatively breezy drive there, I could already feel myself relaxing and letting go of all the urban noise. We finally arrived at our destination – Qi Wellness Living. The iconic giant red door slowly opened up, like a portal of peace and calm. 

 

Welcomed by the deep soulful sound of the gong, I stood there, filling my lungs with the fresh air and admiring the spectacular view of Taal Volcano and its misty surrounding waters and greenery, I couldn't help but think to myself, "Yes. This is exactly what I needed. Thank you, universe."

As soon as that giant red door closes, you are immediately cut off from all the unwanted commotion from the highway. Built as a stunning multilevel, chinese inspired structure designed by Budji Layug and Royal Pineda, the natural flow of the space slowly draws you closer to the lake, from the moss covered waterfall fountain that drops to a pond of the plumpest most vibrant koi I have ever seen, to the gentle curves of the chinese pagoda style teahouse, you eventually make your way to the cantilever deck. Here, one naturally pauses, to just take in all the beauty.

Founded on the concept of Yin and Yang, Qi Wellness Living is meant to be an escape from your hectic life. Apart from the truly calming surroundings, the establishment offers wonderfully indulgent spa treatments and equally indulgent dining. Chef Neil Sapitula painstakingly prepares beautiful tasting menus adapted to the season, founded on that Yin and Yang concept, balancing East-West flavors, ingredients and techniques.

Sara and I had arrived ahead of lunch to do our pranayama exercises and to take advantage of the pretty location to shoot some content for our regular #WellnessWednesday collaboration. After which we were downright starved and aptly so as we were ready to indulge in the 10-course Summer 2018 tasting menu Chef Neil had prepared for us.
From continental classic of house made bacon with egg and truffle foam to the more Asian flavors of Smoked chicken with globosa rice in lotus leaves it was all quite a feast. My personal favorites were lapsang suchong smoked prawn with seabass and a tangy lime laksa soup, as well as the perfectly cooked lamb cutlet. Slightly charred yet tender and juicy, it honestly did not need any other accouterment but stood wonderfully on its own. We were joined by owners Rita Sanson and Ken Tuazon, the latter made certain the wine was overflowing, and hence the conversation as well. A glass was raised in honor of my favorite little hashtag #WineWednesday followed by a joyous, red-cheeked and tipsy cheers to the synergy of my two favorite mid-week activities under the banner of #WineIsWellness !

Lunch carried on well beyond two hours where we wrapped up with some comforting, fragrant tea, I realized that I for a moment, I had lost contact with the hubbub of Metro Manila.

  

And that was wonderful. We were ushered to the deck for our foot reflexology, facing the twin Yin and Yang hot-cold dipping pools and the lake, which by now, was covered in a dreamy mysterious fog and light rain. My therapist expertly pushed and pressed all the right points. Just like the view, I was in a peaceful haze induced by a food coma, wine buzz and that intoxicatingly lovely smell of fresh rain… I was sent straight into a mini-nirvana. Better described by Sara's most apt yogini vocabulary — I was totally "blissed out."

The red tinged lights of the Opium Den massage room had left me in a dreamlike state and when I emerged from the deep tissue massage that followed, I was slightly disoriented. Night had fallen and the place took on a completely different allure. The sky had turned deep blue and the play of shadows and soft lighting had transformed Qi Wellness Living into a surreal and sensual oriental enclave. As we exchanged goodbyes and thank you's, I took one last look at the place and thought about how romantic and intimate the setting was.

  

At this point, I realized well, I just have to come back for an overnight stay, but this time with my husband.

 

For more information on spa, dining and stay packages at Qi Wellness Living Tagayaty please visit www.qiwellnessliving.ph or call 09175226969 .

Reservations are imperative, as they do not accept walk-in guests.

The Chinese Tea House is open from Wednesday to Sunday 11:30am to 2:30 pm and 6:30pm to 10:00pm . They offer their seasonal degustacion menu, a la carte menu and dim-sum tea menu.

The Chinese Bath House is open from Wednesday to Sunday from 1:00pm to 10:00pm