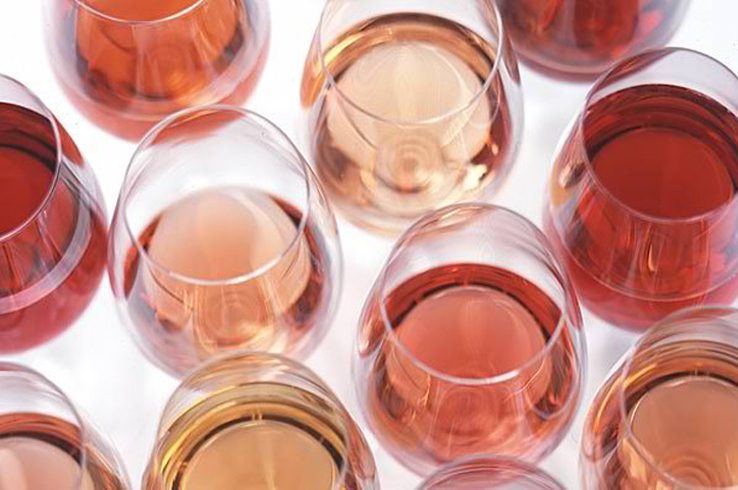 Think Pink
Whenever I throw a party you can almost be certain that there will be a few bottles of cold and crisp rosé. I find that it's an instant crowd pleaser and perfect for starting the night on a upbeat note. It's refreshing, easy to drink, goes great with some charcuterie and can be easily paired with a variety of small nibbles. It is also great value for money and when you find the right one that suits your needs, best to hoard it by the case! A Sunday brunch, afternoon barbecue or evening cocktails – rosé is so versatile. Unless it's a nice dinner or an evening with a specific theme such as a wine and cheese pairing affair or raclette night, I almost never serve red wine. The truth is, I would rather drink beer or nothing at all than drink horrible wine, and good reds come with a higher price tag. Cheap and cheerful are not necessarily adjectives that go often with red wine but they do with whites and rosés. No everyone however enjoys white wine and white wine is not as versatile when it comes to food pairings. Plus there is nothing more festive than being tickled pink!
Being the die hard francophile that I am, I am extremely partial to French rosé. I am also partial to those from Provence and those that are paler and of a more salmon pink tone. I like them dry, crisp and refreshing. Darker more cherry toned rosés can be sweeter and heavier but will also do the trick in desperation served nice and cold and with some ice cubes. (Yes, don't be shocked… even the French do it. When it's a blistering day and your rosé is not perfectly chilled, I can guarantee there are a couple of glistening glaçons bobbing up and down the glass.)
I've put together a list of French Rosés available in the market for under P1000.00. I will note under each set of photos some of my favorites which are tried and true and somewhat headache free (unless you drank an entire case by yourself and well…. that's no longer my fault!) This Wine Folly article also smartly explains the different shades of pink and what to expect in terms of grape varieties and flavor. That way you can easily figure out what sort of style suits you best. Just like with all wine, there is no one size fits all solution so I suggest why don't you throw a Rosé testing party and grab a couple of bottles and drink and be merry all in the good name of "research." Tchin tchin!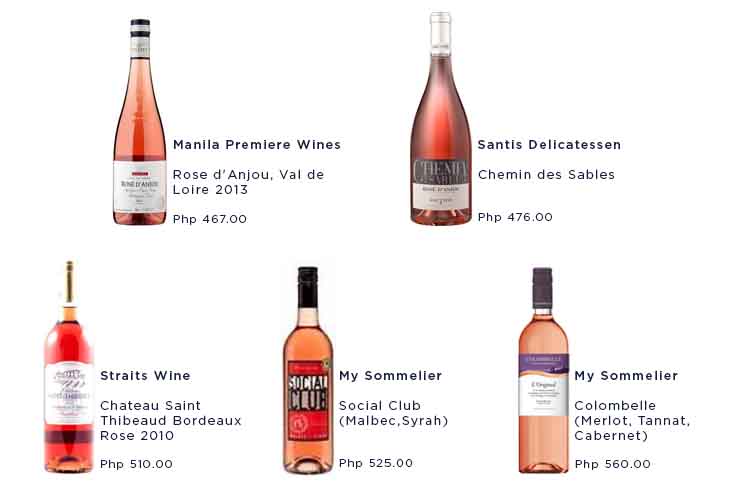 I'm not usually a Rosé d'Anjou kind of girl because they tend to be a bit sweeter but the Chemin des Sables from Santis is such good value. It's perfect for a hot afternoon with some ice cubes. One of my other favorite value-for-money rosés is Social Club. It was one of our best sellers when I had my restaurant and I can guarantee is pretty headache free… If you drink bottle on your own that's another story!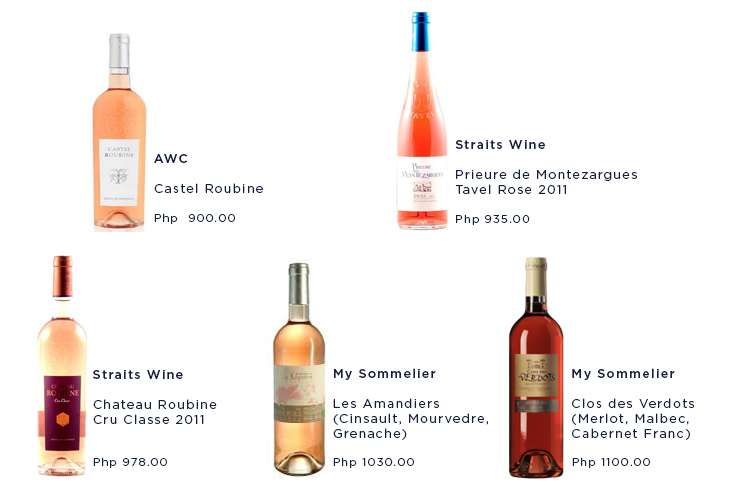 My favorite kind of rosés are those that lean on the salmon pink spectrum. Paler, crisper and dryer. In general when rosés are cherry red I make a beeline for the white wine. However, everything is subjective and its best for you to have several sips of different kinds and explore just what exact shade of tickled pink you are.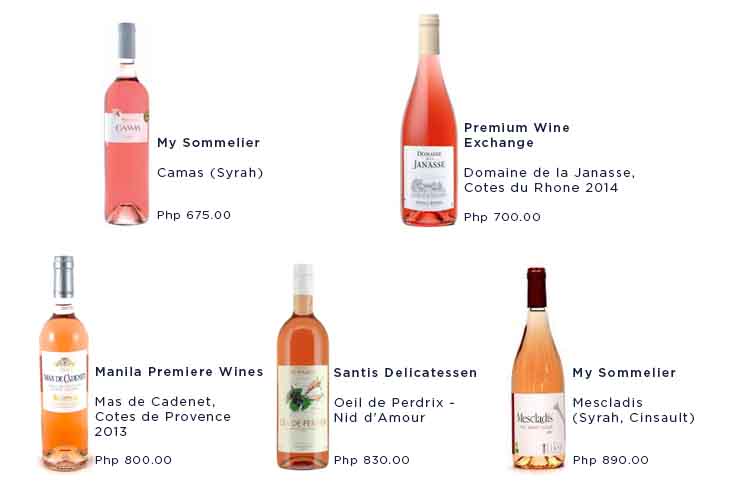 Côtes de Provence is probably one of my favorite rosé appellations, along with Bandol which tends to be higher on the price range. Mas de Cadenet is a wine that has accompanied me through numerous sunsets and is absolutely wonderful. Although not technically French, the Swiss Oeil de Perdrix is another delightful rosé that has fueled quite a few of my parties!
My Sommelier: Ground Floor, Building 3, Jannov Plaza, Don Chino Roces Avenue Ext., Makati; +632 8404211
Manila Premiere Wines: www.manila-premiere-wines.com
Straits Wine: www.straitswine.com.ph
Premier Wine Exchange: www.pwxchange.com.ph
Antique Wine Company: www.awcfinewine.com
Santis Delicatessen: www.santis-deli.com