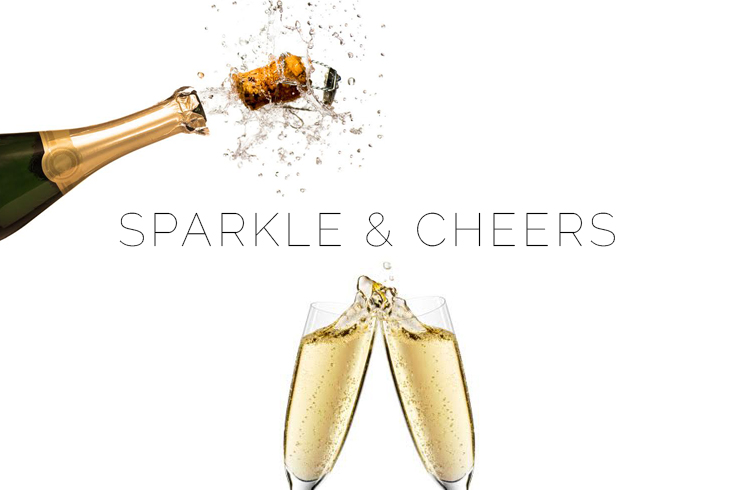 Variations on Bubbly
It's the most festive season of all and nothing screams celebration more than a cold, crisp glass of bubbly! It's the instant party picker-upper guaranteed to put anyone in a good mood. I firmly believe that there is magic captured in the effervescence and it goes straight to all the happy neurons in your head.
When we think of bubbly we immediately think of Champagne. Yes it is THE quintessential celebratory drink, beautifully crafted from years of experience in the Champagne region whose legend of Dom Perignon claiming that he was tasting the stars lingers around each sip. Definitely we do taste the stars and when you have consumed generously you may even be tasting the galaxy and beyond. Champagne is such a spectacular beverage.
However there are other options to Champagne. There are really wonderful variations on effervescence that are worth trying and can also be more cost effective for a larger fete. The key is not to think of them as replacements or substitutes to Champagne but to learn to appreciate them on its own for what they are. Here is a brief guide to non-champagne bubbly with a focus on the there main old world producers, as well as some tips on reading labels so you don't end up with some disastrously sweet, headache inducing concoction… unless that's what you're looking for!
Reading Labels:
Reading labels can really help you make a good selection based on what style you prefer. Here are some of the phrases that will often come up on a bottle of bubbly and what they mean.
Méthode Champenoise or Méthode Traditionelle or Traditional Method – made in the style of Champagne with a secondary fermentation in the bottle as it ages in the cellar for more complexity in the wine.
Non-Vintage – most sparkling wines won't have a vintage because before they bottle and leave it to a secondary fermentation they blend the wines together to create a signature character.
Vintage – sparkling wine made from a single vintage of wines
Brut – means dry, you can also have Extra Brut for even drier wines and Brut Nature for the driest of them all. Extra Brut is great with caviar and seafood!
Extra dry and Dry – is actually deceiving because it is a notch sweeter than Brut. Dry would be even sweeter than Extra Dry
Demi-Sec and Sweet – decidedly sweet
Blanc de Blancs – a white bubbly made from solely white grapes
Blanc de Noirs – a white bubbly made from black grapes like Pinot Noir
Cuvée – refers to the first press and best juice of the grapes from which the sparkling wine is then made. It can also mean the method in which different wines are blended first to a desired style of the wine producer before the second fermentation.
Here are some recommendations and options that are available on the market in Metro Manila from some of my usual wine suppliers.
France:
France does not only have Champagne, in fact some regions have been making sparkling wine as early as the 1500's such as Limoux. In general sparkling wines from France are referred to as Crémant and is made in the same method as champagne is with a second fermentation in the bottle. Depending on the region, the grape varietal will change. For example Crémant d'Alsace will most likely use Pinot Gris or Blanc and even a juicy Gewürztraminer. You also have what you call a Blanquette de Limoux made from a local grape called Mauzac or also known as Blanquette.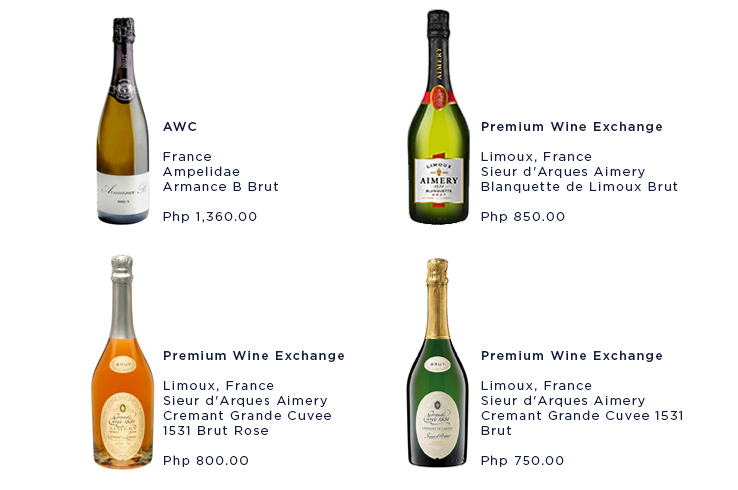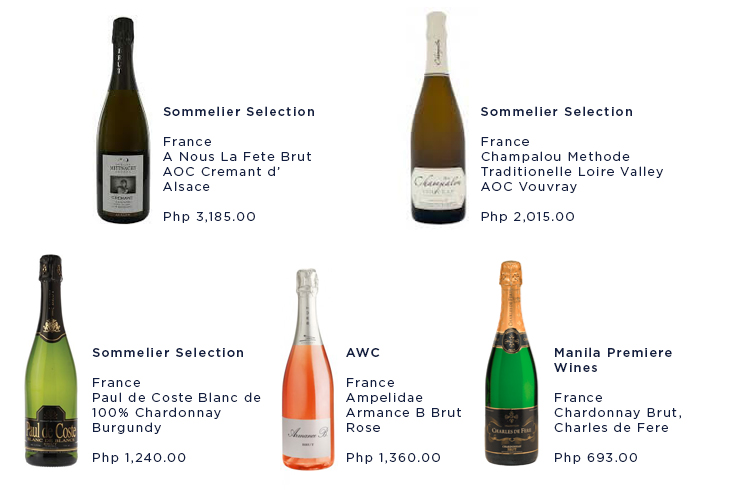 Spain:
Cava is a wonderful sparkling wine from Spain that is produced mostly in the Penedes region of Catalonia. It is made using the méthode champenoise and usually from three main grape varietals: macabre, parellada and xarello. Some winemakers have started using chardonnay as well to produce a Cava that is very similar to Champagne but has it's own distinct character.
Italy:
Italy has a number of variations on sparkling wine the most famous of which is Prosecco. Prosecco is primarily of the Glera grape and is made differently from the champagne style. A good Prosecco can be absolutely delicious and extremely easy to drink with fresh notes of pear and apple. Some wine growers also make wonderful champagne style Spumante usually noted on the bottle as "metodo classico". Apart from that there are the sweet Moscato d'Asti as well as other sparkling wines like the sparkling red Lambrusco but it's really not for everyone.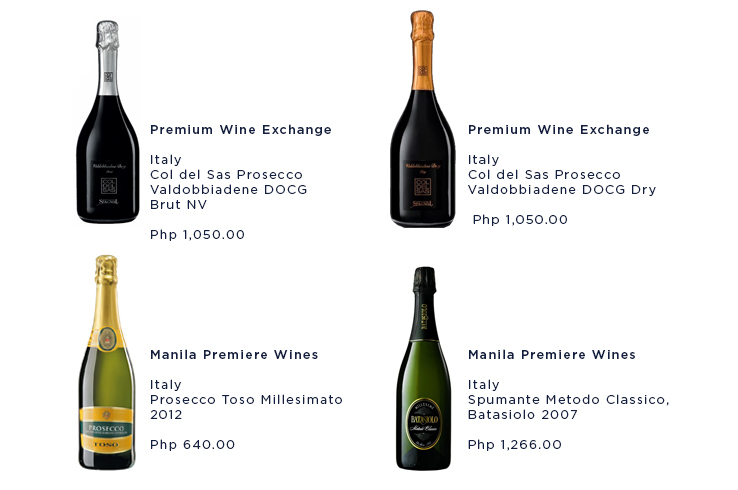 New World:
New World sparkling wines can also be very pleasant if you know your way around the bottle labels. They also have more freedom in production so if you choose well enough you can find some pleasant surprises. Personally I prefer drier bubbly but some do like slightly sweeter variety. In the end the best way is to experiment. The great thing about new world bubbly is that they are really cost effective and you can get quite a few different bottles and see what works best for you.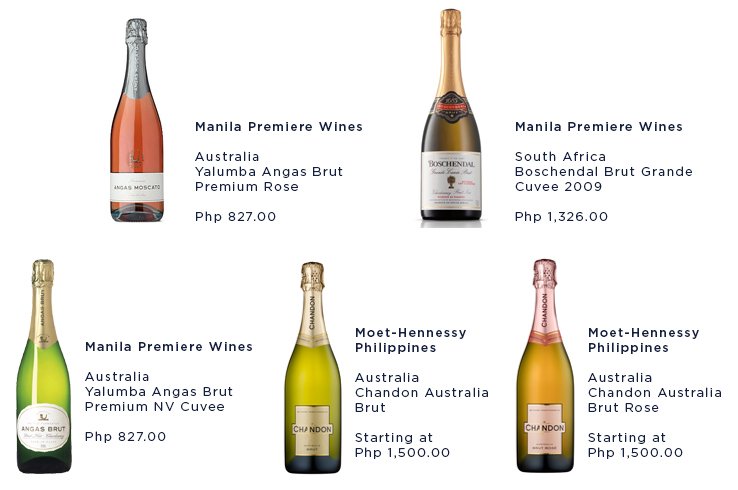 My Sommelier: Ground Floor, Building 3, Jannov Plaza, Don Chino Roces Avenue Ext., Makati; +632 8404211
Manila Premiere Wines: www.manila-premiere-wines.com
Straits Wine: www.straitswine.com.ph
Premier Wine Exchange: www.pwxchange.com.ph
Antique Wine Company: www.awcfinewine.com
Moet-Hennessy Philippines: please call +632 8774800 for distributors near you