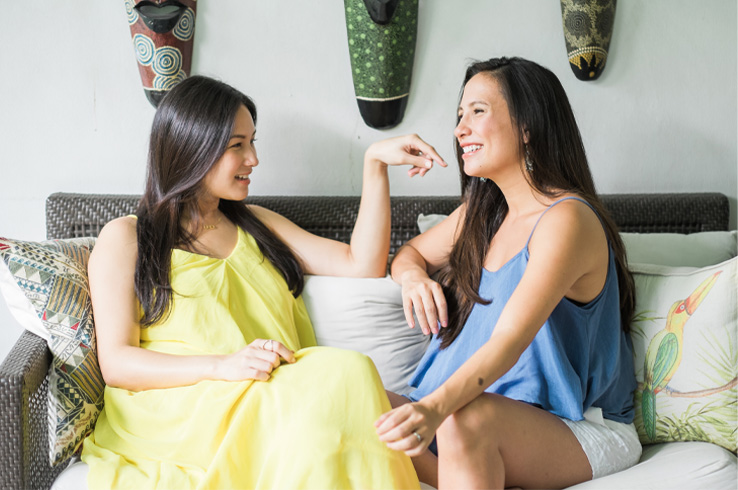 Conversations on Pregnancy with Mikaela Martinez
Being pregnant the second time around has been such a different journey from the first one. I am not as stressed nor riddled with anxiety, nor am I googling every symptom every single minute of the day and I am really thankful to eatliftmom.com who has answers to all my questions. But sometimes I am worried that every other googled article ends up with "in the worst cases may cause sudden death." Ack! First of all, having an adorable toddler that I am head-over-heels in love with ties up much of my attention span. Add work and wifely duties to that plus the much needed "me-time" it doesn't leave much room for pondering and musing over my current state of pregnant affairs. Luckily I have been blessed with an easy pregnancy that allowed me to keep on doing what I've been doing. It's only when things finally slowed down a bit after the New Year and my belly came into full bloom is when I really started to finally be in the "preggy" state of mind. Sorting out old baby clothes, fixing up the nursery and indulging in long lunches with other expecting girlfriends. There's nothing more enjoyable than having a "batch mate" because not only do you get to share experiences and stories (funny, horror or otherwise!) but you know that your little baby will have an instant playmate as soon as he comes out!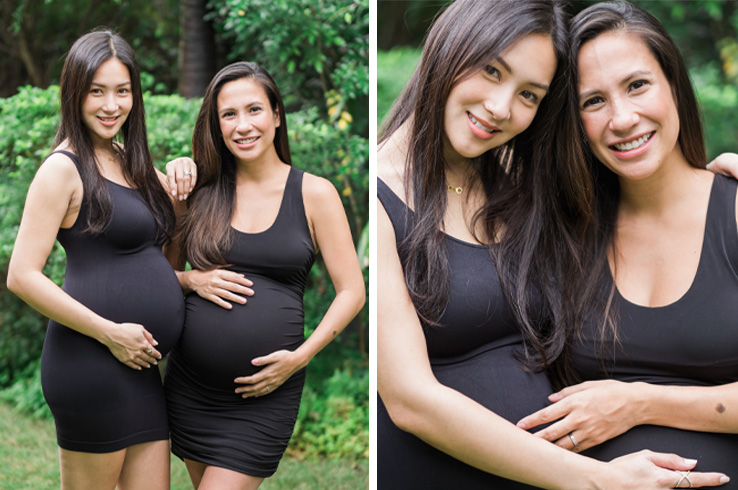 Mikaela Martinez is one of the most amazing people I know. When I first met her some many years ago, not only was I struck by her beauty but more by the fact that this creature with the flat tummy and long legs has two children. She has everything anyone could be envious of – a balanced family life, a flourishing career, entrepreneurial smarts, a stunning face and a killer body. However, no one, yes absolutely no one can ever be jealous or envious of her – she's just too kind of a person. Mika is incredibly pleasant, sweet and one of the nicest and sincerest people I know. I have never ever heard her say a bad thing about anyone, and even when she does complain once in a while (she is human after all!) it's in the most endearing manner possible. We used to see each other all the time because we used to both live in the south, but when I moved to Makati and work became hectic and just life in general happened, we never really got to see each other as often. She's always remained a friend and we were always delighted to see each other. I'm extremely grateful that this pregnancy has brought us closer again, spending more time together and enjoying each other's company. I love how we were also both on the same wavelength for our babies' names – Maxen for her and Maximilian for me. As Tim Yap decided to hashtag it #twotheMax – it seems like we both want to raise strong, knightly, chivalrous little gentlemen. One could also learn more on alleviating pain by reading more on https://www.cvmus.com/vascular-conditions/pelvic-congestion-syndrome
Being a seasoned mother and this being her third pregnancy, she shares with me her five most important things to remember throughout your pregnancy. From stretch marks to style tips – take it from the expert. For more style tips check out her latest posts on her blog: www.mikaelamartinez.com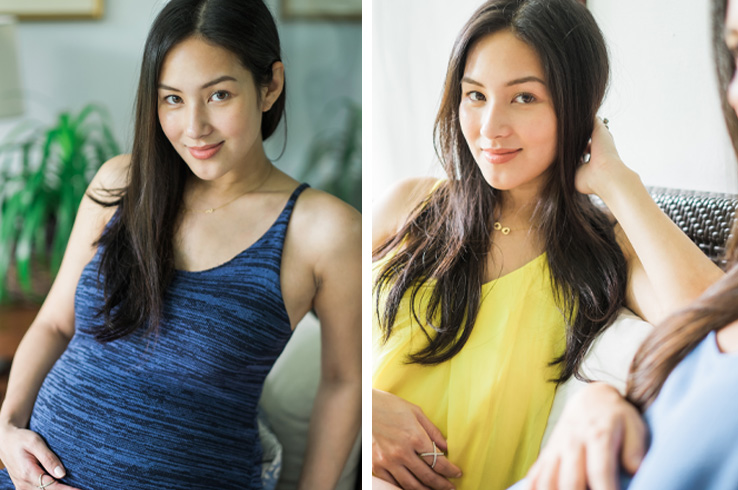 Mika's Top Five Pregnancy Tips:
1. I know it can take a little more of your time but don't skip on the anti-stretchmark oils and lotion– they are so worth it! Apply twice a day, after every bath.
2. If you don't wanna splurge on a new wardrobe, stick to your usual jersey dresses and stretchy skirts– they make your baby bump look extra flattering.
3. Don't waste your time being idle (unless Doctor prescribed) .. Take walks, move around and stretch. With all that eating, you need to burn a few calories too.
4. Sleep with cloth bras ( no padding & underwire) throughout the last two trimesters -they really help in keeping your breasts in its proper form, especially with the sudden upsize & weight.
5. Read, read and read some more. There are awesome books that teach proper breathing techniques, and even show graphic details on child birth. Search for videos on youtube too- It's better to see everything rather than get freaked out in the end. It helps to be prepared. 🙂 Worked for me!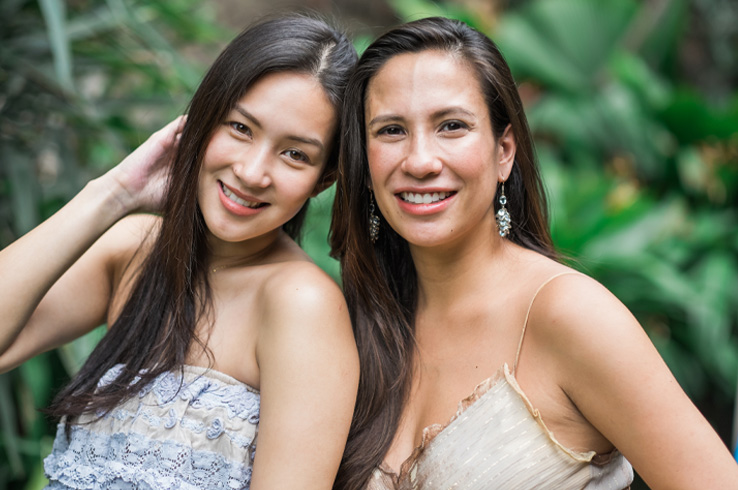 The first time around I was bombarded with information and advice from all sides and I found that the best advice came from girlfriends who were close to me and women I identified with. Women who gave advice based on real life experience and who weren't afraid to share their horror stories. As much as we would like to paint a pretty perfect picture of life the truth is being pregnant can be extremely challenging and wow… the months to follow even more. Don't even get me started on breastfeeding. This being my second pregnancy allow me to share my top five as well.
1.The best advice I ever got was to think of my pregnancy as training for the most difficult marathon of my life. Making a human being is an enormous feat and labor and delivery one of the most challenging things in a woman's life. I see it as the time to be my fittest and healthiest ever! Keep active! Exercise! No need to dial back too much from your regular regimen. Just make sure you have your all clear from your doctor. Also eat healthier than usual – you're not just feeding yourself but your baby too. However do let yourself indulge once in awhile, after all you deserve it!
2. New moms are bombarded with advice- solicited and unsolicited and often times conflicting! Stay informed, read and absorb with an open mind then ultimately go with your gut feeling. Also discuss with the baby's father because it is his child too and your decisions and actions affect his baby as well. Trust your instincts and see what works best. Each woman, each pregnancy, each baby, each family is different – there is no one size fits all solution or grand plan. The most important thing is not to stress because the baby feels it and to stay as positive and happy as possible.
3. At some point you're going to have to give in and give up your stilettos. Invest in a comfy pair of neutral or dressy wedges or flats for dress up moments. Not so much because it's dangerous that you might fall (because if you're a seasoned high heel wearer like me- that's not the case!) but your back will suffer. Your lower back will suffer damage even after the pregnancy. Your center of balance just isn't the same anymore! It's not worth it… Especially in the last stretch – sadly function champions over fashion. But there are so many nice options in the market you will definitely find a way to make it work! Here are some more tips as suggested by Pregnancy Resource Center during early pregnancy.
4. Pregnancy is not an excuse to let go or feel frumpy and post-partum depression is real. When you're feeling extra blah, make that extra effort to look good! A swipe of lipstick, a blowdry, a pretty dress… It'll help boost your morale! Treat yourself to some pamper time- a prenatal massage, a foot scrub… Anything that makes you feel extra special! Think of your pregnancy not as an ordeal but as a celebration of how amazing you are and what your body can do!
5. Find time to reflect and reconcile with all your emotions. It's a crazy hormonally charged journey and what no one told me was that in the beginning motherhood is riddled with guilt. You're guilty if you do and guilty if you don't. You'll have lots of big choices and decisions to make – don't ever let anyone make you feel bad or guilty for them! You do the best you can and do what works best for you. I truly believe in "happy mommy, happy baby" rather than the other way around. These little beings are sensitive to our emotions and will feel when you are stressed or unhappy. So don't feel guilty if you want to go back to work, escape for dinner with your girlfriends or go on a movie date night with your hubby, a happy fulfilled mother is such a blessing to any child.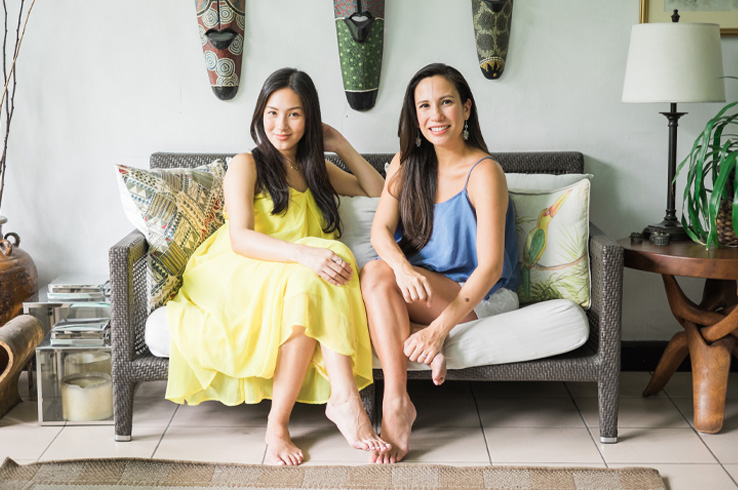 We had such a fun time during this shoot, chatting away, laughing and giggling! Thank you so much to Louie Arcilla for the amazing photos! He even documented our very "buntis" moment stuffing our faces over at Sweet Xtasy burgers…. Thank you so much to them for feeding our hunger! The ever so kindly surprised us by comping our meal! Mika still looks composed I just have a very hungry mommy-way-too-excited-to-eat face!