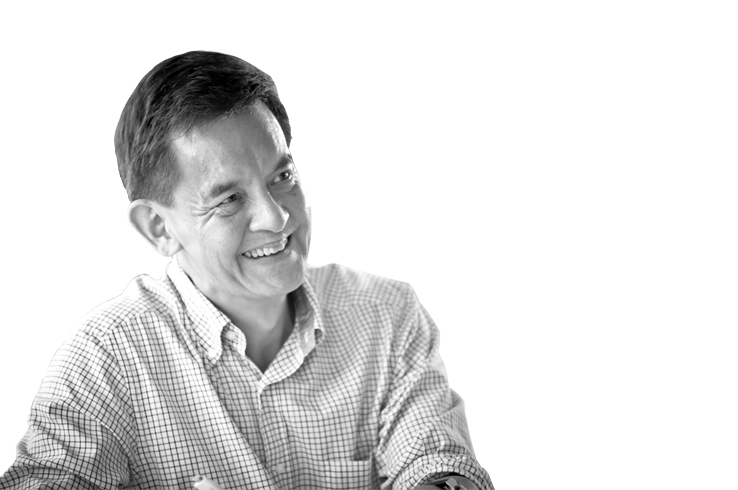 Philip Cu-unjieng
If there is one guy who I owe quite a bit to it's Philip Cu-unjieng, just Philip to most of you but Tito Philip to me. When I was 16 and expressed my interest in writing he gave me my first ever real assignment for People Asia. It was an article on the lady who brought in Seattle's Best to the Philippines, an article written with the over exuberance of youth and a crazy amount of metaphors. Under his good editorial guidance it became a piece worthy of publishing. From then on I began writing regularly, contributing here and there, interning during my summer breaks but if it wasn't for his patience I may never have ended up where I am today. Another instance where I owe him is in the food industry. After cooking up a dinner for my mother and he was one of the guests, he introduced me to Elbert Cuenca who got me a gig guest cheffing at Restaurant 12. I was fresh out of high school, had an absolute blast and spent all my earnings on wine. I never in fact even saw a paycheck, all I saw (and consumed!) were cold bottles of Louis Jadot Macon Blanc. On both occasions he took a chance on a crazy teen giving me the opportunity to live out and discover two of my passions.
What do you have for breakfast?
The boring stuff: egg white, some protein, cereal and fruit.
What do you really want for breakfast?
Eclairs and Profiteroles… the Breakfast of Champions, the Champion Gut.
If you could choose anyone in the world and in history, who would you like to sit next to on a long haul airplane ride in First Class?
Helen Keller. On long hauls, I prefer to curl up with a book or try to get some shuteye; and she would so respect that.
How about on a long haul flight in Economy?
Tom Thumb. So he can sit on the edge/corner furthest from me and I can raise the armrest and invade his space.
Name three things that make a perfect evening?
A good meal, a great book or film, and the right person for company.
You've had a tough day – what do you want to do at the end of it?
Think of the next day… and Revenge!
If you were to be reincarnated in the next life, what would you be?
A Rock Star.
I think I am ____, _____ and _____ .
I think I am – shy, pleasant and gregarious.
But people think I am ______ .
Deluded.
If you could be anywhere in the world or in time right now, where would you be?
Futuristic interplanetary travel… except Uranus. Would not be able to keep a straight face when some being from that planet will approach me and say 'Welcome, I am from _______!'