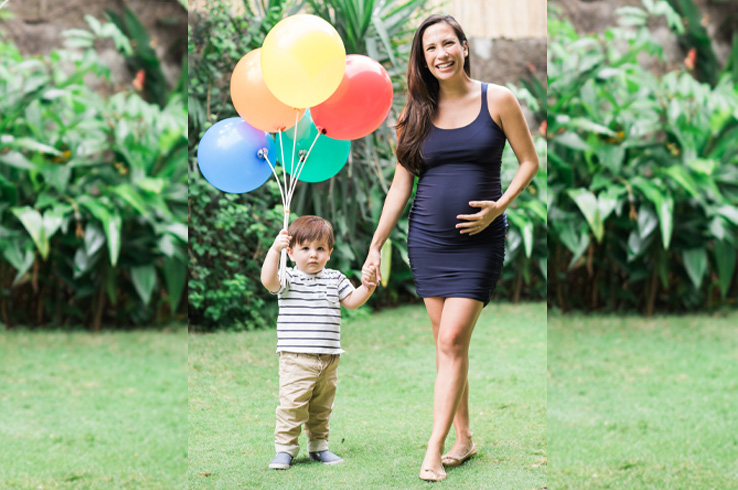 Baby Blues
During pregnancy everyone has their favorite go-to dress, one that you know you can put on and feel good in instantly. The first time around I wore quite a few bohemian dresses, loved prints and flowy cuts but this time I usually lean towards separates, solids and more streamlined pieces. This is one of them… this is by far my most favorite dress ever made by my über stylish cousin and chic pregnancy guru forever sexy hot mommy peg Rosanna Ocampo. I have seven versions of this dress! Yes you read that right – 7! The same cut with the flattering ruching with different kinds of fabric, but this navy blue version I had made for my husband's last birthday party is my absolute favorite!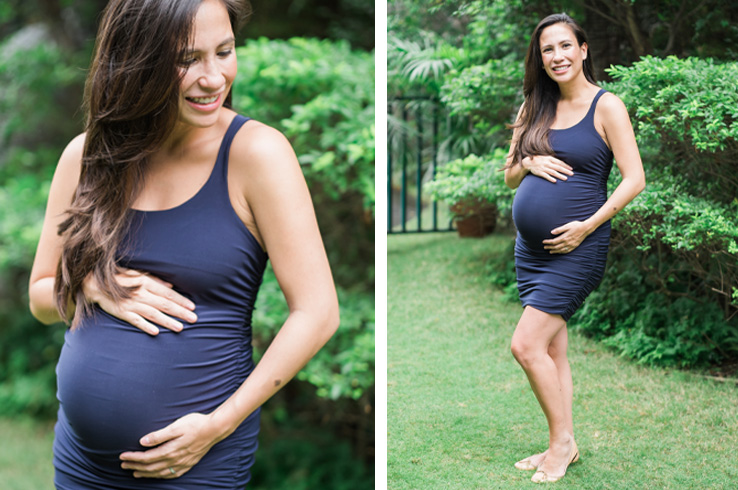 I have always loved blue but since I became a mother to a son, it has really become my favorite color. Navy blue in particular is such a wonderful alternative to black. Extremely chic though not as harsh, it reminds me of the old world and the romance of sailing. I love the versatility of this dress. I have used it to buy groceries, for photoshoots, for dinner out with friends and at a very dressed up cocktail party. The simple yet flattering silhouette in stretch jersey hugs the curves in all the right places allowing you to grow into it. I've worn it at 7 months all the way to full term and will definitely be able to wear it even after I give birth. thanks to the amazing power of modern textiles!
Here are some snippets of a relaxed shoot we did in our garden. Louie Arcilla took some great photos of Sebastian and I that are just too cute not to share. I love his work with natural light, it really makes all the difference.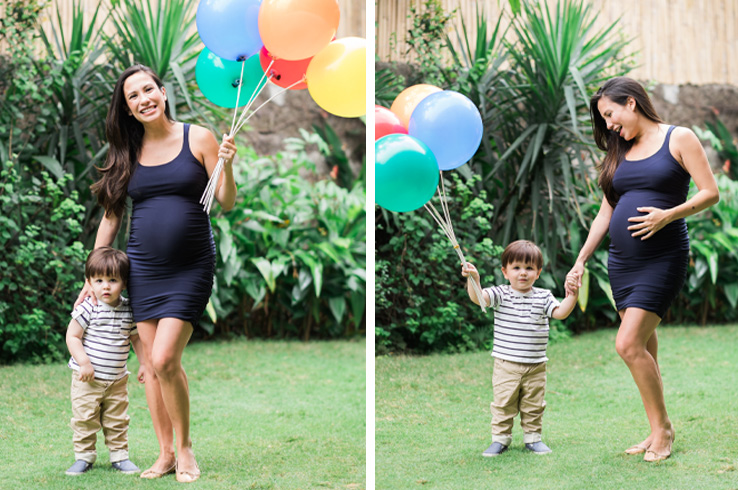 It was Mikaela Martinez who brought the balloons which we were supposed to use for our own preggy shoot together but Sebastian who was on his way to siesta time saw them. His face lit up and shouted "BA-loooons!" He loooves balloons and I love how something so simple can make this child so happy! We never got to use them because he ran off with them and would not take his nap unless the balloons were in his room.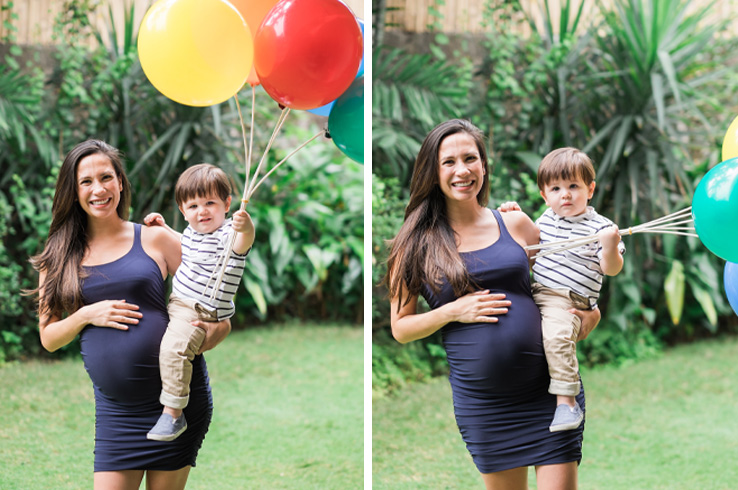 Up to today, two weeks later, he still has those balloons in his room. Although we've already removed the sticks he likes to kick them around, throw them in the air and pile them up in his bed along with all his "friends" and sit in the middle of the five huge balloons and a moutain of stuffed animals.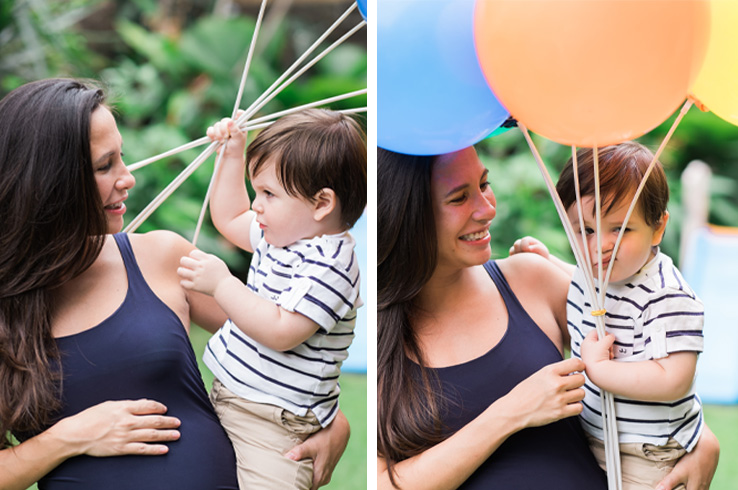 The truth is I have been having mixed emotions about this second pregnancy. I suppose the jump between one to two is such a milestone. It's so hard to imagine how I could love another little being as much as I love Sebastian. How do you split your attention? How do you not play favorites? How can you be the best possible mom you can to both? As I was putting him to bed the other night, I couldn't help but feel nostalgic about all the times we were "just the two of us." All our adventures together and all our travels as a family. This little guy is such a trooper. I couldn't have asked for a more amazing experience as a new mother. He's bright, curious, patient and extremely articulate which means he hardly ever gets frustrated because he could always express himself well from very early on. He has a really great sense of humor and a very old soul. I love this guy to pieces!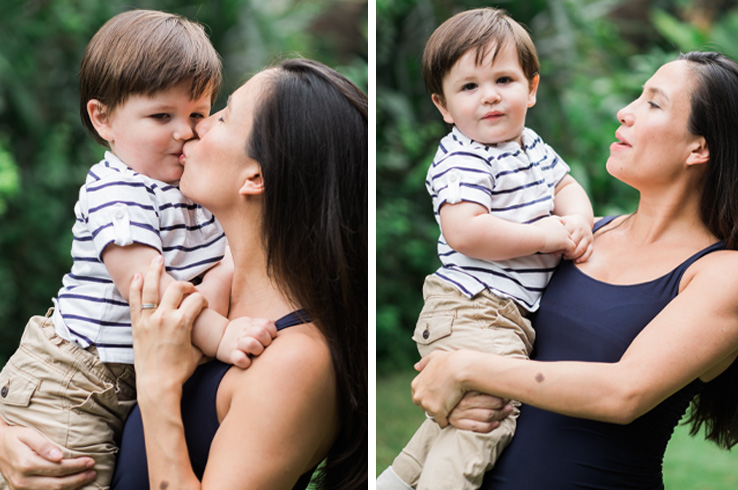 I'm getting teary eyed writing this because literally, Maximilian could make his appearance any day now. Everyone keeps telling me to watch out, Sebastian will act out, but I can't help but feel, deep down in my heart and with my mother's instinct that he is going to be a wonderful big brother. He is so tender and gentle with animals and people, he has such a loving and understanding  disposition plus that charming sense of mischief. He can only be amazing. We are overjoyed with baby Maxi's upcoming arrival, the next few days are really going to be a crazy whirlwind of emotions and I'm not sure how everything will go, I'm just praying for a safe delivery for both of us and an easy transition. All I can promise little Maxi is that you are coming into a home full love! Everyone tells me your heart just doubles… I can't wait!