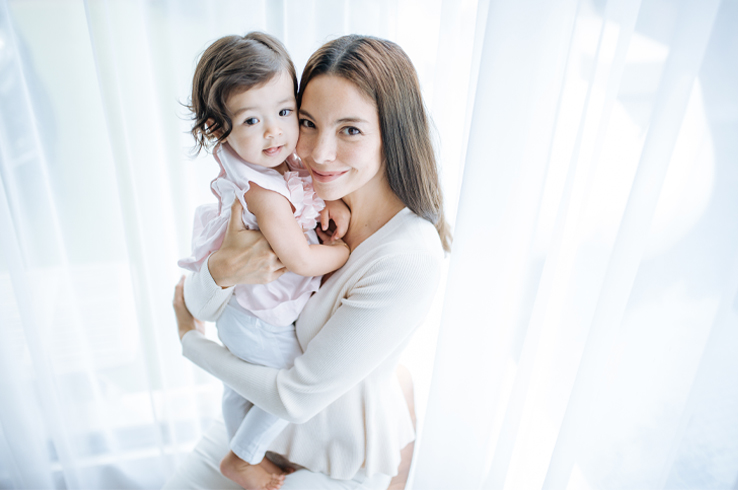 Beyond Skin Deep
I've known Amanda Griffin Jacob for quite some time now and our paths have crossed so many times that eventually we've become friends. When I think back to the situations we would find ourselves in when I would hang out with her some ten years or so ago to now – oh how times have changed! From laughing tipsily at clubs or gracing glam events we now see each other at kiddie parties or meaningful celebrations. And I think that's absolutely wonderful! One thing's for sure, for as long as I've known Amanda, she has never stopped working. Every endeavor she takes she gives it a 110%! Whether it's showing off her hard earned abs on the cover of a magazine during her modeling days, to producing her own TV show or co-authoring her book, she's someone who is never content to just live a life of leisure. Her recent baby is the transformation of her very successful parenting blog Glam-O-Mamas to her namesake site www.amandagriffinjacob.com where she aims to appeal to a broader feminine audience. "I wanted to be more inclusive of all women, moms, non-moms, younger and older women, single, married," she explains. "New categories include Green Living, Wellness, Beauty, Escape, and Nourishment. Glam-O-Mamas is not going anywhere and will still have a starring role in my site. I'm just expanding to encompass topics that I feel are so important for this generation of women."
Evolution is something that resonates with me because I myself have transitioned to a more wholesome life. Ever since I became a mother so many things have been put into perspective and I try to live everyday adhering to the core values I believe in. Amanda's new site allows readers to be inspired by her natural lifestyle and learn from it. "As my 30s are winding down, this is the best I've ever felt, physically, mentally, and emotionally which is a direct result of the way I live my life and the life experience I've gained so far. It's also because I know the journey never ends. It's always about enrichment and never remaining stagnant. Life is all about flowing and learning, so that we can do and be better."
One of the things I feel is proof that she's doing something right is that her skin is always positively flawless! And as we know that beauty is not just skin deep – think of that happy glow of blushing brides and new mothers – Amanda's fulfilled life shines through. Nonetheless, I managed to pin her down to share some other extra beauty secrets she might have.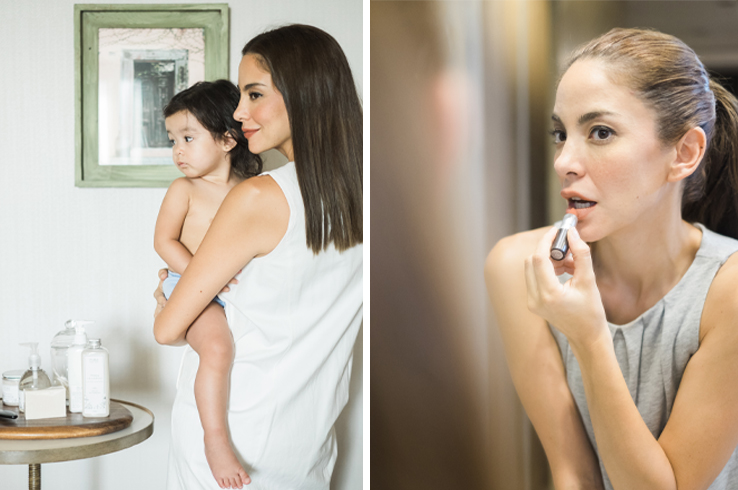 I often see you with no makeup at all and you look absolutely glowing, what is your number secret?
"Thank you! I really don't wear makeup during the day. Which I think is one of the secrets in itself. I only use concealer and cream blush to add some color to my cheeks. I also attribute it to my lifestyle: I practice yoga and go running 5 times a week, I'm a vegetarian, I sleep early, and I rarely drink, only on special occasions."
Is there any specific food that you love that you feel helps contribute to your good skin?
"I hate to sound clichéd but it really is water. I really only drink water. Still and sparkling. It keeps my skin and body hydrated. I only drink juices if I'm doing a cleanse. I don't drink coffee or soda at all. I have a cup of tea once in a while but not very often."
What do you feel is the number one enemy of good skin?
"Stress without a doubt. And coming in a close second is lack of sleep which as a mother is hard to avoid."
What is your overall beauty philosophy?
"Keep it simple in every way. This includes the products you use and what's in them. I shy away from products that have a lot of nasties in them. I use the same philosophy for my beauty and hygiene products as I do with my food. The less ingredients the better and I should always know exactly what's in them."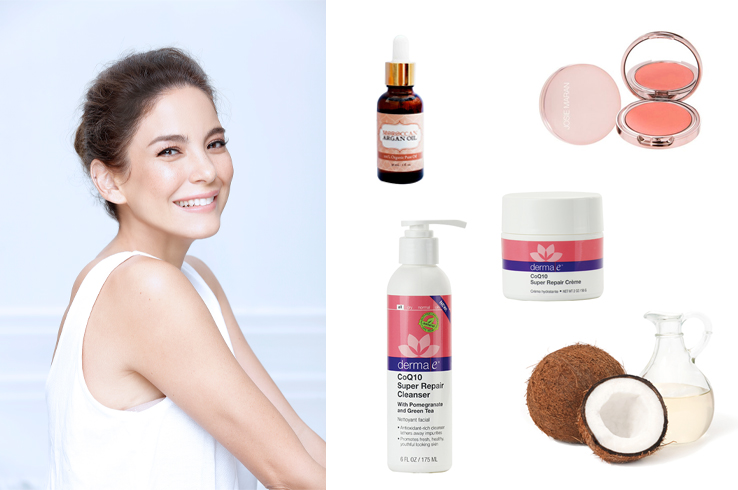 Amanda's Favorite Skincare and Beauty Products:
The Souq's Argan oil
Coconut oil
Derma e CoQ10 Super Repair Cleanser
Derma e CoQ10 Super Repair Crème
Josie Maran's cream blush