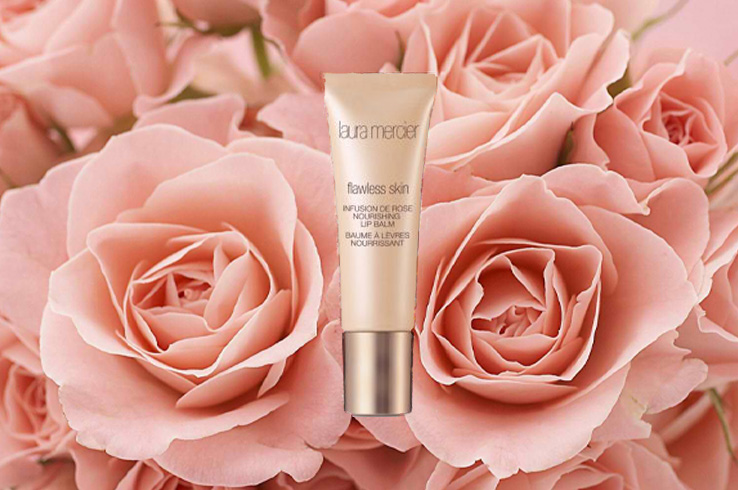 Coming up roses
In general my second pregnancy has been coming along so well. Aside from the fact that I'm plain old exhausted because all my free time is spent with a super energetic toddler, I really can't complain. I don't have gestational diabetes this time around, weigh ten pounds less than my first time and haven't been uncomfortable or ill at ease at all. There are however two things that have been sort of downer during this pregnancy – my allergies are exacerbated and really flare up plus an low immune system makes me more prone to terrible sniffles and coughs; and really dry lips. I've tried everything, Manuka Honey Lip Balm, Marula Oil, pure Shea Butter, plain old chapstick, beeswax, my mom's trusty Elizabeth Arden 8hr cream, Rosebud salve, MAC lip conditioner…. everything and anything possible under the sun. Nothing seemed to work. Not even my usual favorite products.
Just my luck, last week I got sent a delightful little package containing a tube of Laura Mercier's Infusion de Rose Nourishing Lip Balm. I brought it along with me on a trip to the beach and it worked like a charm! It smells delicious and is a delightfully rich combination of Rosehip Seed, Kukui, and Macadamia Seed Oils that help soothe and comfort lips.
"The Infusion de Rose Nourishing Lip Balm is like a pillow for your lips – the thick, cushiony formula hugs your lips and offers luxurious hydration, overnight and throughout the day" says Laura Mercier. "It contains the same rosehip seed oil and heavenly scent as the Infusion de Rose Nourishing Oil and Nourishing Crème to provide lips with a restorative and conditioning experience. Although the Nourishing Lip Balm can be used all day long, my favorite time to apply it is just as I am going to bed. By morning, my lips are super hydrated and thoroughly rejuvenated."
I have to agree as it was the only thing that really helped my dry lip situation and not as temporary relief while it is on. For some reason I noticed that there are quite a few products containing rose and rose hip oil that have working really well with my skin during this pregnancy. The first is Nuxe Gentle Toning Lotion with Rose Petals which you can read more about here on my skin care post and Mustela Maternité's Stretch Mark Prevention Oil. Perhaps this means I'm going to have a lovely rosy cheeked baby!
***You can purchase Laura Mercier Infusion de Rose Nourishing Lip Balm at Rustan's the Beauty Source for P995.00***