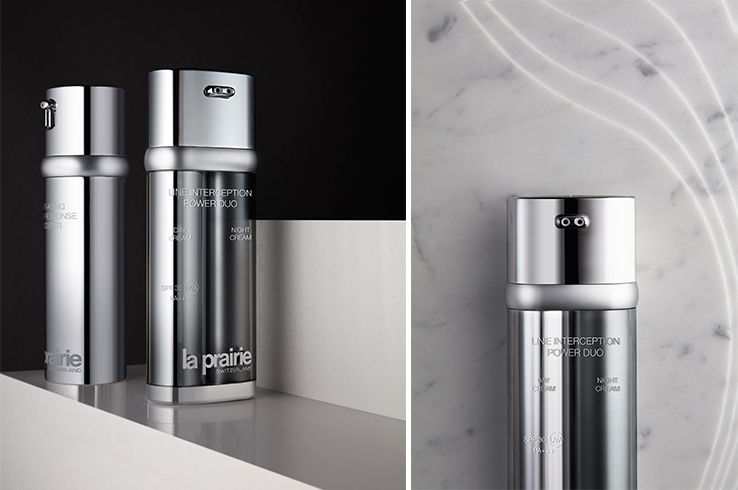 Currently Loving: La Prairie Line Interception Power Duo
When I was doing my trials for different creams and anti-aging solutions, one of the brands that stood out for me in terms efficiency was La Prairie. Upon using the samples that were given to me, there was an almost immediate effect. I particularly really love their Skin Caviar Luxe Sleep Mask which gives me a fresh glowing face the next day. I won't lie, you'll have to pay a pretty penny for La Prairie. The cream that I really loved and went out to buy was the Platinum Rare Cellular Cream. I swear, after a few weeks of regular usage everyone told me how great my skin looked. But the price is steep. I decided to leave that to the likes of my mother and settled on a less advanced cream that was more adapted to my age and budget. I'm very happy with the Anti-Aging Rapid Response Booster and Anti-Aging Night Cream which I have been using for the past year or so. The night cream is a rather large pot and I still have quite a bit left. So the initial investment is actually quite worth it because I still haven't had to buy a new pot.
I'm really happy to discover their newest addition to the Anti-Aging Collection – the Line Interception Power DUO. Designed to be a total intervention to fight all types of wrinkles in just fourteen days and fourteen nights. It's meant to be a total  24-hour beauty experience as an alternative to professional procedures. La Prairie's newest creation targets wrinkles at their inception and helps to smooth them where they have already appeared.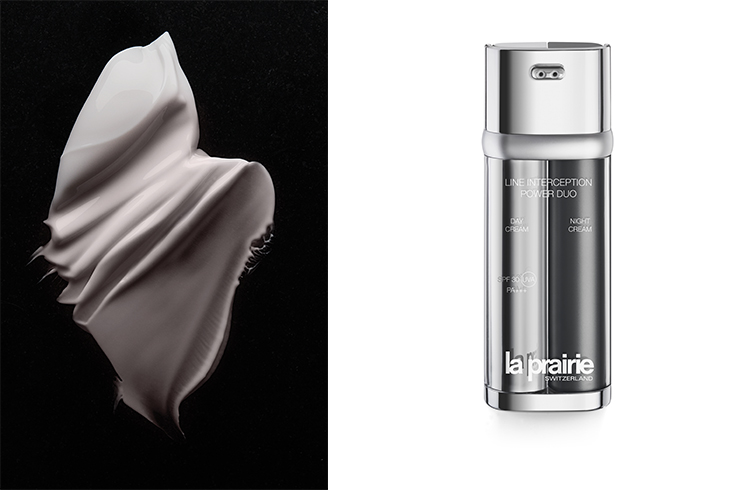 Scientists have identified three types of wrinkles to fight for one lineless future. La Prairie's Line Interception Power Duo combines the actions of all targeted professional procedures against wrinkles. All wrinkles from expression lines to UV induced wrinkles and gravity related creases and folds.
2 FORMULAS TO DRAW THE LINE
DURING THE DAYExpression lines are formed as life is lived: crow's feet, worry lines, eyebrow furrows and smile lines come with expressing emotions. Day after day, skin is exposed to these multiple stimuli sending repeated messages to facial muscles to contract, creating wrinkles. La Prairie's Line Interception Power Duo acts at three different stages. Three specialized peptides work on different levels to inhibit the signaling pathway, thus helping to prevent the formation of lines. Skin's exposure to UVA and UVB harmful rays and also infrared radiation can cause sun-induced fine lines, resulting in premature aging over time. Line Interception Power Duo-Day cream features a SPF 30, UVA and IRA protection, working to prevent these environmentally determined fine lines. Never has a day cream acted so early on the appearance of wrinkles.
AT NIGHTAging and gravity due to skin degradation and weakening can create creases and folds. Line Interception Power Duo-Night formula helps the skin to regenerate for a younger-looking face. As skin ages, these natural processes slow down and are less efficient. Line Interception Power Duo Night formula helps to compensate for this decline and to regenerate the skin at major levels, counteracting the impact of daily aggressions. Formulated with anti-wrinkle peptides, Line Interception Power Duo-Night cream helps stimulate the production of collagen, elastin and hyaluronic acid and strengthen the extracellular matrix. Additionally, Line Interception Power Duo-Night cream has been formulated to support proteasome activity. By targeting the elimination of damaged proteins in the skin, it helps optimize skin renewal. Skin seems renewed, as if it has recovered new strength. Never has a night cream restored so deeply.
A DUO OF DESIGN
Two different textures, two different sensations, for a pleasurable application day after day, night after night. Two weeks is all it takes for fine lines, vertical and deep wrinkles to fade leaving the skin incredibly smooth, de-lined and relaxed.
Two separate chambers are at the core of one sleek object. A dual-barrel in one pump bottle carrying a shiny silver side for the day and a matte black side for the night. Designed with archetypal Swiss minimalism, Line Interception Power Duo was conceived for a precise application process. Its anti-leakage locking mechanism guarantees worry-free travel and an optimized distribution system. I super love this feature! It makes traveling so much easier! My cosmetics case is always full of a bunch of different bottles and creams. This solves that. I love how the day cream already has SPF so no need for extra sunscreen.
Line Interception Power Duo is the natural companion of the Anti-Aging Rapid Response Booster. Together, they constitute the perfect duo to effectively fight wrinkles. Anti-Aging Rapid Response Booster prepares the skin for the extracellular matrix renewal by improving skin quality. Line Interception Power Duo completes renewal at night and protects from wrinkle-inducing stressors during the day. When combining the two products, the benefits are amplified.
I believe this is a great solution for someone who wants to be serious about their anti-aging creams but is confused with all the different products in the market. It's not cheap but rather good value considering the quality and luxury of La Prairie and the fact that you get two creams in one!
Available at Rustans The Beauty Source and all Rustans Department Store Beauty Counters.
SRP: Php 18,350.00