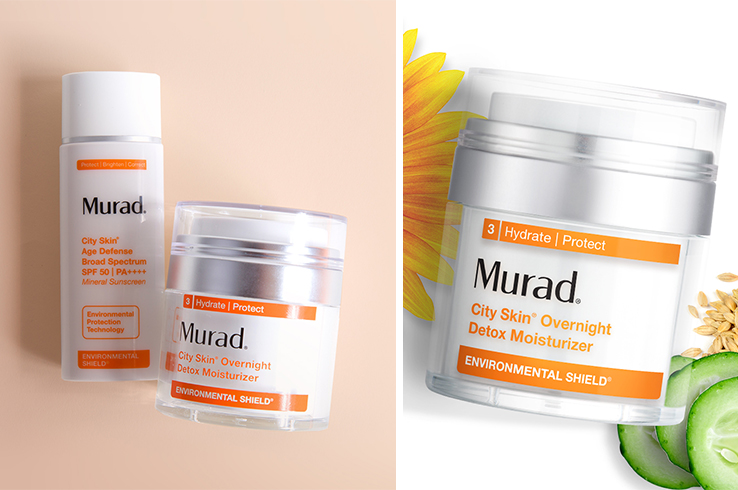 Murad: Fighting Environmental Ageing
I love my freckles. I think they're cute and I love that people are embracing the natural imperfections. However my mother always tells me "you're freckles are cute now but not in ten years when they gang up on you. Don't blame me when you suddenly wake up and you ARE one big freckle." There is no escaping it. Sun damage IS the number one cause of aging. I mean just look at a grape when it lays under the sun, it turns into a raisin. I don't care how sweet and wonderful raisins are, I don't want t end up as wrinkly as one. Not prematurely at least! From what I've learned in the recent years, during my quest for aging gracefully, is that sun damage doesn't just happen when you are out under the sun, laying on a beach sipping a piña colada. It happens all the time. While you're in a car, while you're commuting, even from the blue light that comes from your digital devices. Our urban environment is full of harmful radiation. I feel like I've been very good about my skincare routine except for one BIG factor. I don't wear sunscreen everyday. I now. I know. Capital beauty sin. But I really haven't found a product that I like that's lightweight enough. Everything feels so heavy and sticky. Combine that with our humid environment and I just feel plain oily.
Murad however,  just came out with two new products from its Environmental Shield collection of formulas which harnesses the power of antioxidant Vitamin C that works to help prevent and combat the effects of aging caused by the environment. This lightweight cream breaks quickly when massaged onto the skin. Skin is left hydrated with no greasy or oily after-feel. I love it! It's now part of my routine. I love the inspiring beliefs and cores values of Murad. Dr. Howard Murad has this incredible approach to anti-aging and happiness and I truly believe that stress and a poor lifestyle are the key factors in accelerating the aging process. – read more about my discovery of Murad in this blog post.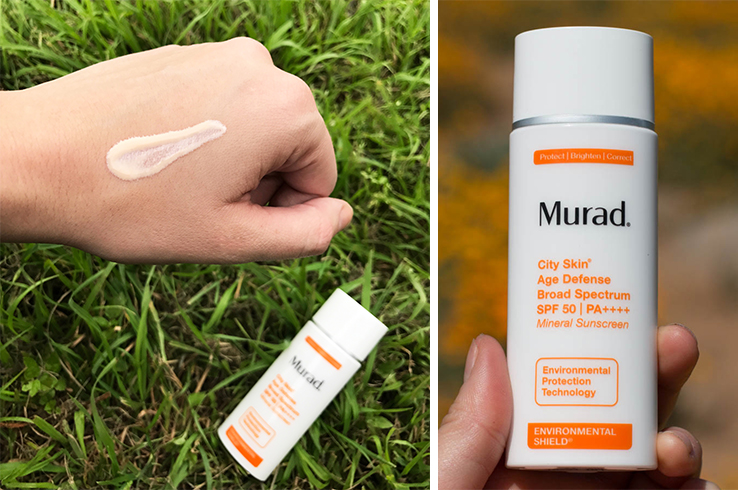 With skin being assaulted daily by environmental aggressors that can cause visible signs of aging like blue light from digital devices, pollution from cars and smog, infrared radiation from warming devices  and of course, UV rays from the sun, Murad has developed City Skin® Age Defense Broad Spectrum SPF 50 PA++++, a revolutionary, multi-active 100% mineral sunscreen that truly goes beyond sun defense to offer complete protection, shielding skin from five environmental factors: blue light, pollution, infrared radiation, UVA, and UVB.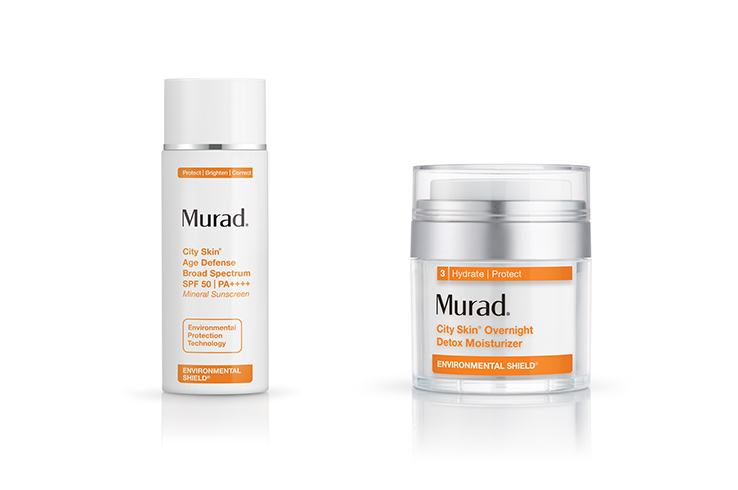 City Skin Age Defense Broad Spectrum SPF 50 PA++++ claims that it shields against 89%* of blue light from devices and
protects your skin from 96%** of pollution.
Its key ingredients are:
• Polymer matrix acts like a breathable "second skin" and blocks the adhesion and penetration of toxic environmental aggressors. This advanced ingredient creates a barrier on the skin to atmospheric pollutants like carbon particles, heavy metals, and chemical pollutants.
• Lutein and Iron Oxides enhance broad spectrum protection, adding defense against, blue light, and infrared radiation.
• Safe for sensitive skin and fragrance free
• Absorbs quickly with no white ashy residue• Delivers peach, color-correcting tint that helps
brighten skin and boost radiance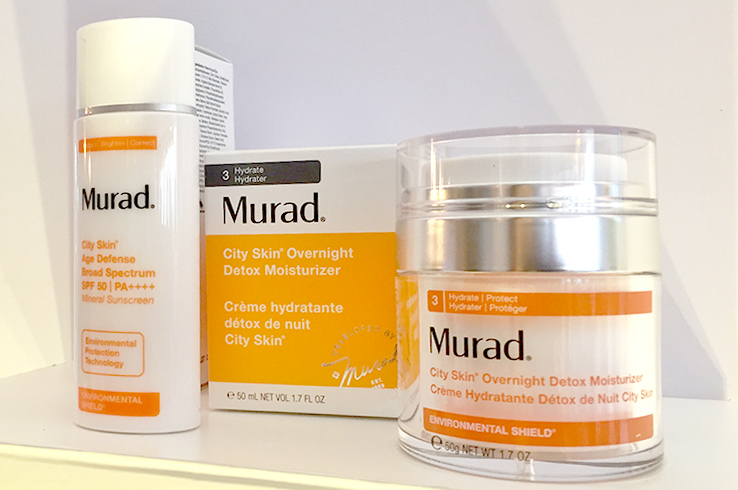 The second product from the line is Murad's City Skin® Overnight Detox Moisturizer which is a breakthrough moisturizer. It detoxifies skin overnight from the pollutants that have been accumulated during the day. The formula features super-charged antioxidants from Marrubium Plant Stem-Cells to neutralize pollutants and strengthen skin's barrier while you sleep. Next-generation Vitamin C helps brighten and even tone while nourishing botanicals plump skin to help visibly reduce fine lines and wrinkles. What you put on before you sleep is so important because your body goes into this special hibernation and repair mode. Your skin absorbs products much better and  really feels the effects of these products after a good night's sleep.
Here are its key ingredients:
1. Marrubium Plant Stem-Cells, after being stressed with  environmental aggressors such as smog and smoke in a laboratory environment, produce very potent antioxidants.  Murad extracted these antioxidants and applied them to its  City Skin Overnight formula to help detoxify skin by neutralizing toxins while optimizing skin's natural repair and defense system.
2. A botanical blend derived from Sunflower, Cucumber, and Barley nourishes skin's moisture barrier to reverse pollution-related dehydration, restore youthful texture, and smooth lines and wrinkles.
3. A concentrated form of Vitamin C helps fight signs of aging by brightening skin, evening tone, and correcting sun damage.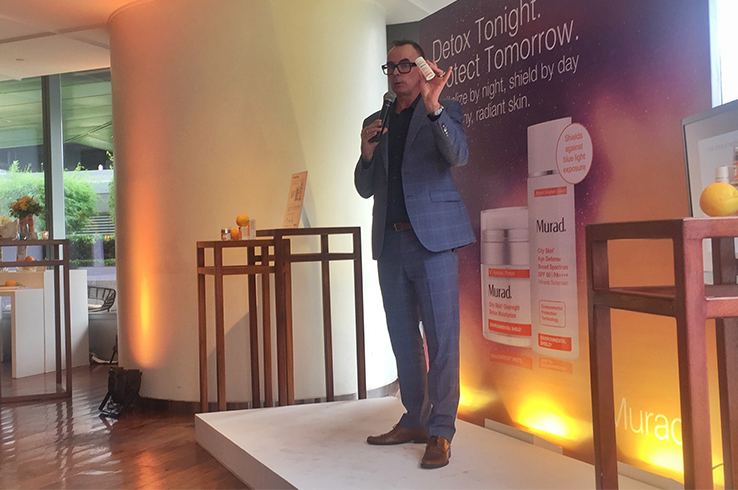 Asia Pacific Global Educator for Murad, Mr. David Whyte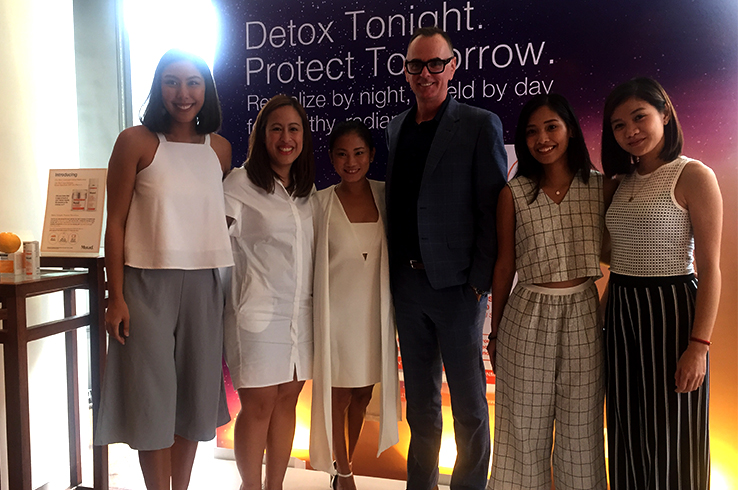 (From left) Murad brand managers Cristina Dizon and Aiem Ong, Rustan's ad and PR manager Mica Agdamag, Murad Asia-Pacific global educator David Whyte,  Rustan's ad and PR specialist Anika Leongson, and Rustan's events specialist Pepper Limpoco
Both Products are available at Rustan's The Beauty Source I also love that Murad is rather reasonably priced. It is by no means cheap but compared to some anti-aging creams out there that cost practically a year's tuition, it's rather accessible and can easily be made as part of your regular routine.
Price:
Murad's City Skin® Overnight Detox Moisturizer : Php 3,950
for 1.7 oz. / 50 mLCity
Skin® Age Defense Broad Spectrum SPF 50 PA++++ : Php 3,250 for 1.7 FL OZ