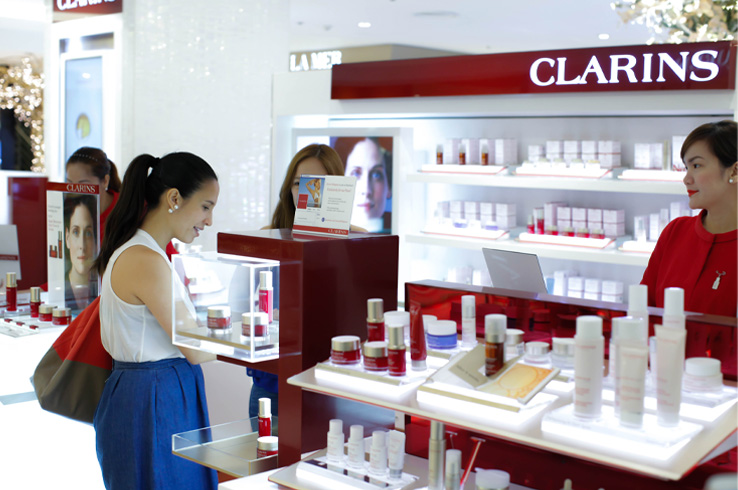 Reviving the Regimen: Clarins
""You're positively glowing this morning!" is a compliment we'd love to hear on a regular basis. You had a wonderful evening or you tried a new facial treatment… and it shows! Your face reflects everything you sense and feel because skin expresses your state of mind:
-wrinkling your face, such as frowning and scowling causes lines;
-stress and poor breathing changes its look;
-fatigue and a hectic lifestyle contribute to premature aging.
Listening to your skin and understanding it allows you to better take care of it. And the younger you are when you start the longer you stay young."
This is how the cheekily titled "Doctor, I want to be the fairest of them all!" book of Dr. Olivier Courtin-Clarins' celebrating 60 years of the famed namesake beauty empire – Clarins – begins. The book is for me the epitome of the french woman's approach to beauty. Beauty starts with "le bien-être" – wellbeing. Whether it's having a slow start to the morning to enjoy her breakfast of detox tea and muesli bathed in the soft morning sunlight or unwinding after a long day with a nice bath or taking her luxurious time to pamper her skin – screaming toddlers can wait, I don't know a single french woman who doesn't dedicate a good amount of her day to her wellbeing. It's not about vanity, nor the eternal fountain of youth, it's not about looking hot or perfect, it's all about feeling good about herself, starting with accepting herself wholeheartedly and taking as much advantage of her own natural assets to be the very best version of herself. French women embrace their flaws and love themselves for who they are – crooked nose, imperfect smile, small breasts, freckles… It's that well cultivated, deep set inner confidence that gives french women that iconic sexiness. On the same page is the mantra "Never forget that you are more important than you think."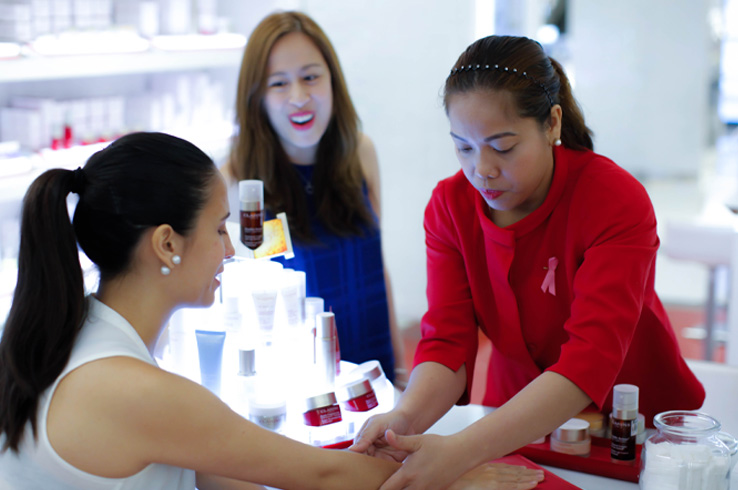 Wellbeing is one of my favorite approaches to beauty, why do you think brides are just oh so beautiful? Or a mother with her newborn? Love is the very best makeup and beauty treatment possible! It's that inner glow from happy hormones. Clarins is a plant based cosmetic company that encourages women to really take the time to take care of themselves. It's not about the quick fix, it's about the good habits and lifestyle changes for longterm, long-lasting beauty. It's also not necessarily about defying age but about aging as gracefully as possible. I have always loved Clarins as a brand and everything its stands for. It is also one of the most competitive in price. All these products are below P5,000 which although is not cheap, it is still rather affordable and great value for money.
During my tour of Rustan's The Beauty Source, my time at the Clarins counter was one of my favorite experiences. The ladies really take the time to show you the products and even better, show you how to use them properly and the proper dosage. I realized that we either waste by putting on too much or lose effectivity by not putting on enough. For close to two months, I religiously used the following Clarins products until I ran out and I have to say that I really loved these products. If you want to read more about the ingredients that make up each product – I would visit the Clarins website, they do such a great  job of enumerating the key plant ingredients, where they come from and why they use it.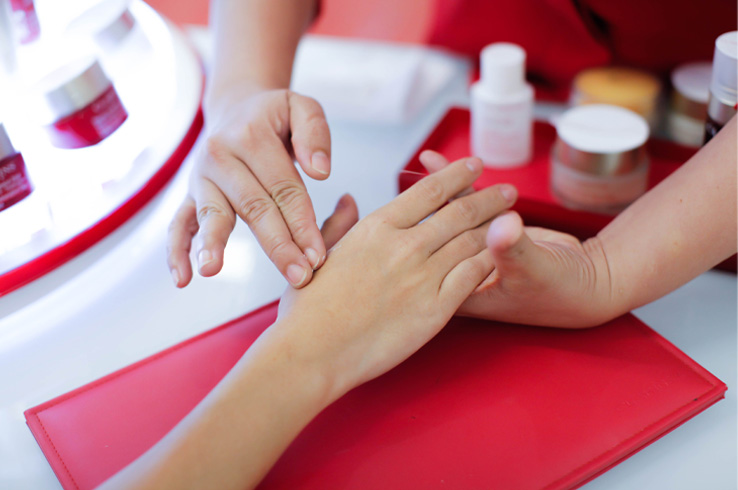 Clarins Double Serum Complete Age Control Concentrate
–"Double Serum's groundbreaking formula was inspired by the skin's hydrolipidic film and skin cells—both of which are based on oil and water. Clarins' unique Hydric + Lipidic System combines the ideal ratio of oil and water-based ingredients to deliver maximum results. Powered by 20 pure plant extracts and potent, high-tech molecules—Double Serum's innovative, dual chamber system combines two age-defying formulas into one groundbreaking serum that reactivates skin's vital functions. The result: visibly firmer skin, visibly reduced wrinkles, a more even skin tone and less visible pores in just 4 weeks." I have to absolutely agree. At first I was a bit hesitant because I tend to have oilier skin but in fact using it resulted in my skin being more balanced and even. It's also great for both day and night use and at P4,750 it is one of the most value for money serums around (compared to some brands that go into the P15,000 and even P50,000 range!) Because of this I wasn't hesitant about using it on my neck and bust area which are two areas we tend to forget. My dermatologist grandfather, Dr. Manuel Fernandez, had always said "you can tell a woman's real age by her neck and her hands." These are the two areas we always neglect. I loved this serum and would definitely buy another bottle and incorporate it in my regular regimen.
Clarins Extra-Firming Day Wrinkle Lifting Cream All Skin Types
–"Revolutionary anti-aging treatment firms, lifts and tones—visibly smoothing lines and wrinkles in just 4 weeks. Clarins' powerful plant complex — with extracts of organic Green Banana, Lemon Thyme, Bocoa and Oat Sugars" I really loved the texture of this cream. It's really lightweight, refreshing and my skin absorbed it super fast. The only drawback I found was that it doesn't contain any SPF which meant I still had to put something over it after, which is fine because I liked using it with the Murad Invisiblur. It's rather mild but I believe this would make an excellent starter cream for the 20-somethings and women in their early 30's. It's more of a preventive cream that will nourish your skin, help reduce fine lines and retain that nice tautness of youth but if you have more intense problem areas in the wrinkle department, I would use something richer.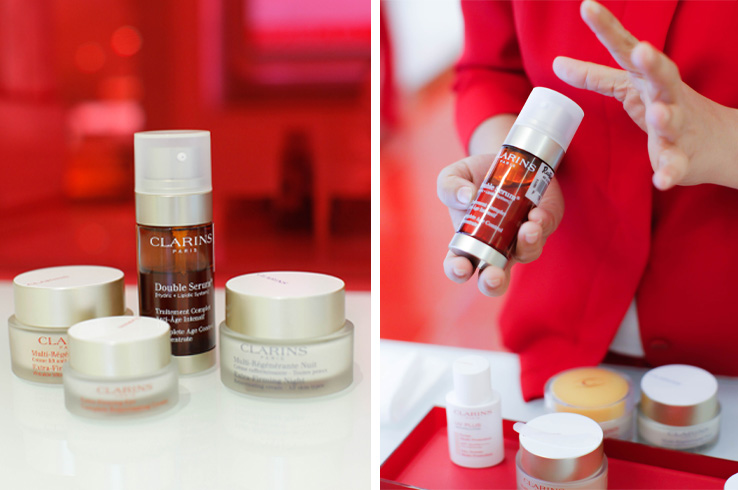 Clarins Extra-Firming Night Rejuvenating Cream All Skin Types
–"Breakthrough anti-aging treatment has a firming and renewing effect with Survixyl IS™ and Stimulen®. Helps minimize the appearance of dark spots with Lotus Zymbiosome™. Features appear younger-looking, smoother, more radiant and defined upon waking." This also had a nice lightweight texture that was quickly gulped up by my skin. It is a wonderful product but just like it's Day counterpart I think this would be great for women in their first foray into anti-aging. Especially for those with very oily skin because of its rather refreshing, not too heavy texture. I did feel however that I wanted something a bit richer in the evening. A real pamper treatment for my skin. But thats just me. I still think its a great product and worth a try because in the end skincare is all about what works best with your own skin.
Clarins Extra-Firming Neck Anti-wrinkle Rejuvenating Cream
–"Extra-Firming Neck Anti-Wrinkle Rejuvenating Cream preserves the softness, firmness and tone of the fragile neck area. A blend of Clarins' Extra-Firming Complex and Sunflower Auxins helps firm and reduce the look of wrinkles. Plumps and smoothes with Green Seaweed Extract. Immediately "lifts," and visibly supports this vulnerable skin with Oat Sugars. Delicate texture melts right in, without a greasy afterfeel. Ideal for women age 40 and over." Love, love, looooooove this cream! It does melt right in and be damned the women aged 40 and over recommendation, I'm going to start using this now. Everyday.
For more information of the products please visit: Rustan's The Beauty Source
***This is not a sponsored post, to read more on how I approached this review and how Rustan's The Beauty Source helped me out, please read the first post in this series: Reviving the Regimen: in Search of Rejuvenation***
***All photos by Chyvin Reyes.***