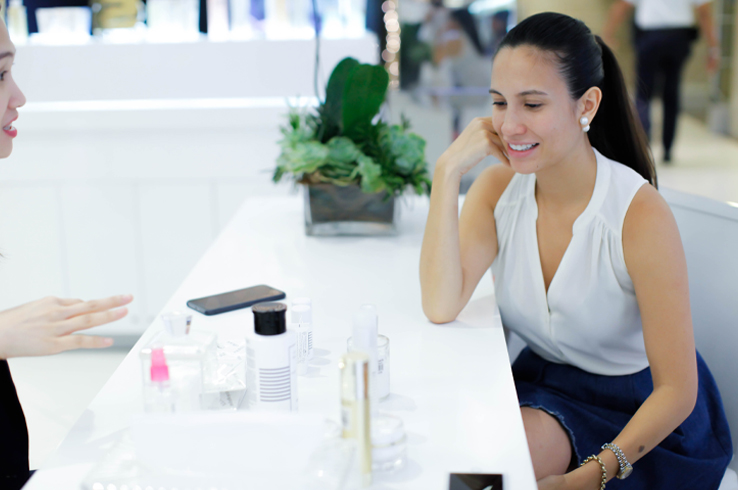 Reviving the Regimen: in Search of Rejuvenation
A couple of weeks before my 31st birthday, I had woken up and proceeded to do my usual morning quickie skincare regimen. Wash and moisturize. As I was generously spreading my usual lightweight moisturizer on my face it dawned on me – this just won't cut it anymore. Although I am by no means old, I am not a spring chicken either. No more late nights partying and waking up look fresh as a daisy from my twenties. No, after a relatively full night's sleep I still had a dull complexion, dark circles and an overall tiredness in my face. That same day an old photo popped up on Facebook. It was about five years old of me and my friends glommed up in cocktail dresses, sloshing drinks in hand, big toothy grins and practically no makeup looking absolutely fabulous. I realized that I can't look like that anymore even without makeup! That carefree youthful glow and freshness was gone. Was it from a hard run on the food industry? From childbirth? Whatever it was something had to be done. I had to up my game. Plain old wash and moisturize wasn't going to do the trick.
Thing is in general, I eat healthy – lots of fruit and veggies, good omega 3 from fish and avocados, I get lots of exercise, and while I do indulge in good wine I'm no longer in the party scene (I actually only just learned what EDM meant a couple of months ago!). You'd think all these things would make for a great complexion. Well work and worry creeps in, as well as sleepless nights from being a young mom and a big factor I think is how depleted your hormones get after childbirth. My mom always told me that you age 5 years for every pregnancy. I'm currently up 10 years! As a woman your body really changes and I noticed that after breastfeeding for a year, I had lost so much weight – hurray! no complaints there – but it actually changed the shape of my face. I had a more chiseled appearance, which is great but all that lovely collagen and baby fat is actually what keeps you looking young and fresh. It was a realization for me and by no means am I complaining. It was just time that I embraced the fact that I am no longer a girl, but a woman, wrinkles are real and inevitable but I can take the best care of myself possible to age as gracefully and naturally as possible. My grandfather who was a dermatologist and a founding member of Makati Med had always said that no matter how much you pull your face or fill it with things, if your skin quality is bad to begin with, the results will still be disastrous. It's all about the skin quality and what we do now will only be revealed 5 to 10 years later.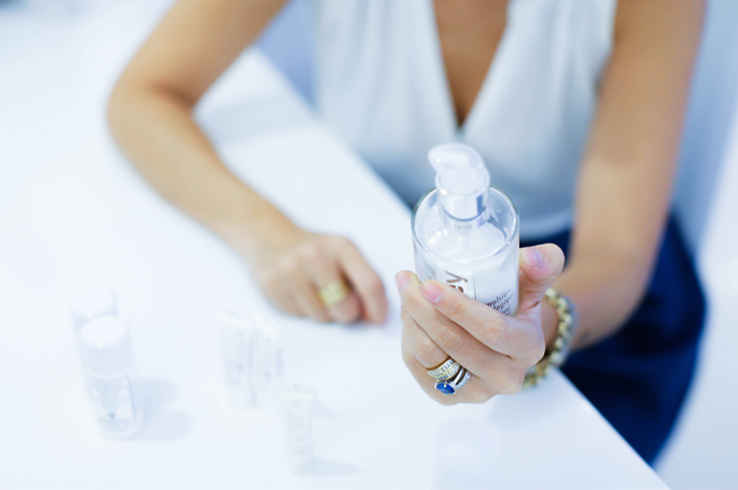 The first thing that came to my mind was to simply by the same brand as my moisturizer but the anti aging line. I waltzed into the store thinking I'd make a quick easy purchase and lo and behold – "Mam, that would be P14,000.00." What?! Sticker shock. I know these creams are pricey – my mom has been using them for years and to very good results! But before I spent a small fortune investing in my fountain of youth, I wanted to make sure it was the right product for me. They didn't have any samples available in the store, so I walked out empty handed and disappointed. I was never a beauty product junkie, I always used the same products for years until it they would plateau and I'd have to change. I liked it fast and simple, easy to apply and un-fussy. This time around however I was ready to embrace the discipline and spend more time taking care of myself and not just quickly slapping on some random moisturizer.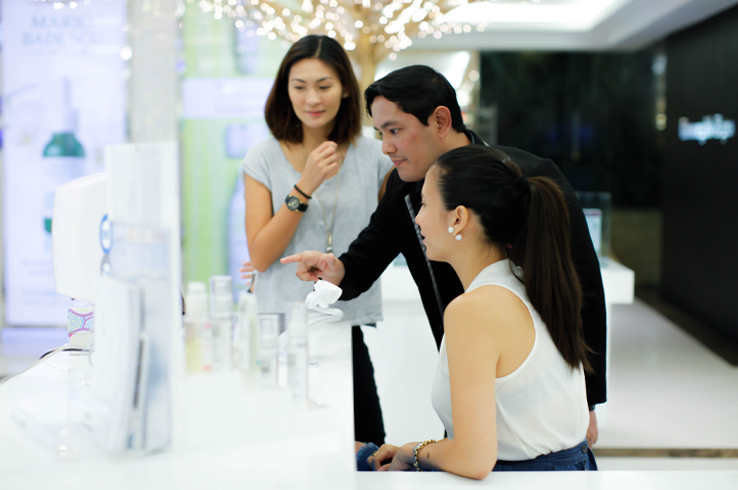 The initial thought that came to my head was that it had to be a multi-brand and multi-product approach. There is no such thing as a one size fits all skincare regimen. One product for the eyes from this brand may work better than that brand but you may prefer the toner of the second brand. My first thought was Rustan's Beauty Source they have a vast selection of some of the best skincare products available in the market. Luckily I had some friends over there who were willing to help me out by touring me through the counters, walking me through the different product lines and giving me what I wanted – samples! So for the past few months I have been using and reviewing different samples to see which products worked best for me. The great thing is you don't need to be well connected to get the same service, you can easily show up at Rustan's Beauty Source and ask for someone's help. Each counter can happily provide you with samples and an overview of there different skincare lines. One of my favorite, but scary, experiences was going to Murad's face analysis scan and getting a run-down of my problem areas. In fact for my birthday Murad threw me and a few friends an amazing little anti-ageing lunch where we all faced our fears! It's a very interesting process because the things that I was initially worried about like fine lines and wrinkles proved to be the least of my problems. with only 9% of my face affected. The biggest problem I had was pigmentation, the scary ones below the surface that will come out with a vengeance. This covered 37% of my face! As my mom says, yes freckles are cute but not when they start ganging up on you and grouping together. It made me realize that I had to include a skin brightening element to my beauty regime and really be a bit more wary of the sun.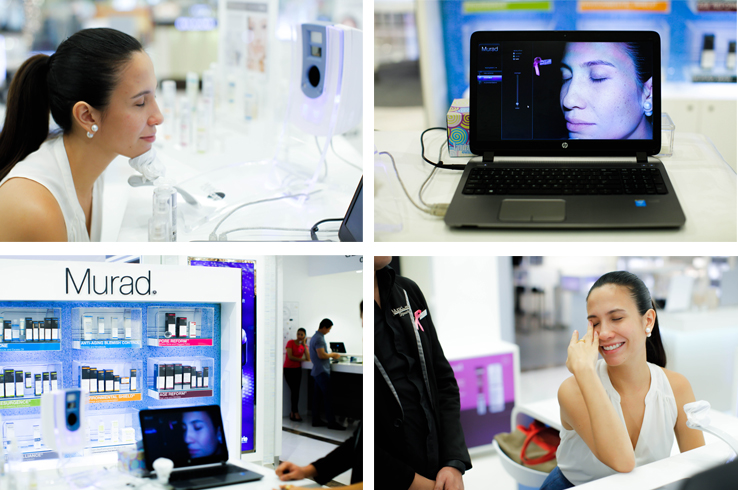 So far it's been a couple of months already and I'm finally ready to start blogging about my different experiences with each product. This is the first in a series of posts about each regimen I tried. Hopefully it will be of help and guidance to you guys and I am going to be as honest as possible. My goal in the end is to curate my own bespoke skincare regimen with the right products for the right purpose.
Love and Light, Stephanie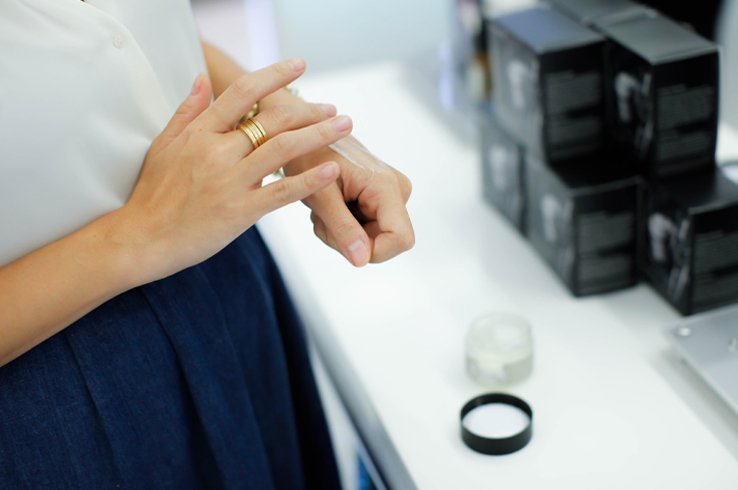 The Basic Steps:
If you are a bit clueless like me who tends to literally slap things on her face, having all kinds of products can get confusing. Do you put the serum first or the moisturizer? How long do you have to wait in between each product? It can get pretty crazy. Here are the basic steps that I've learned.
1. Cleanse
– Remove makeup
-Wash your face thoroughly with your desired cleanser
2. Tone
-I gave up on toners because it used to dry out my face but that's because I was using the wrong one. Toners are great to balance your skin and get it ready to absorb all the products you'll put on it.
3. Serums or Oils or products with specific properties
-Serums and Oils need to be well absorbed by your skin and therefore should go first. Allow a few good minutes – usually the time it takes for me to brush my teeth or fix my hair – to absorb completely before applying the next layer.
4. Moisturizers or Creams
-Don't be fooled a serum is not a moisturizer, this was my mistake, I would only use one or the other. It's really important to hydrate your face. Choose one with SPF and protective capabilities for the day and a richer, replenishing one for the evening.
You really need to let each product absorb before applying the next one and it sounds really tedious but it doesn't mean sitting there doing nothing. I space it in between my other daily duties like brushing my teeth, fixing my hair, removing my contact lenses, applying body lotion etc.
So far among everything I've tried here are my favorite products for cleansing and toning.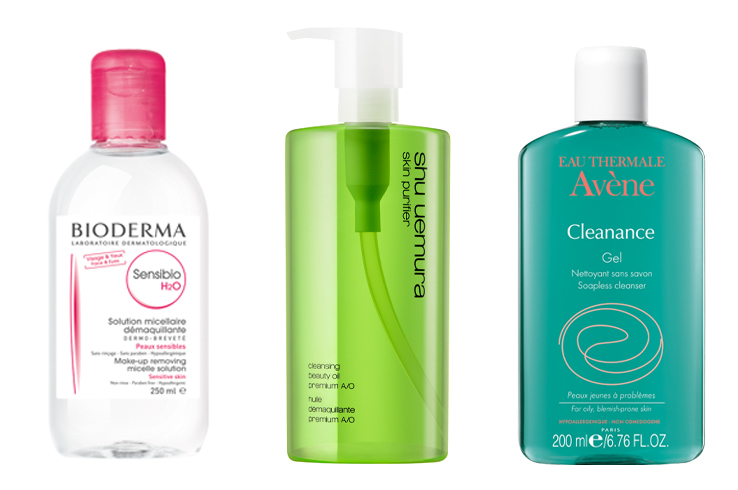 1. Bioderma Sensibio Cleansing Makeup Remover Water
-This is the first product I've used that works really well even with heavy duty makeup and doesn't leave an oily or sticky feel. I love it! Unfortunately I have not seen this available here and a friend of mine brought it from Hong Kong.
2. Shu Uemura Cleansing Oil A/O
-I use this as well if I just came from a shoot or have really heavy makeup on. It really removes everything gently, especially raccoon eyes if you use a Q-tip to gently rub the under the lower eyelid. It also effectively removes highly pigmented lipsticks.
3. Avène Cleanance Soapless Gel 
-This is my go to facial wash for the longest time! My face feels super clean but not tight after. Sometimes I'll lightly scrub with a sponge or use my Clarisonic with this.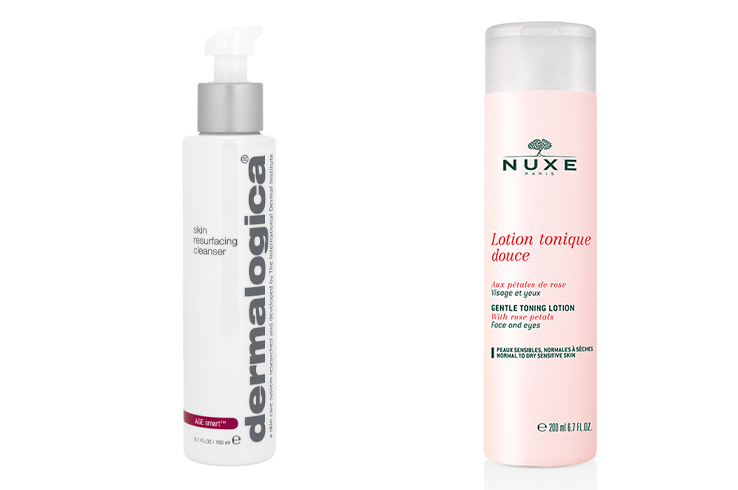 4. Dermatologica Skin Resurfacing Cleanser
-The ladies over at Rustan's gave this to me to try and I loved it! It's a gentle exfoliating cleanser using lactic acid to re-texturize skin and smoothen by removing dulling surface debris and helping accelerate cell turnover. It also has Vitamin E and soothing Rose oil to calm skin. In place of the Avène cleanser I used it everyday for one week to really get things going and now I only use it once or twice a week to give my skin that extra sparkle.
5. Nuxe Gentle Toning Lotion with Rose Petals
-I can't stress enough how much I love this toner! Most toners are not recommended for the eye area but this one is in fact meant for the eyes as well. It's super gentle and smells divine. It's one of the products I received not in sample size but in a large format and is practically empty. I use it twice a day plus whenever I feel icky and oily.
Watch out next week for my next review on the different serums and creams I've tried so far!
For more information on Rustan's the Beauty Source please visit their website www.rustans-thebeautysource.com .