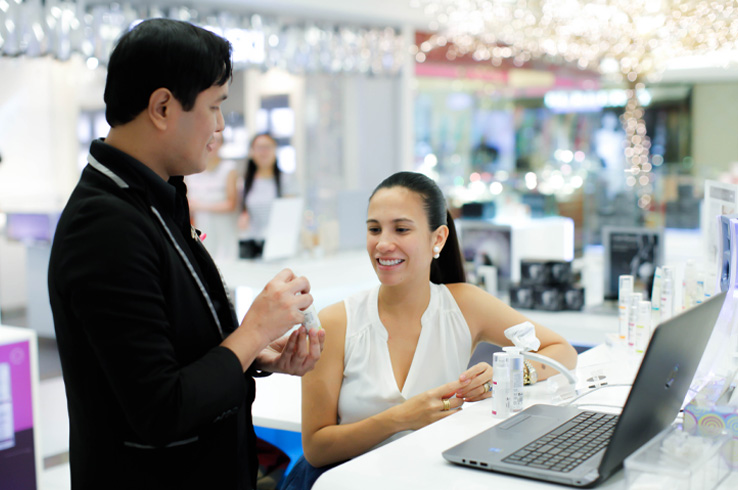 Reviving the Regimen: Murad
Murad has always been a skincare brand that appealed to me. I love its positive outlook and beliefs based on founder Dr. Howard Murad's visionary Inclusive Health movement, "which focuses on a total body approach to youth building and overall wellness." Known as the "Father of Internal Skincare" he is one of the first to use dietary supplements to promote and improve skin health. Basically, you should radiate from the inside. Recently he has been working on developing and scientifically proving the idea that Cultural Stress – "the constant and pervasive form of stress due to modern day living" – has a negative impact on cellular health and whence our overall appearance. I firmly believe in this! My sister-in-law, Audrey, and I have long permeated our whatsapp chat with screenshots and stolen photos of women with what we call "pampered" skin, accompanied by the sighs of resignation that we will never have that coveted "pampered" stress free skin simply because as active working moms – 3 hour weekly facial sessions and long luscious nights of sleep are out of the question. We could always try, and this whole blog series is about taking the extra 10 to 20 minutes a day to pamper my skin so that in ten years I don't look like a dried-up forgotten prune.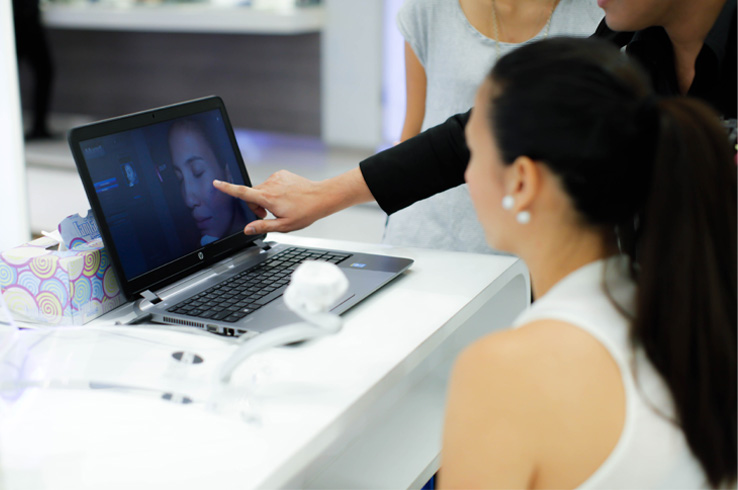 Back to Dr. Murad and his products, if you browse his website and his blog, you'll find it extremely inspiring with specific examples and suggestions like How to Reduce the Appearance of Dark Eye Circles that give you guidelines beyond simply saying – use my product. It's a lifestyle approach to even the most minute details. That being said they have an impressive range of products and it can be overwhelming. I really appreciate their on the spot skin analysis which revealed that my primary skin concerns which were fine lines and wrinkles were in fact the least of my worries. It was those darn sun spots and freckles underneath waiting to gang up on me in five years and mushroom all over my face. Taking it from cute-accept-and-love-your-freckles to plain old blotchy brown spots – kind of like an uneven dalmatian. One that even Cruella de Vil would reject. Below is a rendition of the intensified discoloration I would have in five years if I didn't do anything. Thing is they take the left side of your face since most people drive, I actually sit on the right side and have more spots on the right side of my face. Imagine in 10 or 15 or even 20 years? These seemingly cute freckles will develop into full blown melasma – a big, coin sized brown or grey spot. I can hear my mother's scolding voice at the back of my head…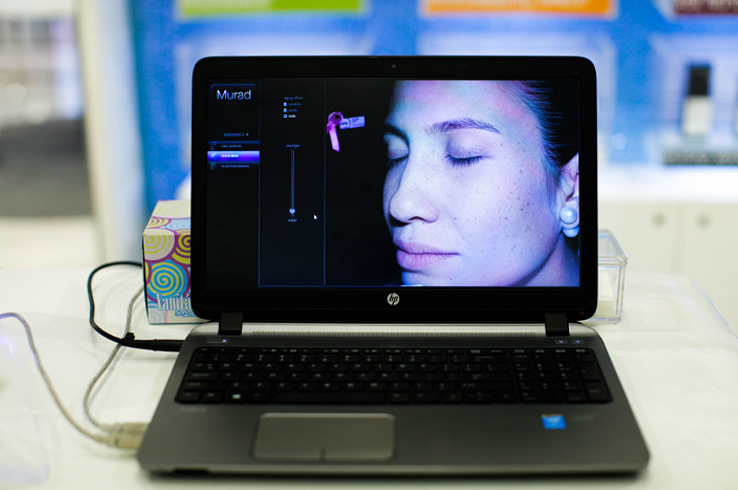 The other great thing about Murad is that it is a value for money skincare brand – I highly recommend it to late 20 somethings who want to start taking good care of their skin but can't pay a premium for the uber luxe high end products – like the crazy 500$ serums my mother swears by. This also means it's good for products that you will use regularly and daily and a lot of. Moisturizers, cleansers etc… They prescribed a long list of products for day and night categorized into 4 steps – Cleansing, Treat and Repair, Hydrate and Protect, Eye care – plus a weekly treatment and some additional products. I chose not to try all of them but just a select few that really captured my fancy and here are my reviews of those products.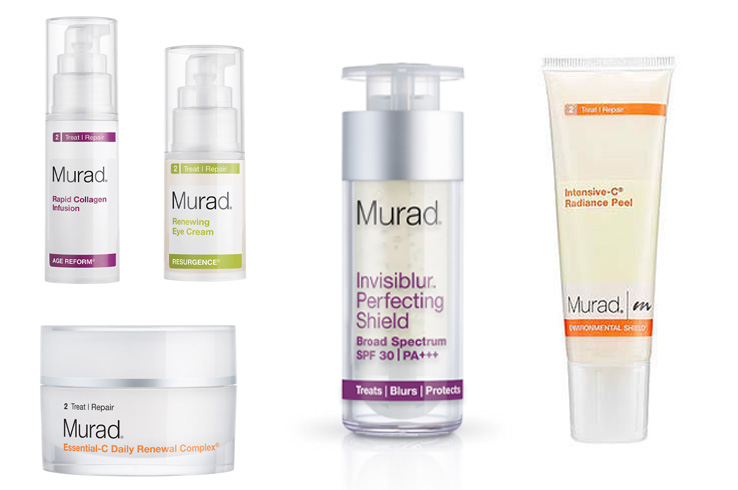 Rapid Collagen Infusion
– "Fight wrinkles and loss of resilience by promoting healthy collagen and hydration levels to immediately restore a more youthful appearance." Perhaps it was because my skin was so parched when I started using this that it had an immediate plumping and hydrating effect. The lightweight cream is absorb instantly and has this wonderful texture that is not oily nor gucky. My only complaint was by the time I got to the last bits of the bottle the air pump failed me and you have to pump several time sot get the last bits of product out. Overall I would use this again, especially in the neck area and for people who want something that goes on fast and is effective.
Renewing Eye Cream
-"Triple benefit eye cream treats and prevents under eye damage… It firms, brightens and hydrates to minimize the appearance of aging and dark circles." I think this is a great entry level anti-aging eye cream, it's again very lightweight and easily absorbed. Personally however I wanted something more potent and richer in the evening, but I would continue to use this in the morning. I got a small sample and I'm going to buy myself a bottle.
Essential-C Daily Renewal Complex
-"Vitamin C innovation combats environmental damage and restores youthful clarity." I only got a sample size but truth be told I haven't finished it. It has a very strange almost powdery texture and kind of stings on my face. I actually noticed that most products with Vitamin C in it even from other brands have a tendency to sting. I can't give a full review on this product because of that. Also I was told to use it at night but frankly in the evening I really want a more luxurious and richer product.
Intensive-C Radiance Peel
-"Brighten, smooth and hydrate to see a radiant glow after just one treatment." So I would give the earlier product another chance BUT I think this product is just so much more effective. I'm usually afraid of peels but it's very mild, easy to use, surprisingly doesn't sting, and I really saw a nice subtle difference after one use. I only got a small sample but I would go and buy a full sized product and really try to use it on a regular basis. My yoga teacher commented the other day that despite my pregnancy she was amazed at how even my skin tone was and I think this may be one of the reasons why.
Invisiblur Perfecting Shield
-"An all in 1 product that treats the signs of aging, blurs imperfections and protects with an invisible sunscreen SPF 30." My absolute FAVORITE product of theirs. When I'm in a hurry or too lazy I just put this on after toning. It almost acts like a primer for make and literally does what it claims to do – blurs imperfections. Even my concealer goes on much more smoothly after using this. They gave me a full sized bottle to try and I've already squeezed it to the very last drop. Definitely buying another one. Perfect for those who can't be bothered to put on three different things in the morning. I would still use a moisturizer before especially if you're prone to dry skin.
***To learn more about the different Murad products available in the Philippines visit www.rustans-thebeautysource.com ***
***This is not a sponsored post, I simply approached the ladies of Rustans The Beauty Source if they would be willing to work with me on this experiment, I have not received any payments or sponsorships from them except samples of their products for me to try which are available to anyone from their counters. They did however kindly give me full sized samples of some of their products. For more information on how I choose my partners please visit my FAQ page.***
***All in store photos are taken by Chyvin Reyes.***