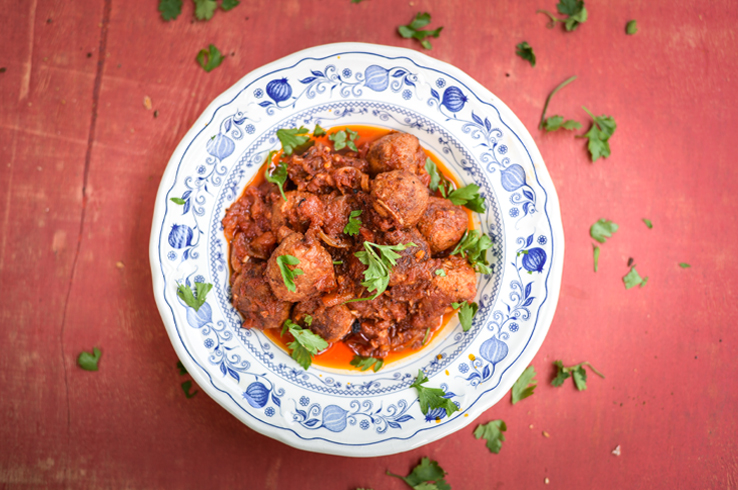 Albondigas a la Rosa
When I was a child, one of my favorite requests when I went to visit my Abuelita Zubiri was "albondigas". I loved its savory flavor and soft texture, covered in her signature orange red spanish tomato sauce. The sweet slivers of fondant onions intermingling with steaming calrose rice. Every time I visited her even all throughout high school this was all I wanted and still today, when the weather is dreary or I'm feeling a little down, a plateful of this with hot rice is akin to a warm, cozy hug.
I usually keep a batch of cooked pork meatballs or "bola-bola" in my freezer which I use in many ways, and comes in very handy for a quick meal on the fly. I also usually have a big jar of homemade spanish tomato sauce standing in full attention in my ref, ready for duty. You can find the recipe for this here. My version of albondigas has a nice layer of smoky paprika and sometimes a tinge of cayenne when I'm feeling like turning up the heat.
You can serve this with rice as a nice comfort food meal, with some pasta and parmesan for a quick spaghetti and meatballs or in a large bowl with some crusty bread on the side as a rustic heavy cocktail dish.
Albondigas a la Rosa
Meatballs or "Bola-Bola"
Ingredients:
250g ground pork
2 slices whole wheat sliced bread
a splash of milk to soften bread
1 small onion
1 small carrot
2 cloves garlic
a pinch of dried thyme or italian herbs
salt and pepper to taste
olive oil
Procedure:
Place onions, carrots and garlic roughly chopped in a food processor and pulse for a few seconds until everything is finely minced. In a large mixing bowl, soften the pieces of bread with the milk until it becomes mushy. Add the pork and minced vegetables and combine everything using cleans hands. Season with herbs, salt and pepper. Form 1.5 to 2 inch balls and lay on a baking sheet. In a hot pan, heat some olive oil and pan fry all the meatballs till they are golden brown and cooked through. Do not overcrowd the pan. If you are not using immediately, let them cool and arrange with even spaces all around on wax paper on freezer proof trays. Freeze. When frozen you can remove from trays and wax paper and store in a ziplock bag in the freezer. This is the best solution so they don't clump together if you freeze them stuck to each other or on top of one another. To thaw, simply remove from freezer and thaw at room temp, in a fry pan or microwave. Or if cooking with a sauce, plop them in the sauce froze, add a splash of water, cover and allow to cook in the sauce.
*note: you can double up the recipe for multiple uses: topping a nice vietnamese noodle salad or in an indian korma curry with lemon rice… you can even even use it in a sandwich!
Albondigas:
Serve 2
Ingredients:
10 cooked meatballs or "bola-bola"
1 cup of spanish tomato sauce (recipe here)
1 tsp good quality paprika
pinch of cayenne (optional)
fresh parsley to garnish
salt and pepper to taste
olive oil
Procedure:
In a deep skillet, heat some olive oil over medium heat and add the paprika to the oil to release the aromas. Add the spanish tomato sauce and albondigas. Cook everything together quickly so that the sauce is just enough to really coat the "bola-bola". Sprinkle some cayenne if desired and season to taste. Serve right away garnished with fresh chopped parsley.