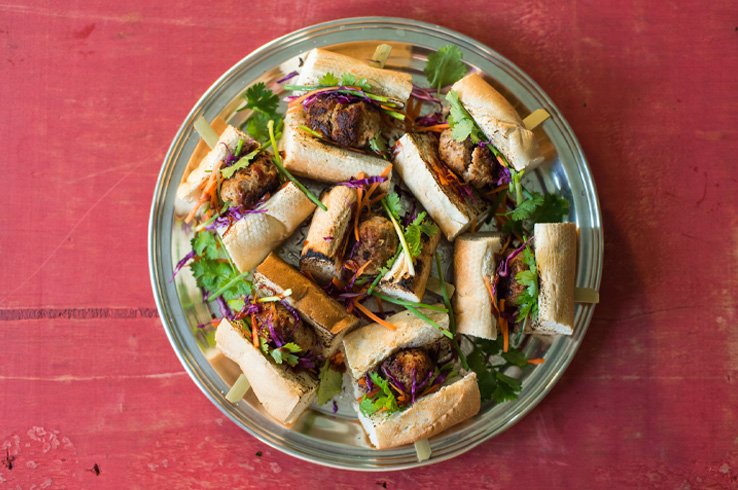 Banh Mi Sliders
One of the things that struck me the most when I first visited Vietnam was how amazing their breads and pastries were. Even their street-side baguettes were always nice and crusty. Banh Mi is probably one of the finest examples of the French influence in Vietnamese cuisine. The street food staple is a crusty baguette that is usually filled with local cold cuts, some pâté, pickled vegetables and a whole lot of fresh herbs and chillies. My version is stuffed with soft, flavorful homemade pork meatballs, topped with a fresh slaw and drizzled with some sriracha and tangy, savory nuoc cham.
It's very easy to prepare using the same versatile meatball recipe that's already been featured here several times. I often make a big batch, fry them up and freeze them, so whenever I need to cook something quickly I've got home on hand. The pork bola-bola can easily be used as spanish style Albondigas or to top a fresh rice noodle salad and here as fillers for Banh Mi. These bite sized sandwiches are perfect for appetizers for an asian themed party, afternoon snacks or extra yummy eats during a summer barbecue. The most important thing of all is to have the best kind and freshest baguette possible. Purchase it that same day for that perfect combination of crusty crunch and soft chew.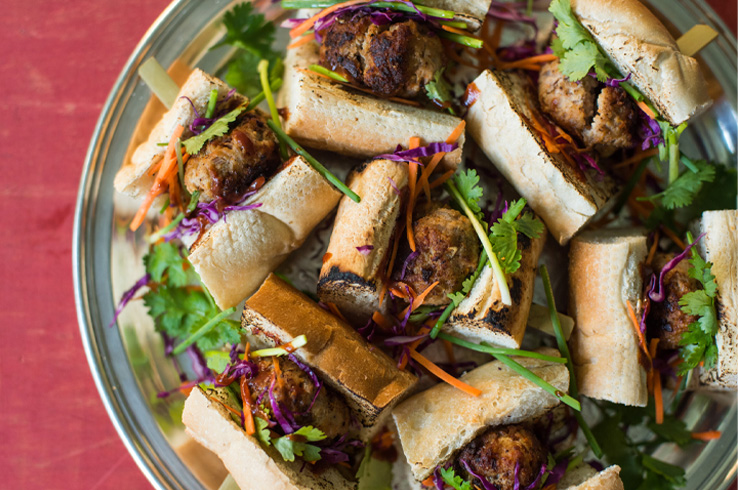 Banh Mi Sliders
Makes 6-8 sliders
Ingredients
6-8 meatballs (find the basic recipe here along with variations)
1 tsp freshly minced lemongrass or bottled lemongrass
1 very fresh baguette cut into about 6-8 pieces of roughly 2.5 to 3 inches long
1 large carrot julienned
1 cup thinly shredded red lettuce
1 cup spring onions sliced into 2 inch lengths
a generous handful of fresh cilantro leaves
1 cup of your favorite sprouts (optional)
Sriracha to taste
Nuoc Cham to taste (get the recipe here – for this dish I like to make it a little more citrusy)
bamboo skewers
In a shallow pan heat a little canola oil and fry the lemongrass till fragrant. Add the meatballs and cook them through or warm them well if they have already been cooked. Season with salt and pepper if necessary. Get the baguette pieces and slice them crosswise but not completely. Toast them preferably over a grill or open flames for extra flavor. Smear some sriracha and add the meatballs, flattening them out a little. Top with a mix of the carrots, cabbage, spring onions and fresh cilantro. Drizzle with Nuoc Cham and skewer the slider together. Serve immediately.
***all deliciously beautiful photos are by Magic Liwanag***