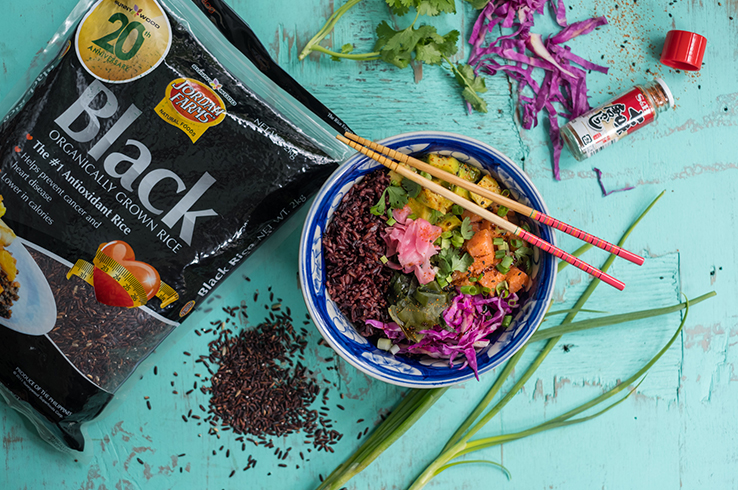 Black Rice Poké Bowl
One of the hottest crazes in the food scene is the Hawaiian favorite – the Poké Bowl. Usually made with sushi rice and very rich and heavy sauces, I wanted to give it a healthier spin by making it with antioxidant and fiber rich black rice. I love the texture of black rice too because its so nice and nutty. I like that extra bite and chew it has and I feel it lends a nice texture to all the creamy elements of a traditional poké bowl. It has a lower glycemic index than usual white rice and also has 8.5 grams of protein in 100g which keeps you satiated much longer. Black Rice is one of my favorite varieties of rice and it works really well in sinangag and stir fries! In this poké version, I also made a lighter dressing without the usual Japanese mayo but it also works really well if you want to add a touch of that too!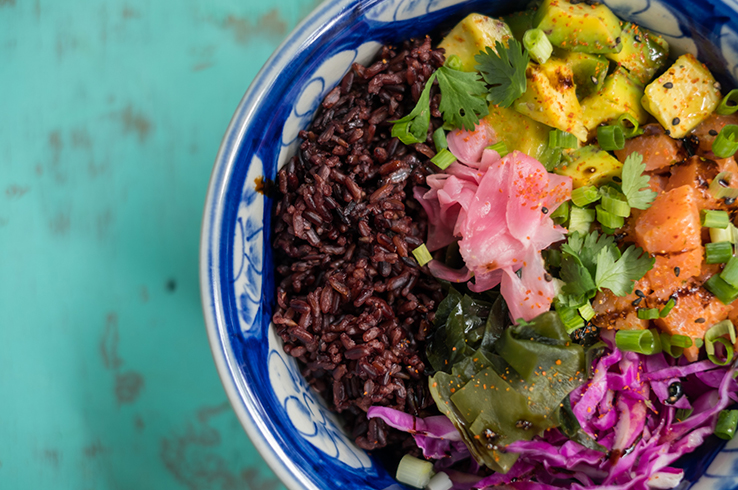 Ingredients:
1 cup cooked Jordan Farms Black Rice
1/2 avocado diced
100 g sashimi grade salmon fillet cut into cubes
1/4 cup shredded red cabbage
Dressing:
1 tsp miso paste
1 tsp agave syrup
2 tbsp canola oil
1 tbsp rice wine vinegar
1 tsp sesame oil
Garnish:
drizzle Balsamic Glaze / Syrup
Togarashi
Sesame Seeds
Pickled Ginger
Wakame
Spring Onions
Cilantro
Japanese mayo – optional
Sriracha – optional
Procedure:
In a bowl, place the cooked and cooled rice and top with the ingredients. In a small bowl whisk together all the ingredients for the dressing. You may choose to adjust the quantities to suit your desired flavor. Pour dressing on top. Garnish as desired.
To learn more about Jordan Farms and their other amazing varieties please visit: http://sunnywoodrice.com/jordan-farms/black-rice/