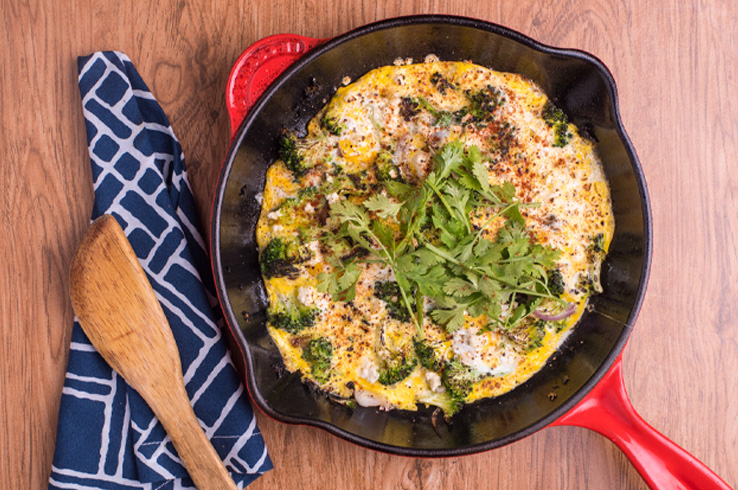 Broccoli and Goat Cheese Frittata
Frittata's are the perfect no-brainer brunch food. For as long as you have a box of eggs you can pretty much throw anything that's lingering in you're refrigerator into the mix. I like having a mix of vegetables and cheese and don't necessarily ever feel that need to put any other protein in there. Big meaty chunks sort of bogs down the texture. It's nice to keep it easy and to cook everything in one pot.
There are two ways you can make a frittata: on the stove or in the oven – or even a combination of both. I find that heating up an oven for a small group of people or just for my hubby and I is a waste of energy. I like to cheat and do it on the stove, oven low heat covering the pan. Then I like to brown up the top to get that grilled smoky effect with a blowtorch. Easy and effective.
Here are some of my favorite combinations, always with lots of browned, golden onions and a touch of garlic.
Spinach + Feta
Sun-dried Tomatoes + Ricotta + Fresh Basil
Mixed Mushrooms + Feta + Fresh Dill
Asparagus + Zucchini + Goat Cheese + Fresh Dill
Broccoli + Goat Cheese + Cilantro (and a lacing of sambal!)
What's great about frittatas is that you can cook them ahead and easily re-heat when your guests arrive. Leftovers are also wonderful as a quickie breakfast the next day.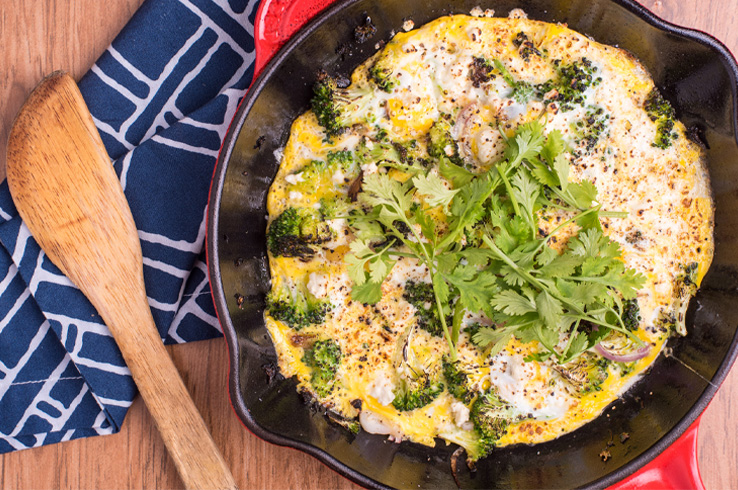 Broccoli and Goat Cheese Frittata
Serves 2-4
1 to 2 cups broccoli florets sliced flat and thin (depends how much veggies you want in there)
1 white or red onion, thinly sliced
2 cloves garlic, minced
1/4 cup goat cheese (you can add more if you want)
8 eggs
1 tsp sambal oelek
fresh cilantro for garnish
olive oil
salt and pepper to taste
smattering of paprika, cayenne and dried Italian herbs
Heat up a non-stick pan or a cast iron skillet on high. Add some olive oil and brown the onions and garlic. Add the sambal and broccoli and cook as desired. (I like them crunchy on the inside but singed and burnt on the edges.) Season with salt and pepper. Turn down the heat. In a large bowl beat the eggs lightly and season. Add the eggs to the pan making sure to spread out the veggies so each portion has some. Crumble the goat cheese on top. Cover the pan and let cook and set for about 5-7 minutes. Adjust the cooking time depending on the depth of your pan. A deeper, smaller pan will take longer to cook than a wide shallow pan. Some may also prefer their frittata well cooked while others a bit wet. Personally I like it somewhere in between. Remove cover and remove from heat. Brown the top using a blow torch. Consequently if you don't have one a would prefer to use the oven method you can transfer the vegetables before putting the eggs into an oiled baking dish. Then add the eggs and crumble the cheese. Bake in a 200*C oven until cooked through and browned on top. Serve topped with fresh cilantro and garnished with the cayenne, paprika and dried herbs. Serve warm with a nice green salad.