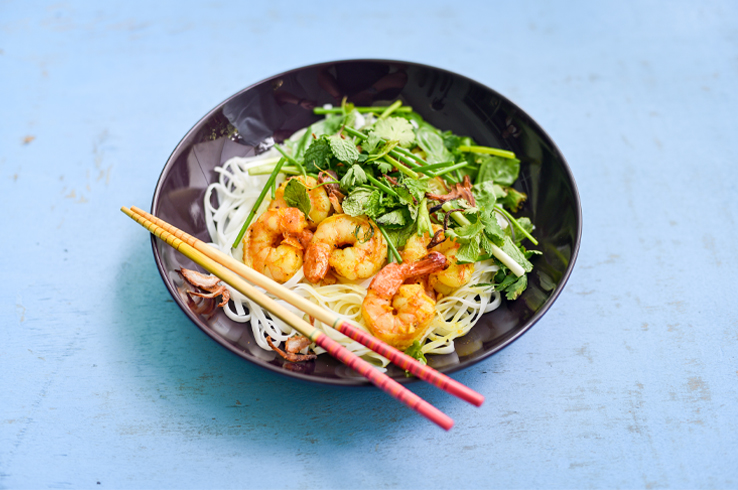 Cha Ca La Shrimpy
The sweltering summer heat has finally made it's appearance. When the air is balmy and the sun is scorching it's time to lay the heavy stews and rich dishes to rest. I love the fresh flavors of vietnamese cuisine and how all those fresh herbs they use add so much character and brightness to a dish without any added calories. This is a spin-off of one of my favorite dishes of all time – Cha Ca La Vong. The Hanoian classic gets reinvented into a hearty but healthy light summer salad using meaty shrimp to keep your hunger at bay.
You can in fact make this dish even more diet friendly and low calorie by switching out the rice noodles for mung bean flour or sweet potato flour glass noodles that you find in asian specialty stores. It's the perfect summer lunch that's refreshing yet oh-so-satisfying!
Cha Ca La Shrimpy
Serves 1
Ingredients
6-8 pieces medium or large shrimp depending on how hungry you are (peeled and deveined)
dash of turmeric powder
2 tbsp canola oil
2 small thin sliced rounds of peeled red ginger (fresh turmeric a.k.a. luyang dilaw)
2 cloves garlic, minced
1 tsp finely minced lemongrass
a generous half-a-handful each of fresh cilantro, dill, mint leaves and sweet basil leaves
two lengths of fresh spring onion cut into 2-inch long pieces
1 red onion or a few small shallots thinly sliced
1 tbsp flour
2-3 tablespoons vietnamese dressing*
50g rice noodles / bihon noodles
Salt and pepper to taste
Dredge the thinly sliced onions or shallots with flour and deep fry in canola oil. Set on a paper towel to cool and absorb excess oil. Save the the aromatic oil for other dishes and keep about 1 tbsp in the pan. Heat this oil and use it to sauté the garlic, red ginger, turmeric powder and lemongrass for a minute on high heat. Season this flavorful concoction with some salt and pepper. Add the shrimp and sear well on both sides. Make sure not to over cook them. Cooking time will depend on the size of your shrimp. Season again to taste. Remove from heat. Cook your preferred noodles according to package instructions, drain and rinse immediately with cold water and set aside. Plate the shrimp on top of the noodles and drizzle some of the remaining flavored cooking oils on top. Add some vietnamese dressing. Top the dish with generous helpings of the fresh herbs and some fried shallots or onions. Serve with the extra dressing on the side. You could also allow the shrimp to cool and serve everything like a nice chilled salad or serve it as is straight from the pan.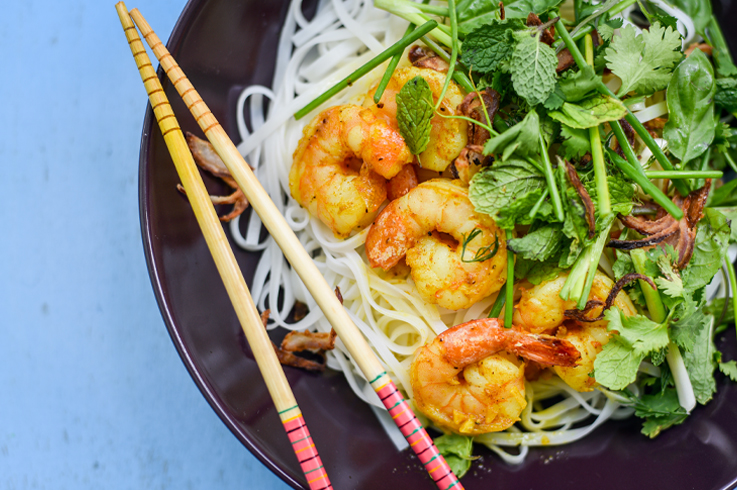 Vietnamese Dressing
Ingredients
2 ½ fish sauce
2 tbsp sugar
½ cup water
2 tbsp lime juice
1 tbsp rice vinegar
2 garlic cloves thinly sliced
1/2 small carrot thinly sliced
1-2 Red chillies
Bring the fish sauce, sugar, garlic, carrots, whole red chillies (slice them for more heat) and water to a quick boil until the sugar is well dissolved then let cool. Adjust the taste with rice vinegar or lime. The taste must be a mix between sweet and sour with a hint of heat.