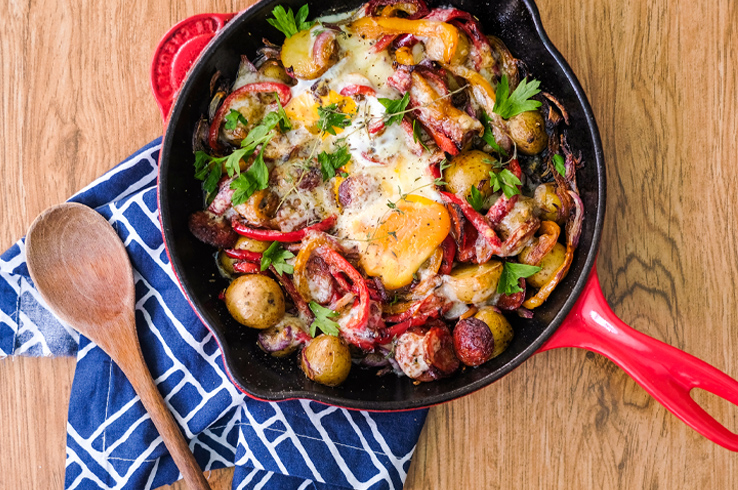 Chorizo & Havarti Skillet Eggs
Every so often friends of ours come over for an impromptu brunch. It's a late Saturday and they want to drop by to come visit our kiddos – yes we are second class citizens in our own home, people come to see our sons and not us! But  of course I secretly feel like they also show up because they know I'll put on a good show – on the table that is. I love brunch food, it's the perfect time to be nice and indulgent yet not feel too guilty about it because hey – you are eating two meals in one go! But because most of the time brunch with friends is more of a spontaneous thing rather than carefully thought out, it's good to have a well stocked refrigerator and pantry so you can whip up something spur of the moment.
Here's a list of things that are handy for impromptu brunches:
Eggs – I can't live without eggs, I have one almost every other day for breakfast, it's quite the travesty in our house if there are no eggs. Even my son loves them and can eat a whole soft boiled egg by himself, dipping the buttered toast and all.
Cheese – I always have some good quality cheese. I love Arla's Havarti and Gouda slices which are great for topping on buttered toast, to make an impromptu grilled cheese or to use for a tasty gratin. They're easily stored and keep fresh. I also love their selection of cream cheeses notable the Herbs and Spices which is wonderful on a bagel with some sliced radishes.
Sausages or Chorizo – I usually have some sausages hanging out in the freezer or some nice chorizo in case I want to add something more filling and flavorful to a simple soup dinner or for a heavy brunch.
Mushrooms – I love keeping mushrooms around. They're great for a quick pasta, an easy sauce or simply sautéed on top of toast. One of my favorites is the Korean Shimeiji because they keep quite long in the ref and have a great crunchy texture.
Marble Potatoes – These small babies are really quick to cook. My trick is to slice them in half and boil till soft. Then sauté in some butter and olive oil. It's the quickest way to cook them.
Fresh Herbs – It's always nice to have at least some parsley or spring onions around for that extra freshness. You could also keep some in the freezer.
Quality Bottled or Canned Vegetables – Canned roast bell peppers, some artichoke hearts maybe some baby onions, they're all great to quickly throw into a salad or a skillet for extra flavor.
Dijon Mustard – the perfect condiment to sausages or the base of a really good vinaigrette.
Balsamic Glaze – It's the adult ketchup. It goes well on anything from a pan seared salmon to grilled veggies, drizzle on for some extra tang and sweetness.
As for pastries, croissants and good bread – ask your friends to bring some over, they did invite themselves over after all!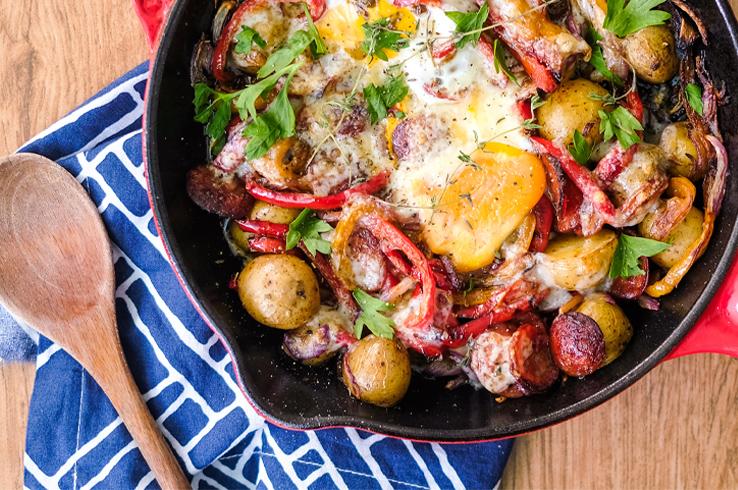 These Chorizo and Havarti Skillet Eggs are super effortless and really impressive. The Arla Havarti is absolutely delicious here because its nice and mild so it doesn't fight with chorizo. Often times chorizo dishes that have cheese in them are too salty, too savory, too oily and just plain too much. Arla's Havarti melts so easily, it's nice and slightly nutty but not too overpowering. It's what really binds the dish together. What I love about Arla's cheeses is that they are all natural. You can read the label and understand everything that's there. No chemicals, no strange ingredients, just good old fashioned cheese, made like it used to be. This is important to me because my son likes to nibble on cheese and for my family, eating good clean whole food is a priority.
In this recipe I sautéed some fresh bell peppers but if you're in a pinch throw in some canned ones. You can also nix the potatoes if you're going low carb but honestly, they're so yummy with the eggs and the Havarti cheese. Plus it's brunch! You have the rest of the day to burn the calories right?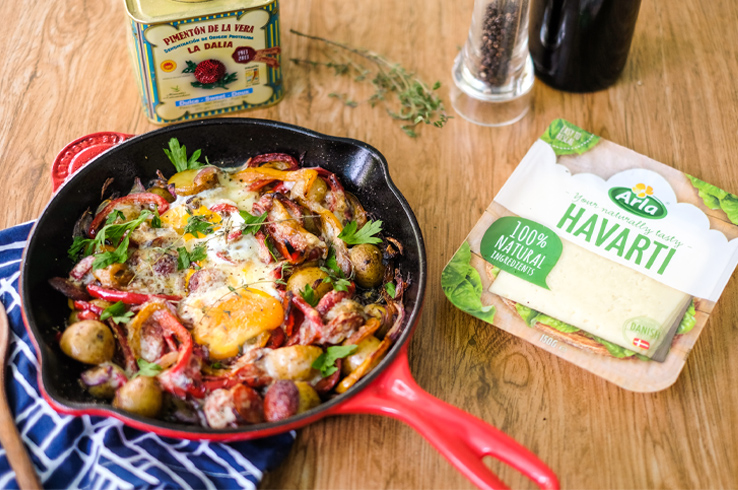 Chorizo and Havarti Skillet Eggs
serves 2
Ingredients:
a handful of marble potatoes sliced in half and boiled till soft
1 yellow bell pepper julienned
1 red bell pepper julienned
1/2 red onion
70 g chorizo sliced into thin rounds
4 slices Arla Havarti Cheese
2 eggs
salt and pepper to taste
olive oil
thyme and parsley for garnish
Make your skillet very hot add a very thin drizzle of olive oil then the chorizo. Cook the chorizo till a bit crisp and remove. In the chorizo oil brown the onions and then add the bell peppers. Cook the bell peppers till soft, golden, even a little charred. Turn down the heat and add the potato halves. Get a nice crisp on the sides of the potatoes then add back the chorizo. Season with pepper and just a pinch of salt. Crack two eggs over everything and remove from heat. Add the slices of havarti on top and place the skillet in a hot oven or grill. Grill on high until the eggs are cooked but the yolks are a bit runny and the cheese has melted. Top with fresh thyme and parsley and serve immediately.
***all delicious photos by Magic Liwanag***
***This is a post sponsored by Arla. To learn more about the brand and their values do visit their website www.arla.com . For more information on how I choose my sponsored partners and the integrity of this blog please visit my FAQs page.***