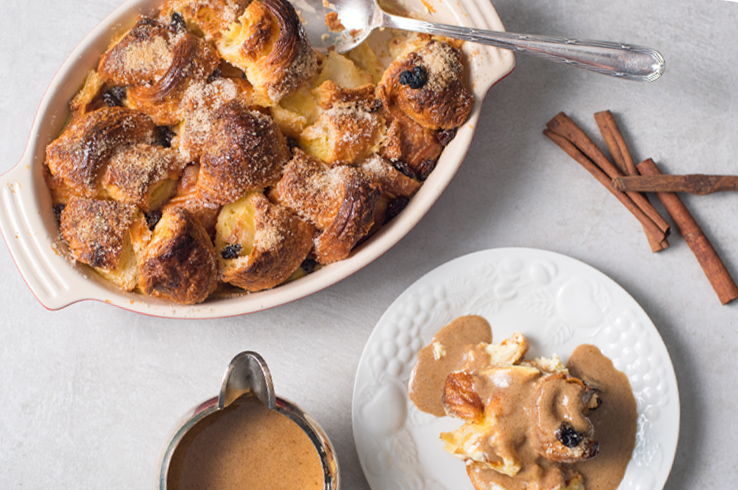 Croissant Bread&Butter Pudding with Rum Caramel Sauce
It's a well-known fact amongst my friends that I'm a terrible baker. I hardly have the patience to measure things out, do things in sequence and then hope that it all turns out wonderfully. Most of the time my past experiences have resulted in desserts that were undercooked or burnt or sadly a combination of both. Eventually with practice I became a little better but there was always one dish that was so effortless and crowd pleasing despite my undesirable pastry skills. This Croissant Bread and Butter Pudding with Rum Caramel Sauce is an absolute breeze to make and as delicious and comforting as a warm hug on a rainy day. It's that iconic combination of sugar and spice and everything nice: that heady scent of cinnamon and piquant touch of nutmeg; luscious vanilla and caramelizing sugar; and of course, lots and lots of butter melding together in one golden crispy yet unctuous dessert.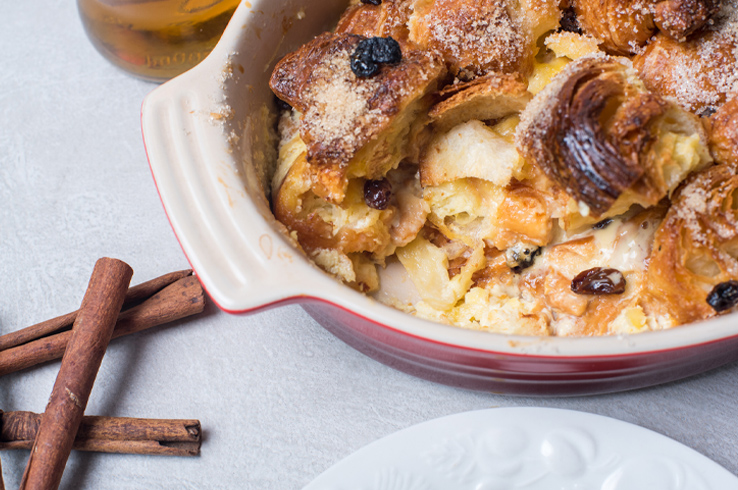 Instead of the usual bread pudding, the use of croissants add another buttery dimension, the flakey layers absorbing the custard and the top becoming really crusty with the sugar. It's a perfect way to use leftover croissants that have gotten too hard or dried out. Consequently you can also use any kind of brioche or even these giant Italian Pannetone that people often give out during Christmas. What really makes this dish special is the subtle layering of aromas and flavors. The heady, sweet depth that vanilla lends to the batter, the slightly spicy touch of nutmeg that cuts through the richness and finally that beautiful combination of rum and cinnamon. It wouldn't be the same without these spices nor that delicious kick of rum.
When baking or cooking it's extremely important to use quality products like good spices (I always use McCormick) and good rum. Choosing the right rum is important because you want something that has flavor and aroma, a teensy bit sweet but not too much, really smooth and a lower alcoholic volume. Tanduay Select fits the bill perfectly for this recipe resulting in a wonderful sauce that really ties everything together. You may even want to serve the dessert with some rum on the side and a rich hot espresso for your guests to indulge in after a nice long holiday dinner. After all, we all deserve a little indulgence once in awhile!
***All of these delicious photos were taken by Magic Liwanag***
***This original SZC recipe was sponsored by Tanduay Select and also appeared in a sponsored segment in Let's Eat for McCormick. Both of which I feel are great products and complement each other extremely well! For more information on how I choose my partner please visit my FAQ's page.***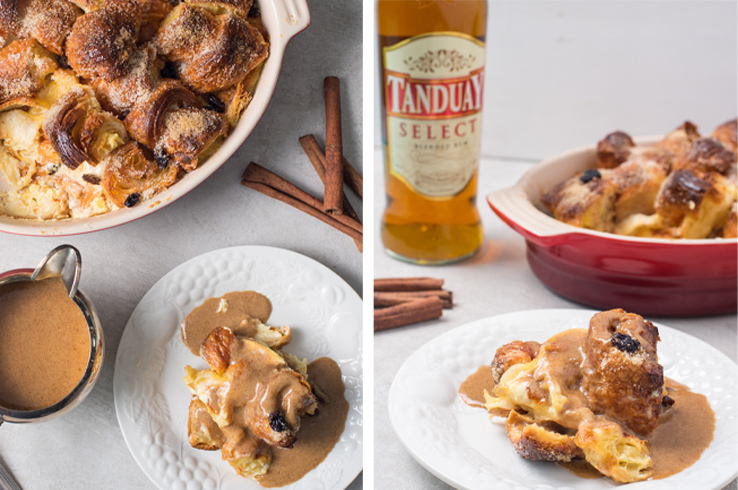 Croissant Bread and Butter Pudding
Serves 6
Ingredients:
4 large butter croissants
6 eggs
2 cups cream
1 cup milk
½ cup raisins soaked in rum (preferably over night)
6 tbsp butter
pinch of McCormick ground nutmeg
½ cup light brown sugar or white sugar
1 tsp McCormick vanilla essence
Cut the croissants into 2 inch cubes. Whisk vanilla, nutmeg, eggs, milk and cream together. Assemble croissant pieces in a buttered baking dish that can also be used for serving. Pour the cream mixture over and using your hand squish the croissants to absorb the liquid. Add the raisins and scatter them around. You can also add little few more drops of vanilla to the dish for extra flavor. Take the butter and insert pats of the butter a little everywhere. Some on top, some below… Sprinkle sugar on top of the dish. Bake in a pre-heated oven at 180 or 200 degrees C for about 20 minutes. The cream mixture should be set and the top crisp and golden.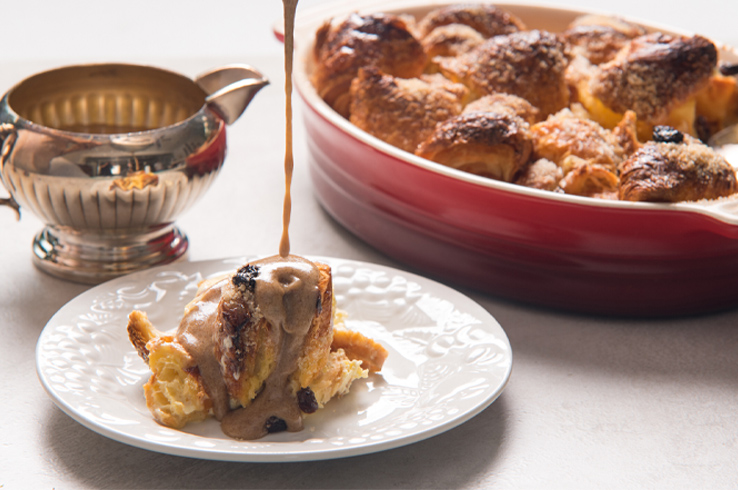 Rum Caramel Sauce
¼ cup brown sugar
2-3 tbsp butter
4 tbsp rum
¼ cup cream
pinch of McCormick cinnamon
In a heavy saucepan, melt the butter and sugar together on low heat till a light caramel forms. Add the rum and whisk well. Bring up heat to medium and add cream and cinnamon. Whisk everything well the sauce should be a not too thick and heavy. More like a runny cream. Serve warm with the pudding.