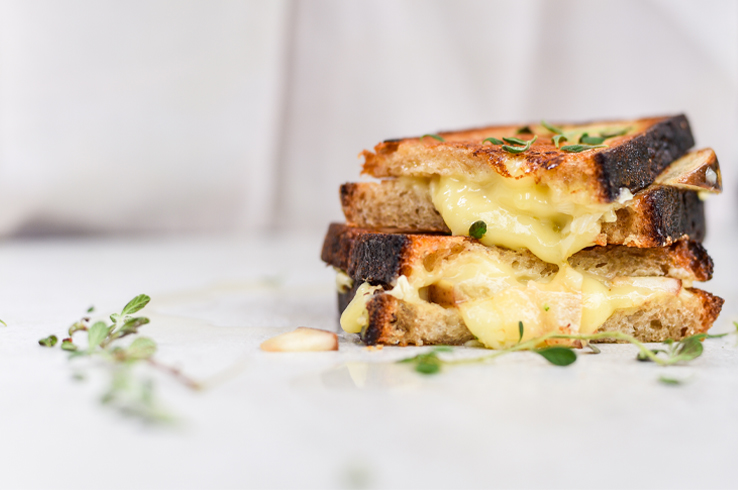 Grilled Brie and Truffled Honey Pear Sandwiches
We are right smack in the middle of the holiday season and the festivities always make us want something a little more luxe and indulgent. This is a beautiful recipe that is so deliriously easy to make and perfect if you want to treat yourself to a very luxurious afternoon snack. It is also a wonderful cocktail party addition if you cut them into one to three bite sized pieces and pass them around. You could make a few ahead and keep them warm in the oven. Another great idea is to create a build your own panini station or grilled cheese station by setting out a panini press in a corner and having a "bar" of delicious ingredients like prosciutto, goat's cheese, grilled veggies and the like and allow your guests to mix and match. Consquently you can eliminate too much of the decision making by having the rye bread, the brie and the pear slices all laid out for them to assemble and grill themselves. Place a beautiful bottle of chardonnay on ice and some wine glasses right next to it and I guarantee it will be the favorite party spot in your home.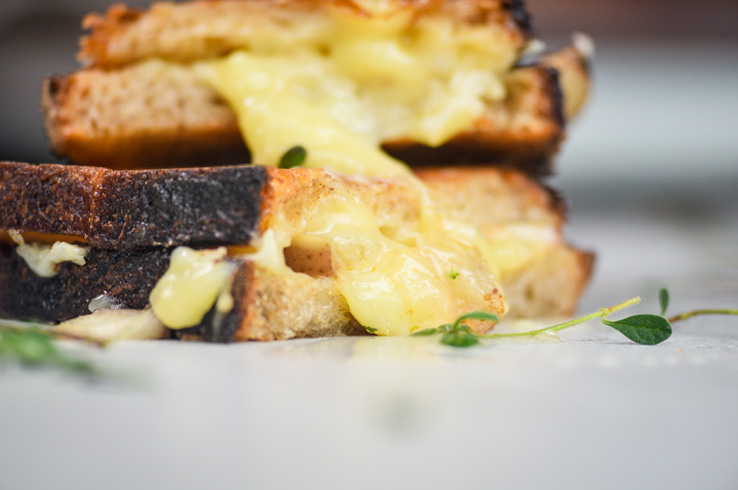 Grilled Brie and Truffled Honey Pear Sandwiches
Makes 2 sandwiches or 4 mini Sandwiches
4 thin slices of rye bread
1 large pear sliced thinly
200 grams of brie
150 grams of grated gruyere or grated emmenthal or grated sharp cheddar
sprigs of fresh thyme or dried Italian herbs
1 tbsp truffle honey (or make your own by adding some truffle paste to honey)
4 tbsp butter
olive oil
fresh cracked black pepper
fresh thyme for garnish
Slice the pear into 8 thin slices as well as the brie. In a non-stick pan heat some butter and sauté the pears till soft. Remove from heat and drizzle with truffle honey. Layer the brie, sautéed honey pears and some gruyere on one piece of bread. Add a dash of herbs or some fresh thyme and cover with a another slice of bread. On a large non-stick pan, heat some olive oil and a little bit of butter and grill the sandwiches until they are golden and toasty. Finish with some fresh cracked pepper and garnish with some fresh thyme.