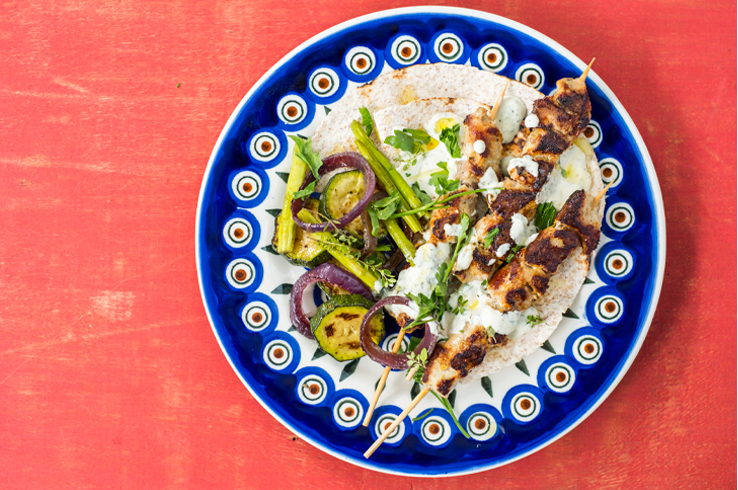 Herbed Pork Souvlaki
Pork is often given a bad name for being very fatty and greasy, but actually certain cuts of pork is a great source of lean protein.  It's also a wonderful alternative to your usual chicken breast that packs in a lot of flavor. I love pork tenderloin and how versatile it can be. I always keep some medallions or thin strips in pre-portioned packs in the freezer for a quick week night meal. Perfect for throwing into a veggie stir-fry or for pan searing with some spinach. This recipe a perfect example of using pork as part of a healthy, balanced and easy meal. Inspired by the Greek souvlaki – grilled meats – I use yogurt and some earthy dried herbs to add flavor and to make the pork nice and tender. The yogurt also serves as a healthy dipping sauce.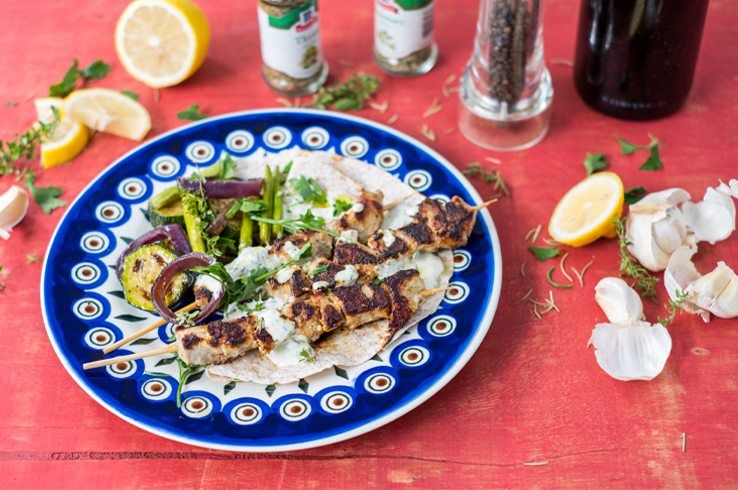 Herbed Pork Souvlaki with Grilled Veggies
Serves 2
Ingredients:
250g pork tenderloin cut into small pieces
3 cloves garlic peeled
1 cup plain yogurt
1 tsp McCormick dried oregano
1 tsp McCormick dried rosemary
1 tsp McCormick dried thyme
juice of 1 lemon
1/8 cup olive oil
salt and pepper to taste
your favorite vegetables (zucchini, asparagus, bell pepper, eggplant etc)
extra olive oil
fresh parsley for garnish
serve with pita bread or tortilla wraps
In a food processor, blitz the yogurt, 1/8 cup olive oil, herbs, lemon juice, garlic and some salt and black pepper. Reserve about ¼ cup of the mixture as a dipping sauce and use the rest as a marinade. Coat the pork tenderloin in the marinade and set aside for 30 minutes or longer. Overnight is even better as the yogurt will tenderize the pork. Skewer the pork on barbecue sticks. Heat up a grill or a grill pan. Brush your veggies with olive oil and season. Add some Italian herbs if desired. Grill till cooked and set aside. Grill the pork till cooked through, about 3 minutes per side if your skewers are not too thick. Serve immediately with the grilled veggies, some pita bread or a tortilla wrap and the dipping sauce.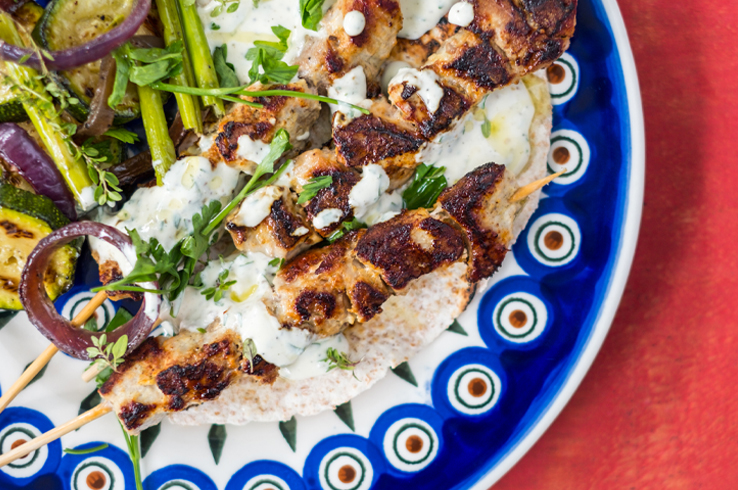 ***This post is sponsored by McCormick Philippines***
***For more information on how I choose my partners please visit my FAQ's.**
***All delicious photos taken by Magic Liwanag***