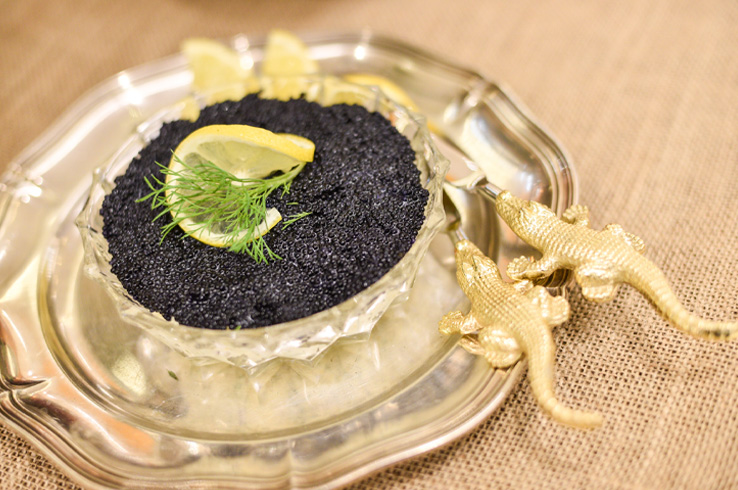 Homemade Caviar Terrine
An indulgent staple in chic cocktail parties, the Caviar Pie has been a crowd favorite since its appearance a few years ago. Most of the time ordered through specialty food entrepreneurs or caterers at a rather hefty price tag, this simplified recipe allows you to wow your guests with a little bit of luxury at a fraction of the cost.
Ingredients:
225 grams plain cream cheese
2 hard-boiled eggs cold or room temperature
1 package of black lumpfish caviar
1 small red onion finely minced
2 lemons
1 bunch of fresh dill
crackers or melba toasts for serving
In a food processor, whip together the cream cheese, the hard boiled eggs and some fresh dill leaves. You may season with some ground black pepper if desired but not necessary. Transfer the mixture into a bowl and fold in the minced red onion. Assemble the pie using a ring mold, directly on the serving plate or on top of an appropriate sized cake board. Place a layer of the cream cheese mixture, then top with a layer of the caviar. Cover and chill. Before serving carefully remove the mold. Cut one of the lemons in half lengthwise and make thin half-moon slices. Use these to garnish the sides of the caviar pie. Garnish with a large sprig of dill on top and serve with some lemon wedges and crackers or melba toasts. For an even simpler version, use a nice glass or silver dish and make a caviar terrine instead by spreading the cream cheese mixture in the bottom then topping with caviar and a lemon slice and dill garnish. That way guests can just dip their crackers directly into the bowl.