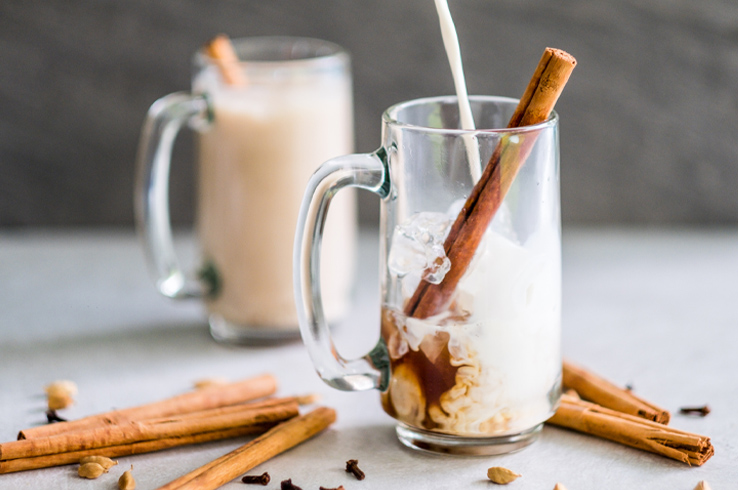 Iced Chai Latte
In the early months of my first pregnancy, I had quite a bit of downtime. I enjoyed relaxing on my lanai, watching the leaves rustle as the occasional breeze blew in and read long, indulgent novels. One of my favorites was Shantaram by Gregory David Roberts – a true story of an australian convict who escaped to India, was swallowed by the grit and guts of Bombay's shanty towns and faced with brutal poverty and desperation. Despite the depravity he discovered the different meanings of generosity, friendship and love through human contact, embracing the local culture and people. It's a beautiful tale of adventure and human condition spun in a raw, yet descriptive and poetic prose. Throughout the novel they kept drinking chai, which gave me these cravings and desires to have some spiced chai, immersing myself in the entire mood of the book.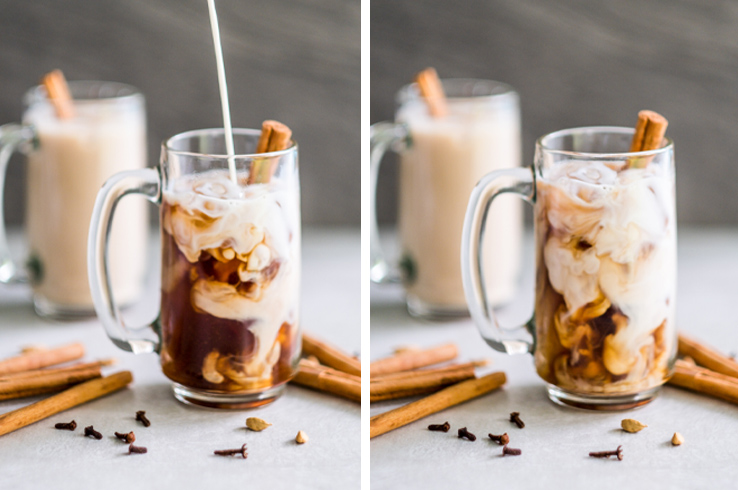 I had two problems: first I couldn't drink too much caffeine, so thankfully my husband brings in this decaffeinated ceylon tea by Harney & Sons; second, I'm rather lactose intolerant. All the available Lactose Free milk brands at that time was very watery, bland and beige looking. I managed to make do but it still didn't feel as rich or satisfying. I'm glad Arla came along with their natural milk line. Their Arla Lactose Free Milk is really the best I've found – nice and white, with that full milk flavor. My son who unfortunately inherited my lactose intolerance drinks tons of this stuff! Regular whole milk makes him gassy so I'm glad to know that there is a brand there that offers the Lactose Free option but with all the nutrients of regular milk. Taste wise we've tried other brands but this is really what he prefers and I don't blame him. It tastes fantastic in my cappuccinos and lattes!
Here is the recipe for an Iced Chai Latte, sooo refreshing while sitting outdoors on a hot, gloomy, rainy afternoon. All the spices taking you to exotic places with every sip!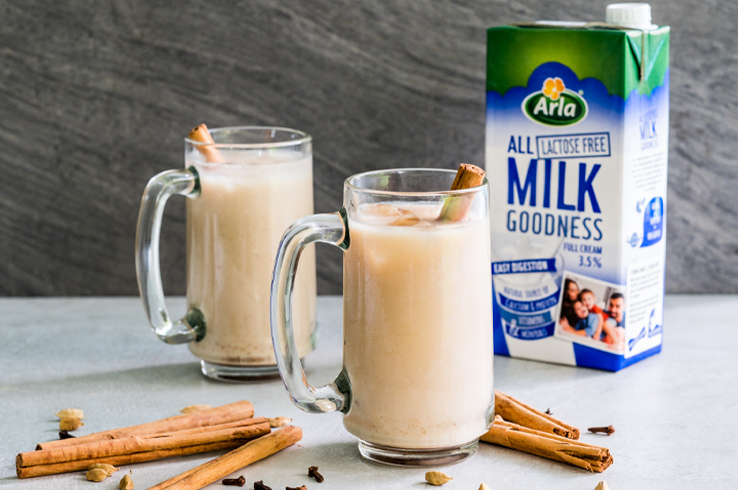 Iced Chai Latte
makes 2 tall glasses
Ingredients
2-3 teabags of ceylon tea or black tea
1 1/2 cups water
1/4 tsp ground cinnamon
1/4 tsp ground ginger
1 cardamom pods crushed lightly to open
1 clove
1-2 tbsp brown sugar or coco sugar (I prefer coco sugar because it's better for you) *you can adjust sweetness to your taste
1 1/2 cups Arla Milk (your preferred kind, I really like the Lactose Free but the Whole Organic Milk is really the very best!)
In a sauce pot add the spices and sugar to the water and bring to a boil. When boiling add the teabags and allow the water to simmer and the teabags to steep for at least five minutes. The longer you keep it in the stronger the flavors will be. Strain everything through a fine cheesecloth or a fine sieve. Allow to cool. Pour into the glasses then add lots of iced. Top it off with the cold milk. Serve immediately. You could keep this a hot latte by heating the milk and adding it to the hot tea concoction.
***all delicious photos by Magic Liwanag***
***This is a post sponsored by Arla. To learn more about the brand and their values do visit their website www.arla.com . For more information on how I choose my sponsored partners and the integrity of this blog please visit my FAQs page.***