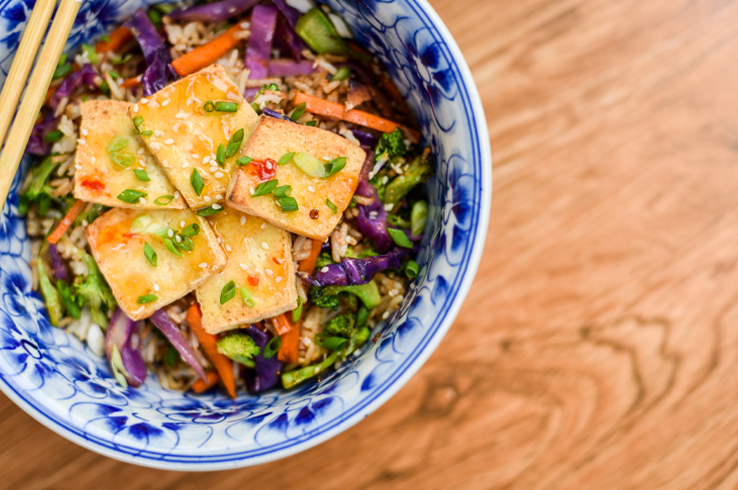 Veggie Stir Fry Bowls
We love vegetables here at home and this recipe is a Crespi household staple. It's super quick to do and extremely nutritious! Our Veggie Stir Fry base is something we do all the time and we easily switch up toppings and sauces swinging it from pan-asian to chinese to japanese flavors. It's also a great way to make use of all the sad, slightly wilted vegetables languishing in the bottom of your refrigerator. The basic composition is carrots, red and green cabbage, broccoli and some shimeiji mushrooms. These are all pretty hardy veggies that can last two weeks if properly stored, wrapped in paper towels and in a ziplock. We throw everything in a wok with some onions and garlic, tons of ginger and whatever else you'd like to mix it with. Usually we go for basmati rice because it has a very low Glycemic Index. When I was diagnosed with gestational diabetes during my last pregnancy, it was the only rice I could eat that wouldn't make my sugar sky rocket. I also like to replace the basmati with quinoa and it's absolutely delicious. It's the only way I can get my husband to eat quinoa without him grumbling so much.
This particular version is topped with tofu. We slice firm tofu about 1/2 inch thick and fry it up in a pan of melted butter with a generous spoon of samba tossed in and squirt of lemon juice. We pan fry till its golden leaving it crisp on the outside and still soft on the inside. It's delicious!
Here is a simple formula on how to make your own veggie stir fry bowl. I've decided to leave out the quantities because its a very easy recipe to personalize and you can add or subtract any ingredient to your liking.
Veggie Base:
– julienned carrots
– shredded green and / or red cabbage
– broccoli
– shimeiji mushrooms
– sliced onions
– minced garlic
– grated or julienned ginger
Apart from our house staples you can add these:
– shiitake mushrooms (but they have a very strong flavor)
– bean sprouts
– snow peas
– bell peppers
– leeks
– bokchoy
– camote or sili tops
Stir Fry Sauce Base:
– soy sauce preferably low sodium
– rice wine
* In a large wok, heat some canola oil or light olive oil (regular olive oil would impart a flavor that is too strong and tends to clash with asian flavors) and sauté the onions, garlic and ginger till fragrant. Add the mushrooms first if you are using them and allow to cook well. Then add the rest of the ingredients starting with those that take longest to cook such as the broccoli and add last the veggies you want to stay a bit crunchy like carrots. Add a plash of low sodium soy sauce and rice wine. You can also add a splash of water then season with some salt and pepper to taste. Cover if you would like the vegetables to wilt a little.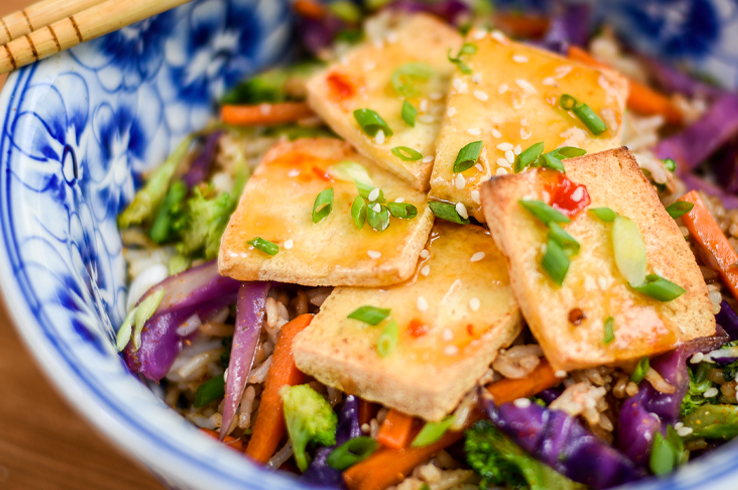 Grain / Rice / Noodle Base:
– basmati rice
– red rice
– brown rice
– quinoa
– noodles (egg noodles, rice noodles, low carb noodles – but my favorite are the very thin egg noodles)
– farro
* Add your preferred cooked rice or grain to the vegetables and toss all together. Add more soy sauce, rice wine and water if necessary. This is pretty much ready to be dressed up the way you want it.
Sauce and Flavor Combinations:
Japanese: sesame oil + teriyaki or sweet soy + sesame dressing (my fave is kewpie!) + lots of chopped spring onions + sesame seeds + pink pickled ginger (optional) + togarashi (optional)
Chinese: hoisin or oyster sauce + sesame oil + spring onions + cilantro + XO sauce (optional) + Chiu Chow Chili Sauce (optional)
Pan Asian: lemongrass + sweet soy + sesame + sambal + spring onions + cilantro
* Toss these sauces and garnishes in with the stir fry and serve extra on the side as condiments. You could also just serve the base and have a selection of condiments for your guests to choose from.
Toppings:
– butter sambal tofu
– seared tuna (brushed with dark sweet soy or teriyaki and togarashi)
– seared salmon fillet
– chicken (tossed in sweet chili and soy)
– beef (great with black pepper)
– meatballs sautéed in some sweet chili sauce
– pork BBQ
– scrambled or fried egg
– or whatever leftovers you might have!
*Assemble your bowl, top with your favorite topping and finish with a generous garnishing of fresh herbs. Dig in with your chopsticks and enjoy!