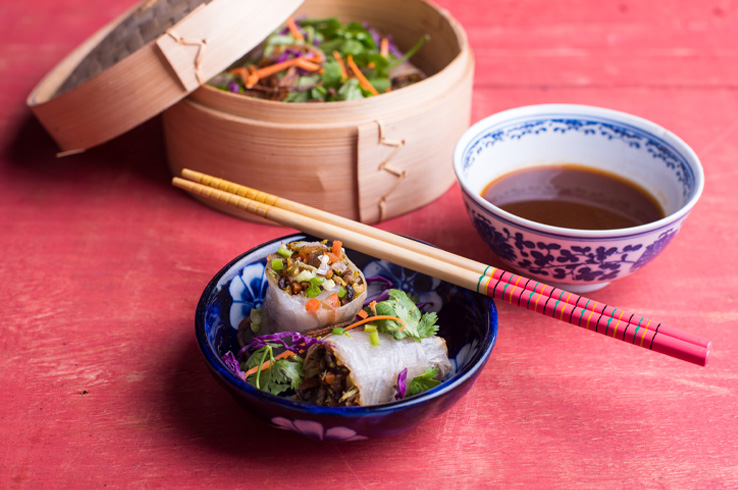 Mushroom and Vegetable Rice Paper Rolls
The first time I ate an authentic Banh Cuon was when I was in the charmingly chaotic Ben Tanh Market on a food tour with Bobby Chinn. He took us to this lady who was making these insanely thin rice wrappers in this hypnotic rhythmic motion. She would swipe the paste over the giant steamer, close, then a few seconds later swiftly brush it with shallot oil and expertly peel it off without a single tear. Without missing a beat she would then use it to bundle up a delicious mix of mushrooms and ground pork, top it with those golden crispy fried shallots and a generous helping of fresh cilantro. It was just heavenly. So heavenly that when I went to Hanoi, my husband and I trekked the winding market streets for hours in search of that one special shop that only made the most perfect banh cuons. You can read more about the experience on my Gypsetter's Guide to Hanoi but needless to say it is one of my absolute favorite Vietnamese dishes.
This particular rice paper roll is by no means an authentic vietnamese recipe but something I created inspired by the banh cuon. I still haven't dared to try to make rice wrappers from scratch so this version uses store bought rice paper. The filling is made of sautéed chopped veggies like broccoli, carrots and shiitake mushrooms, rolled in the rice paper and served with crispy fried onions and a citrusy hoisin dipping sauce. It's absolutely delicious. It is also not only vegetarian but vegan. It is so tasty, everyone will love them! To emphasize that asian feel I like serving them in these bamboo baskets lined with banana leaves. It's also quite practical because rice paper tends to get sticky so the banana leaves not only look pretty but serve as non-stick lining when brushed with shallot oil.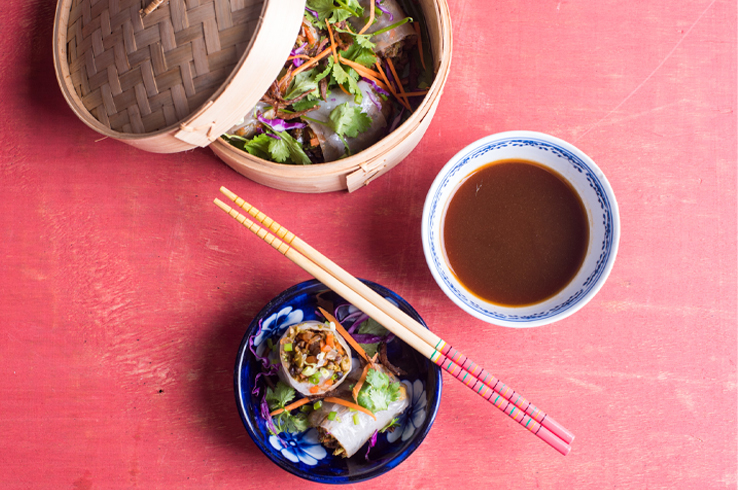 Mushroom and Vegetable Rice Paper Rolls
makes about 12 bite sized pieces
Ingredients
6 pieces of dried rice paper (extra pieces are handy in case of tearing)
1 medium head of broccoli
2 large carrots
1 1/2 cups shiitake mushrooms
1 small white onion, minced
3 cloves of garlic, minced
1 tbsp grated ginger
1 red onion or 2 shallots thinly sliced
2 tbsp flour
canola oil
1 tbsp rice wine
1 tbsp soy sauce
1 tbsp hoisin
some julienned carrots, shredded red cabbage, fresh cilantro sprigs and spring onions for garnish
roasted and chopped peanuts (optional)
If you have a food processor, throw the carrots, the broccoli and the shiitake mushrooms separately in roughly chopped pieces and pulse until you get them into a large mince. If not mince them all manually. In a deep skillet, heat some canola oil and sauté the minced onions, garlic and ginger. Add the minced shiitake mushrooms and allow to cook well, reducing in size and the water evaporated. Then add the broccoli and cook through to desired doneness – I like to keep a little crunch. Finally add the carrots and then deglaze with rice wine, soy sauce and hoisin. Season with salt and pepper to taste. You can also adjust the seasoning to your liking adding more rice wine or more soy sauce. Remove from heat and allow to cool to room temperature. Dredge the thinly sliced red onions or shallots in the flour and fry till crisp and golden in some canola oil. Reserve the oil, you will need it to brush on to the rice paper later on. Add some hot water to a shallow plate, use it to soften the rice paper. On a bother plate brush the surface with some shallot oil and place the rice paper on top. Add a few spoons of the cooked vegetables and roll by folding first the two outer sides inwards then roll tightly. The ideal size is about 5-6 inches long and about 1.5-2 inches diameter. But in the end it doesn't really matter as long as they are rolled neatly. Continue rolling until you've finished all the filling. Try to make them as uniform as possible. Brush each roll with some shallot oil. Cut each roll into 2. Plate as desired, preferably on some banana leaves brushed with shallot oil so they don't stick. Top with the julienned carrots, shredded red cabbage, fresh cilantro sprigs, chopped spring onions and fried crispy shallots or onions. You can also sprinkle some roasted chopped peanuts. Serve with the Citrus Hoisin Dipping Sauce.
Citrus Hoisin Dipping Sauce
Ingredients
2 tbsp hoisin sauce
juice of 1/2 lemon
2 tbsp sesame oil
a squeeze of sriracha to taste
Whisk all ingredients together. You can adjust according to your preference adding more or less of one ingredient. You can also play with flavors by adding some orange juice or lime juice instead of lemon.