I always have a difficult time finding dessert recipes for tropical food or asian food. The traditional rice based sweets or coconutty treats can be too complicated to make and well, sometimes aren't satisfying enough. Here is a super delicious dessert that is sooooo good and such a breeze to whip up. The bananas get soft and mushy with that slightly smoky flavor and that butter sauce with the nice, pungent warmth of ginger and zesty zing from the lime and orange zest… Just wow. To make it extra indulgent serve it with some macapuno ice cream or a thick vanilla bean ice cream and top with more rum butter sauce. Absolutely divine!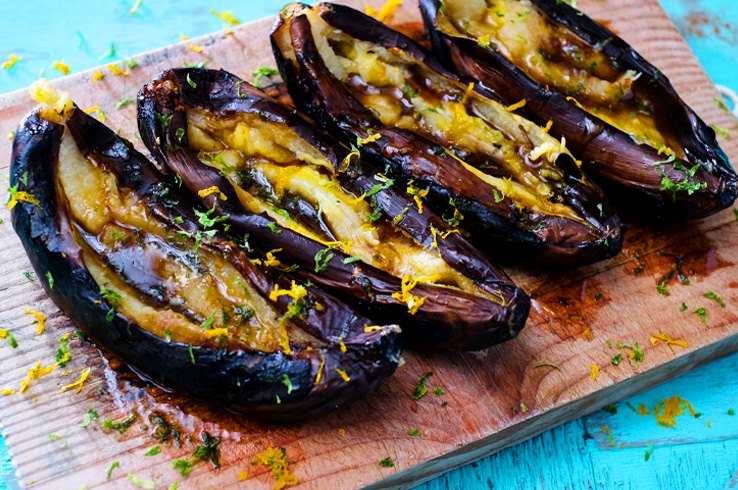 Roasted Banana with Muscovado, Rum and Butter
Makes 4
Ingredients:
3 tablespoons butter, smelted
2 tablespoon dark rum
1 tablespoon orange juice
4 tablespoon muscovado sugar
Pinch of McCormick ground ginger
4 cavendish bananas
Orange and Lime zest for garnish
Procedure:
Preheat the barbecue or a grill pan; in a small pan, melt the butter, muscovado sugar, rum, orange juice and ginger together. Heat until thick and syrupy. Place the bananas, without peeling, over hot grill and cook for 6-8 minutes; turning frequently or until the skin's black and the banana is softened. Transfer the bananas to serving plates, slit the skins and cut partially through the flesh lengthwise. Divide the flavoured butter rum sauce between the bananas, decorate with orange and lime zest and serve immediately.
***This recipe is sponsored by McCormick. To learn more about their products please visit their website www.mccormick.com.ph . To learn more about how I choose my partners and how I work with them please visit my FAQ's.***
***All delicious photos are by Magic Liwanag.***