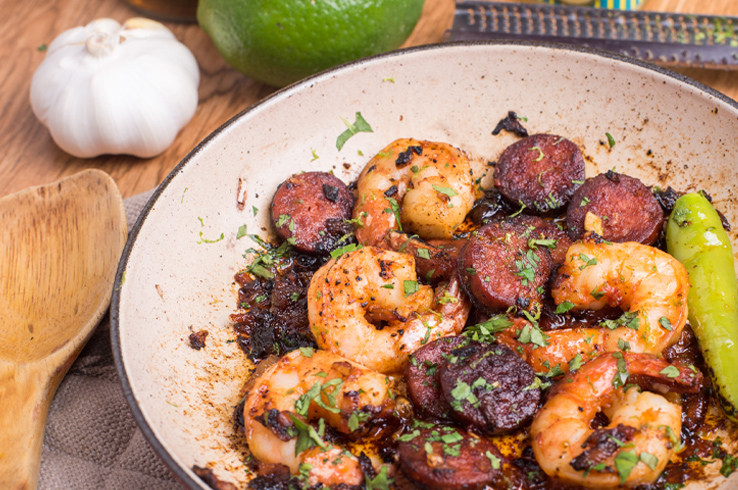 Rum Flambéed Spicy Shrimp and Chorizo
Who doesn't love a good gambas dish? Throw in some smokey paprika laden chorizo and it's an instant upgraded crowd pleaser! This is a favorite recipe of mine that I used to serve in my old restaurant – Atelier 317 – and I loved it so much I would often order one on my own, sit at the bar during happy hour and watch all the guest trickle in. Shrimp is such a fantastic seafood, it's plump, it's flavorful and holds up well to meaty and rich elements. A touch of umami from the tomato paste and a nice lingering sweetness from the rum. There's a real element of surprise in this dish with the addition of cilantro and lime zest as a garnish – making it less of a Spanish dish and more latin american in flavor. It's a perfect beer match or great with an ample white wine like a Riesling or Gewurtztraminer. If you're feeling creative try making a Timenoguy or Dark Rum Sour to go with it! Here's a great easy recipe.
The key to making this dish beautiful is to use really good ingredients. There are so few and ultimately the cooking process is extremely quick that you can not hide behind technique or slow cooking. Try to use nice fresh shrimp or good quality frozen jumbo shrimp. Get some good quality spanish chorizo not the chinese made kind but one with real flavor. Using the right kind of rum when cooking is important. You need to have that perfect smooth balance between aroma, flavor, sweetness and alcohol percentage. In this light I think Tanduay Select really fits the bill. It's super smooth and has a really nice pleasant flavor that doesn't over power the dish but complements it. Top it off with the freshest cilantro you can find and really bright green lime zest. Delicious!
***all the beautiful photos were taken by Magic Liwanag***
***This original recipe was sponsored by Tanduay Select. To know more about how I choose my partners please visit my FAQ's page.***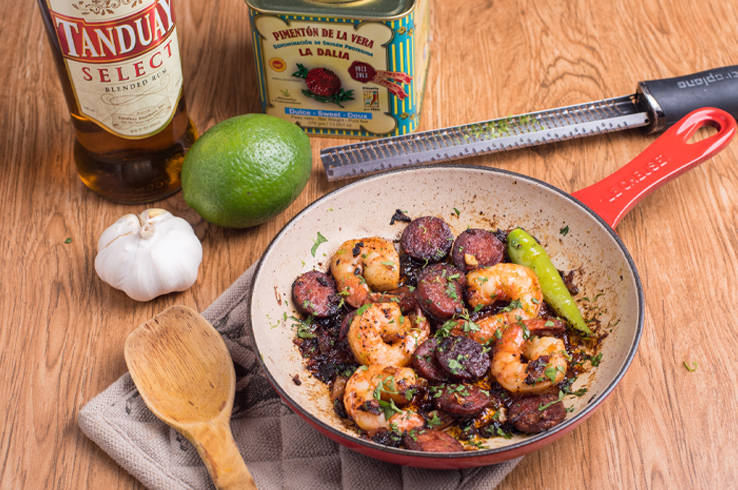 Rum Flambéed Spicy Shrimp and Chorizo
Serves a hungry 2 and not so hungry 4
Ingredients:
300 g peeled and deveined jumbo shrimp (you can also count around 3-5 shrimp per person depending on how large or small they are)
6 inch length of chorizo sliced into 1/3 inch thick rounds
3 cloves of garlic sliced thinly
1/2 small red onion minced
1/2 teaspoon of tomato paste
1 dash of cayenne (you can adjust to how spicy you want it)
1 whole green finger chili
1 green finger chili sliced (if you want extra heat)
1 slice of lime for garnish
zest of one lime for garnish
1 tbsp chopped cilantro
3 tbsp Tanduay Select Rum
olive oil
salt and pepper to taste
Heat a skillet (never use non-stick when you intend to flambé) for two minutes on medium then add a tiny drizzle of olive then the chorizo slices. Allow chorizo to crisp up a bit and release its own oils. Add the tomato paste, sliced onions, garlic and chills and turn up the heat a little letting it get a bit burnt and caramelized. Season the shrimp with salt and pepper then add the shrimp to the pan and toss around. Add the cayenne. Shrimp should not be over cooked nor should your pan be over crowded. As soon as the shrimp begins to curl up and it's distinct coral color comes out add the rum. Allow to the rum to heat up for a few seconds then using a match or a lighter, light up the rum in the pan. Allow the flames to be consumed naturally and when it dies down remove from heat. You can season again with salt and pepper if you wish just be careful as the chorizo is already quite salty. Garnish with the fresh cilantro and lime zest and wedge and serve immediately.