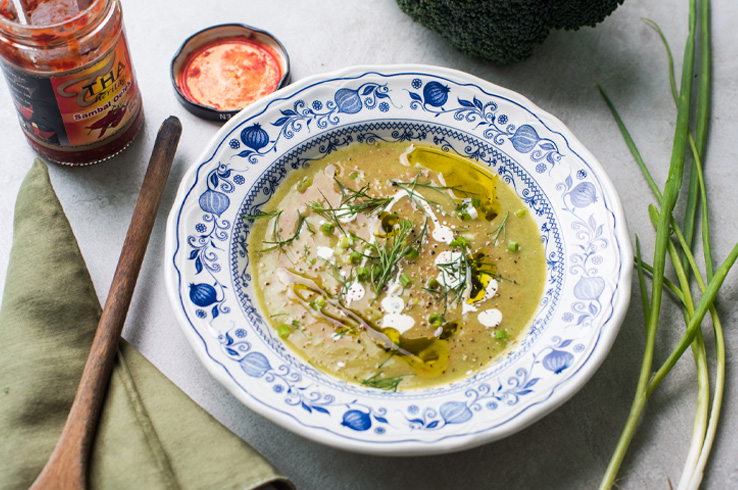 Sambal Spiced Broccoli and Fennel Soup
"How do you eat so much and stay so slim?" It's a question I've heard quite often when people ask me about my job. Lucky me, no complaints here, I get to eat delicious things for work for my column or on my show Let's Eat. On TV there's no hiding how much I enjoy food, I even amaze myself when I see on cam how much I can really stuff my face delightfully. Many people think I have lavish feasts everyday at home or indulge in heavy meals in restaurants all the time but the big truth is I don't. In fact, as I get older I find that I am eating less and less indulgently and take absolute pleasure in the perfect avocado. I've embraced balance and moderation some years ago and truly apply it to my everyday life. First off I eat at home as much as I can and make everything from scratch. I make sure that my diet is full of fresh fruit and veggies and most of the time I hardly even have red meat. I also really, really and I mean REALLY love soup. After a long day of taping, eating out in several establishments, the last thing I want for dinner is a heavy meal. I crave vegetables. Yes you read that right. I CRAVE VEGETABLES. And as much as I enjoy big leafy, green salads, I really look for comfort and ease of digestion in the evenings. A good hearty, homemade soup is one of my absolute favorite weeknight dinners. In fact I could have it every night – but my husband would complain.
It's also a great way to get rid of any sad, withering vegetables languishing in the bottom of your refrigerator. The principle of the "Any Vegetable Soup" is really all about simmering veggies together, pureeing them and seasoning them to your liking. I usually avoid cream even if it does make it oh-so-extra-delicious but to get that creamy texture I throw in a potato or two. I also avoid using broths or bouillon cubes so as not to have too much sodium and simply season with pepper and himalayan salt or sea salt. I do however shamelessly add a knob of butter and then jazz up with fresh herbs and spices or interesting condiments to change up flavors. A little cumin and ginger with cilantro and scallions; lemongrass and basil; or my preferred combination sambal, dill and spring onions. Throw in some golden croutons or toasted almonds or pine nuts for extra crunch and texture and you can literally have bowls and bowls and never feel too heavy.
Soups are a great way to nourish your body while giving your digestive system a rest. I sleep like a dream after and wake up feeling refreshed and re-energized. This particular soup is a favorite of mine because of all the wonderful things Broccoli and Fennel have in them. Broccoli is a well known superfood that can lower cholesterol, has a positive impact on the body's detox system, rich in Vitamin D and has a particular phytonutrient called kaempferol which has been linked to a lower impact of allergens in our body. Apart from being high in antioxidants, fennel has a phytonutrient compound called anethole which has proven anti-inflammatory properties. It's also full of fiber and is a good source of Vitamin C and potassium.
This recipe is very easy, I hardly measure anything and encourage you to do things your own way so you can taste and season the way you like and choose your desired texture. It also freezes very well so whip up a big batch and save some for later!
***photos by Magic Liwanag***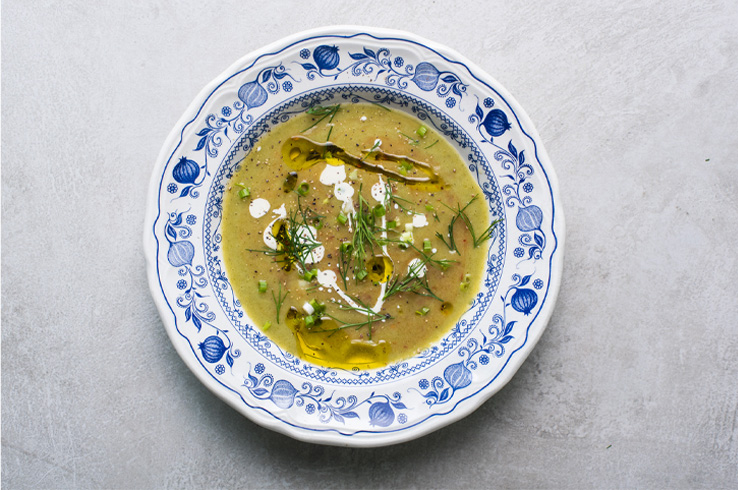 Sambal Spiced Broccoli and Fennel Soup
1 large fennel roughly chopped including stem, save the fennel fronds for garnish
1 small head of broccoli roughly chopped
1 small potato peeled and cut into small cubes for easy and quick cooking
1 small white onion
1 small clove of garlic smashed
a small knob of butter
olive oIl
Water
Salt and pepper to taste
Sambal to taste
Spring onions for garnish
some cream for garnish (optional)
In a large casserole saute over medium heat the onions, garlic, fennel and broccoli for a few minutes. Throw in potatoes. Add just enough water to cover everything, the vegetables shouldn't be bobbing in water nor completely submerged. Bring to a boil then let lower heat and let simmer. When potatoes are soft remove from heat and using a food processor, puree everything. It should have a nice thick and creamy consistency. If you added too much water it will be a little too thin, it's better to have not enough then add a little water later on to thin it out. Once everything is pureed, add your butter and about a teaspoon or a tablespoon of sambal. This is up to you how spicy you want it. Then season with salt and pepper. Always season aftr adding the sambal because sambal has a lot of flavor. Chop the fennel fronds and add them to the soup saving some later for garnishing. Serve hot garnished with a drizzle of really good extra virgin olive oil, some cream and vinegar if you wish and garnish with chopped spring onions and fennel fronds.