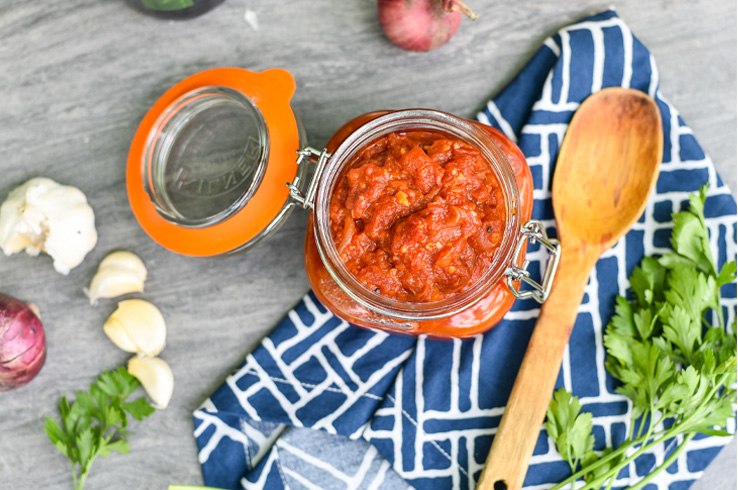 Spanish Tomato Sauce
My abuelita Zubiri was a formidable woman. She never remarried after my lolo passed away and dedicated her life to charity and living it to it's fullest. Helping people, traveling, running her business (children's clothes with the traditional smocking and bordado) and playing in the stock market, enjoying good food (and her drink!) and her family and friends. Even at the age of 95 she would still have a beer with me for lunch or enjoy a glass or two of cognac. She was extremely sharp, healthy and passed at the age of 97 peacefully in her bed. She was loved by everyone and I spent much time with her learning her secrets in the kitchen and the stories that came with it. Her cooking was heavily influenced by my grandfather and his very particular tastes.
Her husband my abuelito was from San Sebastian. He fled the country along with some siblings and cousins during the Spanish Civil War as he was part of the Basque separatist movement. Out of 12 brothers and sisters half the family were ultra-catholic and Pro-Franco and the other half were separatistas. They fled to Marseille where they were stowaways on a boat to Manila. Upon arrival they bought a lotto ticket and won! Splitting their earning they went to separate parts of the Philippines. My abuelo learned that in Kabangkalan there was a strong Basque community there and that's where he met my grandmother and fell in love. My abuelita was also from a prominent Spanish Filipino family of sugar farmers, the Rubin de Celiz clan. They kept close ties to the basque community and my dad told me stories of his dad meeting with the other basques every sunday talking Euskera and sending money to help combat Franco. He vowed never to return to Spain until Franco died. Sadly he passed before Franco did.
I wasn't born yet when he passed but the stories of my parents and my lola about him are incredible. A charming man, with a strong personality (Basque of course!) who loved to eat good food, drink and dance. My abuelita said that every afternoon they would have their happy hour time drinking whiskey together with friends and that he only spoke Spanish, Euskera and Ilonggo. He abhorred sweet food and my lola would always stress to me the importance of making a good real spanish tomato sauce without sugar.
I almost never buy pre-made tomato sauce unless I am absolutely desperate and practically weekly I make a big batch of this recipe. It's so flavorful that all you would need to do is add a little broth and you can have a hearty bowl of tomato soup. It's extremely versatile. I use it for her albondigas; add a little spice, mustard seeds and curry leaves to make a nice tomato based curry that's great with chicken or shrimp or even the meatballs; I use it to top pan fried fish or simply toss in some pasta and fresh basil for a quick pomodoro.
Spanish Tomato Sauce
Ingredients:
1 large can crushed tomatoes (the can that is double the size of a regular can)
1 tablespoon tomato paste
2 white onions sliced
2 cloves garlic crushed
1/2 cup white wine (optional)
Olive Oil
Salt and pepper to taste
Procedure:
In a sauce pan, heat olive oil on medium and sauté onions until light golden and soft; then add garlic. If your would like to use white wine to add more layer to the flavor, deglaze the onions and garlic with the white wine. Allow the alcohol to evaporate. Then, add tomato paste and crushed tomatoes. if not, just add the tomato paste and crushed tomatoes to the onions and garlic when the garlic is fragrant. When everything is bubbling; turn the heat on low and let it simmer until it thickens. The sauce should be a dark orange red; until it is mostly tomato pulp and onions, with some orange colored oil floating to the top. Season with salt and pepper only when done.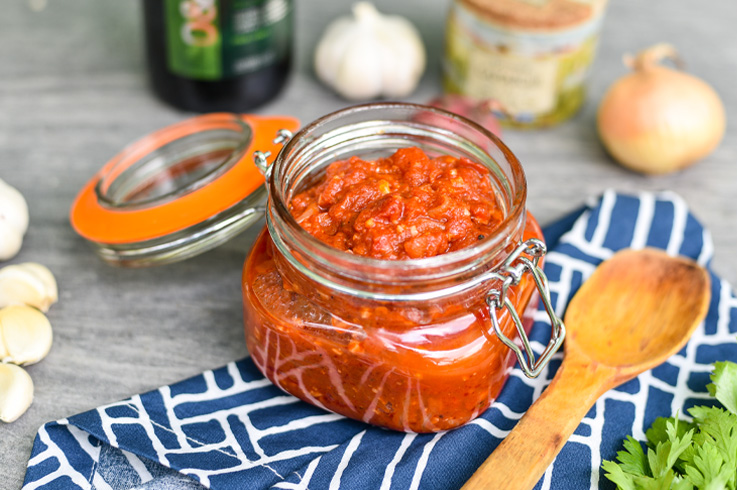 photos by Magic Liwanag