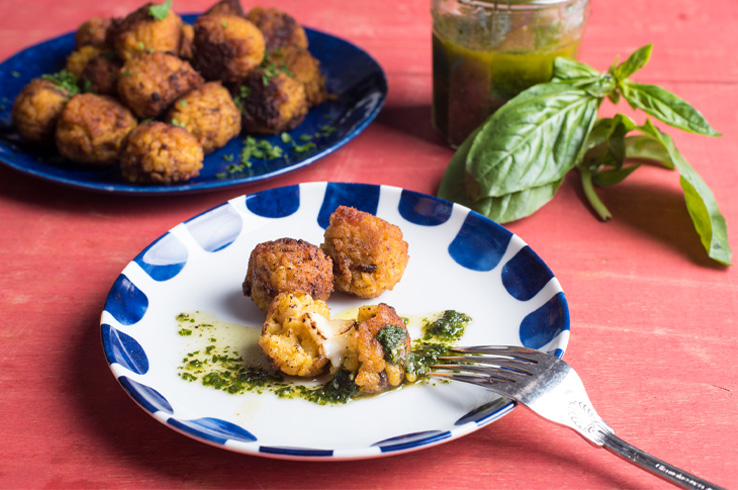 Sundried Tomato & Mozzarella Arancini with Fresh Garlicky Pesto
It's the holidays! And if there's one thing I love is entertaining at home for friends and family. The festive Christmas cheer is always a great excuse to celebrate with your loved ones. This will be the first in a series of delicious dishes, dips and hors d'oeuvres that are perfect for a little party. Whenever I entertain at home I always look for ways to make it easy both for guests and myself. I don't like things too overdone or too catered and even if you order some dishes it's always nice to have a few home made treats. Arancini is a wonderful appetizer, the perfect pass around or heavy cocktail bite. It's great for everyone – both young and old – and even vegetarians if you skip the flour and egg part and just roll in breadcrumbs. It's got that beautiful golden crunch, that chewy savory risotto and of course a generous helping of melty mozzarella. I love the tang and umami that the sun dried tomato brings to this dish and paired with that bright green fresh pesto it even looks like christmas! It's also very fuss free as you could make these in advance and freeze them and just deep fry when needed. How easy is that? Happy Holidays! Cheers!
Sundried Tomato and Mozzarella Arancini with Fresh Garlicky Pesto
Risotto Base:
250g arborio rice
1/3 cup white wine
4 cups chicken or vegetable stock
one small white onion finely minced
1 tbsp butter
1 packet of Paella spices or a pinch of saffron
¼ cup finely minced sundried tomato
olive oil
salt and pepper to taste
Coating:
2 cups flour
2 eggs
200g fine breadcrumbs (you may season with some garlic salt and Italian herbs)
Filling:
1 package Arla Mozzarella slices
Pesto:
2 heaping cups fresh basil leaves
¾ cup olive oil with extra as needed
2 large cloves peeled garlic
fresh cracked pepper and salt
In a deep skillet or casserole, on medium heat, heat some olive oil and melt the butter. Sauté the onions till light golden and soft then add the arborio rice. Sauté the rice until transparent making sure not to burn the rice, add the sundried tomatoes and constantly stir things around. Add the white wine and allow it to be absorbed. Warm up the chicken or vegetable stock and add the paella spices or saffron. Turn down the heat of the rice on low and add 1/3 of the stock. Keep stirring and allow the stock to be completely absorbed before adding another 1/3 until all the stock has been absorbed. The risotto should be a bit drier than usual and not as al dente as it would be if you served it as a risotto. It should be slightly overcooked. Taste and season with salt and pepper. Allow the risotto to cool. Meanwhile make the pesto by placing all the ingredients in a food processor and pulse a few times. You may add more or less olive oil, garlic and salt and pepper. It's best to season as you like it. Set aside. In three separate bowls place the flour, the 2 eggs slightly beaten and the breadcrumbs. Prepare a baking sheet or a plate on the side. Take some risotto and form about 1 ½ inch balls with your hands and then press a small piece of mozzarella inside. Reform the balls so that the mozzarella is properly covered and nestled in the center. Coat the balls in flour, the dip in the egg before finally rolling in the breadcrumbs. In a deep skillet heat some olive oil and carefully fry the arancini until a beautiful golden color. Sop up extra oil with some paper towels. Serve immediately with the pesto sauce on the side.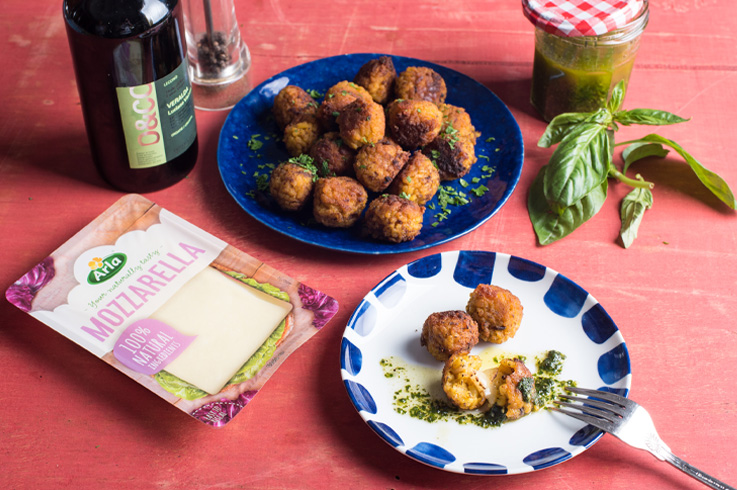 *** This post is sponsored by Arla and for more information on their natural goodness please visit www.arla.com ***