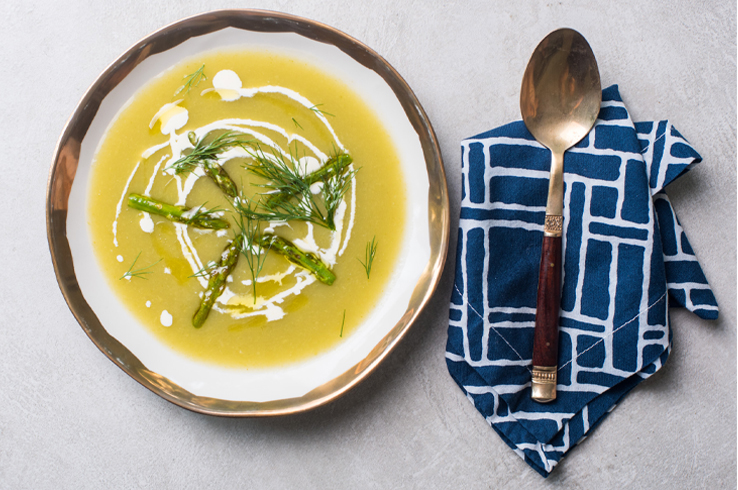 The Asparagus Soup "Diet"
I have to admit I have been impatient but I can't deny the fact that weight loss is much slower for me this time around postpartum. I felt that with Sebastian, the pounds just kept melting away despite the fact that I was eating so much. I was also 29 and now I'm approaching my 32nd birthday. It's a sad fact that especially for women our metabolism slows down with age. I was so looking forward to the hungry breastfeeding days where I could eat anything I want and shed the pounds but after a month of the scale not budging I had to accept the harsh reality that the magic metabolism was gone and just deal with it the old fashioned way – diet and exercise. Even if I was exercising four times a week the pounds were still not coming off, diet is a huge part of slow and steady weight loss. The tricky thing is that I am still breastfeeding, so starving myself is not – and was never- really an option. I came up with a solution that seems to be working thus far having lost 3 kilos in a total of a month and a half. It's not a miracle diet nor a fad one but a solid and sensible approach to getting back in shape.
I eat a sensible and healthy breakfast, usually some papaya, fresh grapefruit juice, two pieces of rye bread and a scrambled egg or two. Then a solid lunch. I eat what I want for lunch, carbs and all but I'll always make sure to have some form of greens or vegetables. If possible a good chunk of protein as well. If i'm feeling like dessert or a cookie, I'll go ahead and have that too. In the afternoon I'll avoid starchy foods and if I'm feeling peckish I'll have a fruit or some carrots and hummus or guacamole. For dinner however, I've been having asparagus soup.
Homemade, no broth, healthy and hearty asparagus soup. I've tried other kinds of vegetable soup but asparagus is a natural diuretic and leaves you feeling less bloated the next day. I sleep so much better with a light dinner and wake up refreshed the next morning. I also don't feel deprived knowing I can have what I want for lunch (within reason of course!) I tried to have asparagus soup for dinner from Sunday to Thursday and on weekends eat what I want for dinner but still avoiding the carbs. So far it's been working and I thought I'd share it with you all.
Whether or not its for a diet, the soup in itself is delicious and works well as a nice starter for a dinner party. You could fancy it up with a drizzle of truffle oil and some croutons if you wish.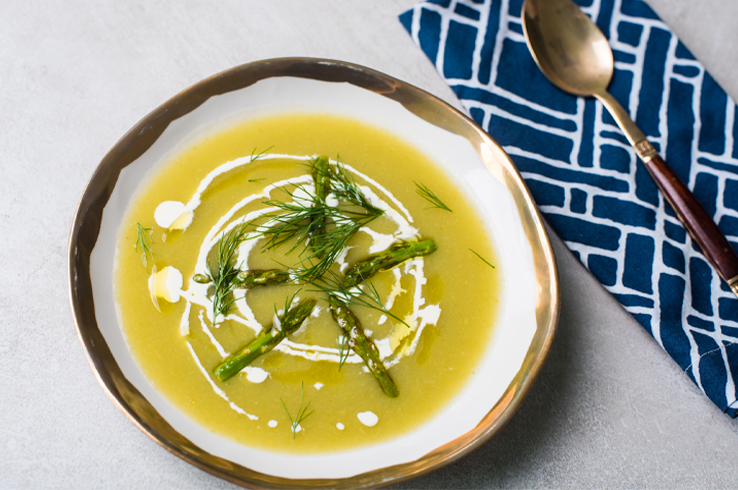 Asparagus Soup
Serves 4-6
Ingredients:
2 bundles of asparagus (approximately 400g)
1 small potato peeled
1/2 onion sliced
1 clove of garlic
water
olive oil
salt and pepper to taste
dill for garnish
Remove the tips of the asparagus and set aside. Remove the hards bottoms of the stems and discard. Roughly chop the asparagus. Cut the peeled potato into cubes. In a casserole, heat some olive oil, sautee the onions, garlic and asparagus quickly then add the potatoes. Cover with just enough water, don't let it completely swim in the water or your soup will be too watery. You can always adjust later on. Bring to a boil then lower heat. Allow to cook until potatoes are soft. Puree everything in a blender and season with salt and pepper. Serve it with the asparagus spears that have been lightly sautéed and seasoned. They add a nice crunch and a healthy alternative to croutons. Should you wish to thicken or make the soup richer you can add a knob of butter and a swirl of cream. Garnish with some extra virgin olive oil, fresh cracked pepper and fresh dill.