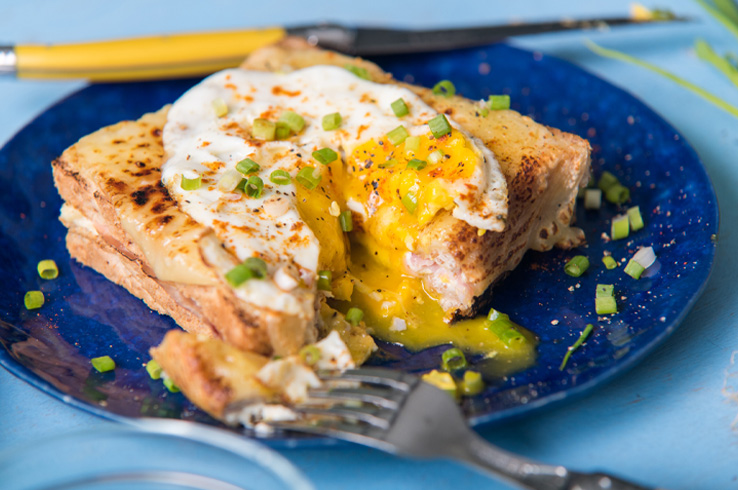 The Croqu'Aloha
I'm still not over how easy-to-make-oh-so-satisfyingly-delicious Croque Madames are and always keep trying to find new variations of it and new flavors to inject. With summer just around the corner and the bright sunny days that have been brightening our everyday existence I have been feeling beachy and balmy. There's nothing more tropical than tangy, sweet pineapple, full of happy yellow sunshine. This particular version is a recipe I feel will absolutely appeal to our filipino palate, a fun take on our favorite Hawaiian Pizzas, one bite will have you saying Aloha! not just hello but see you again – because it won't be the last time you'll be making it!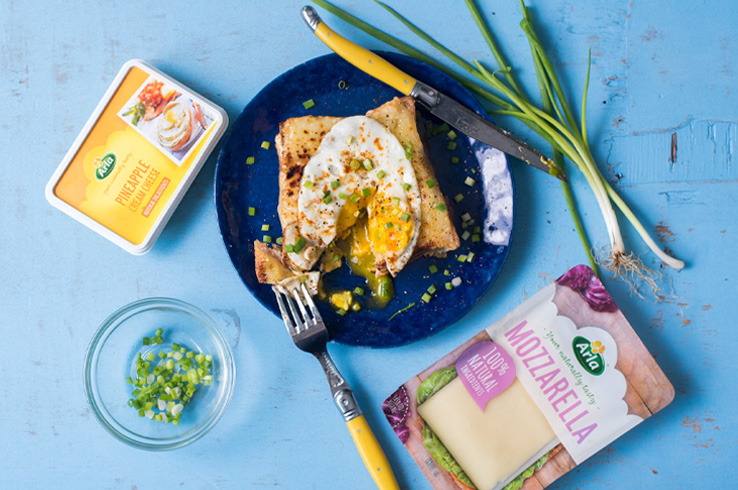 The Croqu'Aloha
Serves 1
2 slices whole wheat toast
2 slices of thinly sliced farmer's ham
1 -2 tablespoons of Arla Natural Pineapple Cream Cheese*
1 thin swipe of Dijon Mustard (it is important to use real Dijon mustard and not regular yellow mustard)
2 slices of Arla Mozzarella Cheese
A few bits of pineapple (optional)
1 tablespoon butter
1 organic egg
1 tbsp of finely minced spring onion
fresh cracked pepper
a dash of cayenne
On one piece of toast swipe the mustard then smear the cream cheese. You can use as much or as little cream cheese as you want. Layer the slices of farmer's ham and pineapple if you are using some. Then on the other toast spread the butter. Place the second piece of toast on top of the ham with the buttered side facing up. Top the butter with two slices of mozzarella cheese. Place the entire sandwich cheese side up in a toaster oven. On high heat toast for 5-7 minutes of until the cheese has melted and turned a bit golden. In the meantime, fry the egg, preferably in some olive oil. Top the grilled sandwich with the fried egg and garnish with the spring onions, some fresh cracked pepper and the cayenne for spice. Serve immediately alone or with a green salad.
***This is a post sponsored by Arla. To learn more about the brand and their values do visit their website www.arla.com . For more information on how I choose my sponsored partners and the integrity of this blog please visit my FAQs page.***