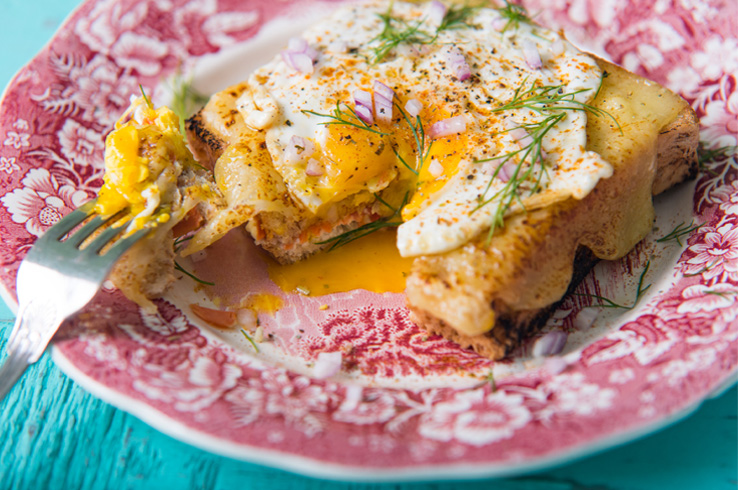 The Croque "Maman"
Croque "Maman"
During my last pregnancy, for some reason I was obsessed with "croques" for breakfast. Particularly the fried egg topped Croque Madame. Perhaps it was all the comfort that came from that perfect combination of cheese, butter and bread that would be crisp and golden on the edges and soft and chewy in the center. That richness of a delicious olive oil fried organic egg with the inviting sunny yolk. A regular Croque Madame is traditionally made with ham, however it isn't really recommended for pregnant women to eat too much ham because of all the nitrates that it contains as well as the risk of toxoplasmosis. Eventually the plain cheese croques were becoming boring to me and always felt like it was lacking something.
One genius morning I had the idea to completely re-invent it with some wild smoked salmon that I had sitting pretty in the refrigerator. Thus was born the beautiful "Croque Maman" or Mommy's Grilled Cheese. So delicious, made with only the best natural products, I guarantee that even if you're not a mommy you will just love it!
This recipe is fairly easy to make and is perfect for breakfast or for brunch served with a side salad. There aren't too many ingredients so it is crucial to use the best quality ingredients available. Choose good smoked salmon – wild if possible, the freshest sprigs of dill, whole wheat bread, organic eggs and my cream cheese and emmental of choice: Arla. Arla doesn't use any preservatives in their products and it's made with all natural ingredients, all you have to do is read the label and I promise that every thing listed is something you will easily recognize.
This is one indulgent yet very nutritious dish especially when paired with a fresh green salad.
*all photos by Magic Liwanag
Croque Maman
Serves 1
2 slices whole wheat toast
2-3 slices of smoked salmon
1 -2 tablespoons of Arla Natural Cream Cheese*
1 thin swipe of Dijon Mustard (it is important to use real Dijon mustard nad not regular yellow mustard)
2 slices of Arla Emmental Cheese
1 tablespoon butter
1 organic egg
a few sprigs of fresh dill
1 tbsp of finely minced red onion
fresh cracked pepper
a pinch of dried Italian Herbs
a dash of cayenne
On one piece of toast swipe the mustard then smear the cream cheese. You can use as much or as little cream cheese as you want. Layer the slices of smoked salmon. Then on the other toast spread the butter. Place the second piece of toast on top of the salmon with the buttered side facing up. Top the butter with two slices of emmental cheese. Place the entire sandwich cheese side up in a toaster oven. On high heat toast for 5-7 minutes of until the emmental cheese has melted and turned a bit golden. In the meantime, fry the egg, preferably in some olive oil. Top the grilled sandwich with the fried egg and garnish with the fresh dill, minced red onions, some fresh cracked pepper, the Italian herbs and the cayenne for spice. Serve immediately alone or with a green salad.
*Arla offers different kinds of cream cheese, you could use the plain Light Cream Cheese or even the Lactose Free Cream Cheese, either way they all work really well. For the more adventurous palates you could experiment by using the Herbs and Spices or Pineapple cream cheese.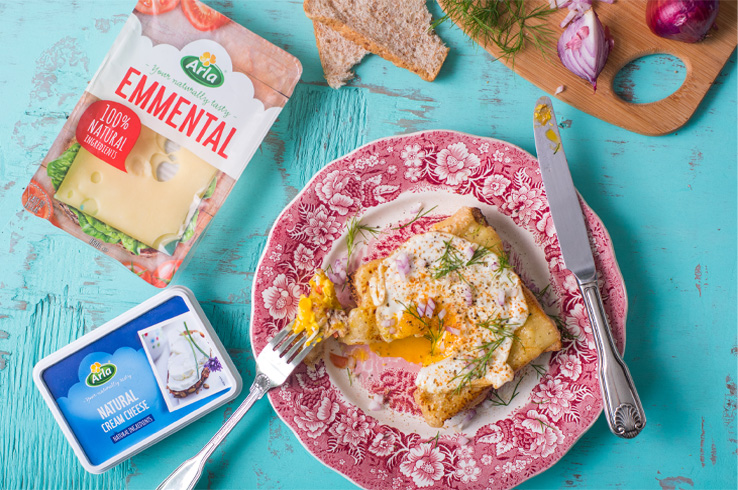 ***This is a post sponsored by Arla. To learn more about the brand and their values do visit their website www.arla.com . For more information on how I choose my sponsored partners and the integrity of this blog please visit my FAQs page.***